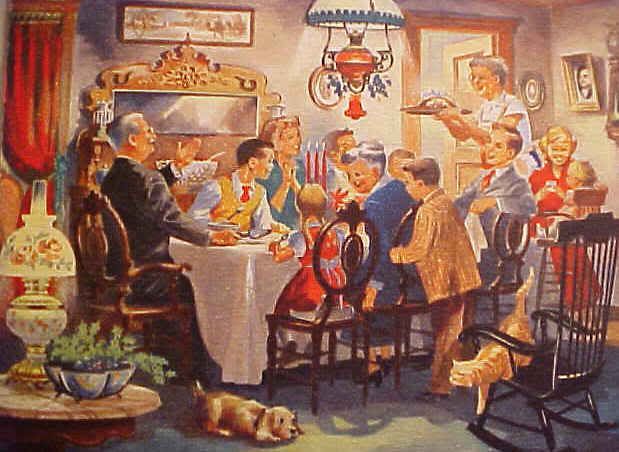 This year has been anything but a practice in traditions.  It feels like everything has been some sort of accommodation for a normal life.  Whether it's celebrations over Facetime or essentially living in my guest bedroom/corporate office, it has put a damper on what should be a joyous time with our young boys.
On the other hand, this year has made me appreciate the family traditions and memories that I had as a kid.
There are a few Christmas traditions that I remember as a kid.
The Tree: We always cut our tree down, but it wasn't for some Instagram photoshoot.  It was because we really enjoyed it.  We went just north of our hometown to a farm where my dad knew a guy, and we tredged through the woods, found one, and cut it down.  We drug it out, strapped it to the top of the station wagon, and drove it home.  We'd let it sit outside in the stand for a couple of days, then bring it into our living room.  We'd always decorate on a Sunday afternoon after the Falcons had gloriously lost again, pushing my overly-loyal father to mix his first Scotch & Water before the end of the 4th quarter.
He'd turn the TV off, and Mom would put on the 'Big Chill' or 'Dirty Dancing' soundtracks (on vinyl), and we'd get to work on the lights.  Mom would sit on the couch and set out the ornaments pulled from old tissue in shirt boxes, and my dad, brother, and I would fill up the tree.  A couple of takeaways: 1. The Falcons are still terrible.  My loyalties are for sale, Saints/Titans/Panthers fans.  Let's talk.  2. They don't make Christmas Lights like they used to.  We had a string of lights that actually had colored water that would bubble from the heat of the bulbs.  Incredible, and I'm sure in violation of multiple fire/health codes.  Totally worth it.
Christmas Eve:  My grandparents on my dad's side lived in Sandy Springs, and we always went down to their place on Christmas Eve.  Grandmother and Grandfather were the more formal of my two sets of grandparents, and Christmas Eve dinner was HER event.  She pulled out all the stops.  Keep in mind she was a VERY proper woman who never wore pants and enjoyed tea every day at 3 PM.  No joke.  Anyway, we'd put on our Sunday best and head to their place.  I remember they'd put out the most delicious hors d'evours, and the drinks would start flowing.  We had to wait until after dinner to retire to the living room for gifts, and dinner was coursed.  It took FOREVER.  I don't remember much about the meal, only that her 'dressing' (never 'stuffing' at her house) was delicious and quite different than what we'd experience the next day.  Once she served dessert – pre-made parfaits in just the right glasses.  Spiked Creme de menthe for the adults, and chocolate for my brother and me.  Finally, we'd head into the living room, where my brother and I would distribute the gifts to everyone's designated piles.
Then the opening: we'd go around the room, opening one gift at a time.  It was agonizing…waiting for your turn.  Especially as a kid knowing what was under that wrapping paper.  After what seemed like six hours, we'd finally finish up, pack up the station wagon, and head home.  Takeaways: 1. Hors d'evours make a get together really special.  2. I can't wait to institute the around-the-horn present opening structure with my boys.  It teaches them the patience of Job.
Christmas Day:  Since we rolled in at about midnight, the 6:00 AM wake up usually took my parents by surprise.  However, my brother and me (who shared a room) would be at the top of the stairs ready to go.  My parents, recovering from the night before AND an early morning, would begrudgingly put on their robes and allow us to run downstairs.  We had to open our stockings first, which were hung above the fireplace in the family room.  Usually small gifts and candy, it bought my parents an hour to make coffee, wake up and get their wheels turning for what was to be a looooong day.
After stockings, we'd clean up the den (always), then we were allowed to head to the living room…where the Christmas Tree and all that Santa left were waiting.  Now – my mom is the type to wrap everything.  She'd wrap a two-pack of AA batteries separate from the new toy where batteries were required.  On top of the fact that they instituted the around-the-horn/one at a time opening structure, it was a long morning.  We'd start, and the wrapping paper would start to accumulate.  We'd stuff large paper grocery bags with the paper for later…  Once we were done with the gifts, we had to clean up.  Including vacuuming and dusting…because mom's parents were on their way.
Dad would go make breakfast for everyone, and we'd all get dressed.  After lunch our other set of grandparents would arrive, driving up from Jacksonville after visiting my mom's sister and family.  We'd all head to the driveway to meeting them, and help them unpack the neverending trunk of their brown Crown Victoria.  Then we'd all head into the freshly cleaned living room for the day's second round of opening presents.  The same rules applied: around the horn/one at a time.  On top of that, my Granddad would use his pocket knife to cut the tape as not to rip the wrapping paper.  His view was that it could be saved for next year.  I miss that guy.
Picture the familiar scene: Mom and Grandmother buzzing around a small kitchen preparing Christmas dinner, which was completely different than the night before.  This was the 'southern' version of Christmas dinner that did more to inspire the early iteration of Garden & Gun than anything else.  This set of grandparents were more 'country' compared to my Dad's parents.  Turkey and ham, sweet potato casserole w/pecans, mashed potatoes, greens, cornbread stuffing, and gravy on everything.  It was a gutbuster meal.  The kind of meal that resulted in coveted leftovers for the next couple of days. By the time we were finished, we were all too tired to do anything.  We'd struggle through washing dishes and all be asleep by 9 PM.
The Burning:  Within the next couple of days, we'd have the tree down, and 5-6 paper grocery bags stuff with wrapping paper.  Mom and Dad lived on a lot and a half – the half lot my dad used as a garden in the Spring and Summer.  After all the vegetables died off, he'd start piling up limbs and yard debris.  By Christmas, we'd have a good, dry pile.  We also didn't live inside the city limits, so we were allowed to burn.  We'd throw a match on the pile of wood and debris and get it burned down pretty good.  Then we'd toss on the extremely dry tree and bags of wrapping paper.  It was a pyro show like no other.  20′ high blaze for about 45 seconds.  Then we'd sit and watch it all burn out.  I can't believe nothing bad ever came of it.  Mom always stayed inside.  It was one of those annual 'you can have a sip of my beer' events that every 13 year old remembers for the rest of their life.
Ahh…memories.
What are some of your old Christmas traditions?