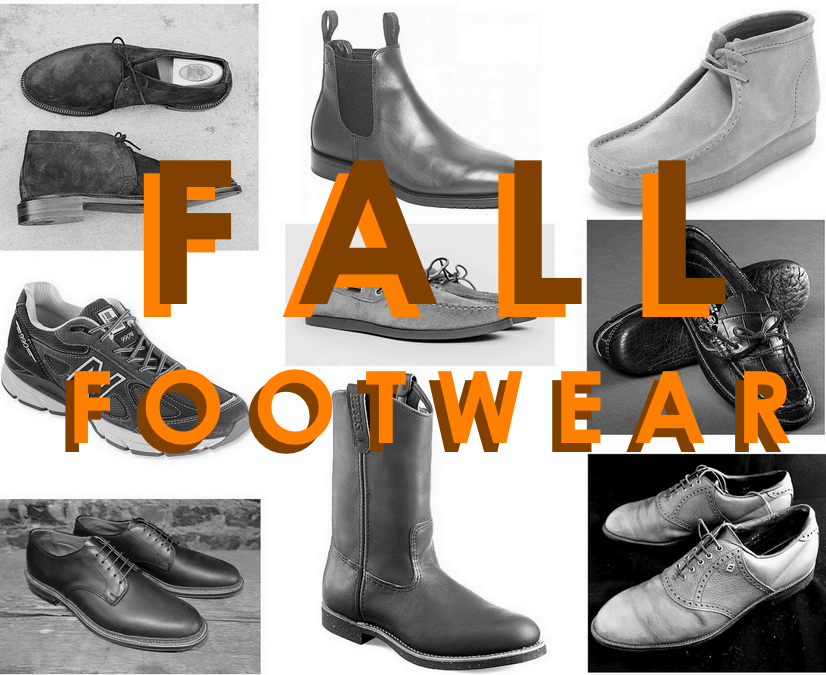 And here we are…Fall.  Not only are the layers of clothes getting heavier, but so should your footwear. Instead of showing off all the tried and true cooler weather dress shoes, how about we think smart…think practical.  What shoes are you going to use this Fall, not just a repeat of what you have the closet.  With that said, here we go:
From top Left:
1. Alden Suede Unlined Chukka Boots:  I literally wear these all the time.  They are a great cool weather version of suede loafers.  They have a cool, streamlined look, and they break in really well.  Make sure you wear pants with little to no break.  These look best when shown off.
2. Duberry Kerry Chelsea Boots:  A great business option during the colder months.  These dress up well with well fitting chinos, 5-pockets, or jeans and an OCBD.  Keep them polished and shined so they resemble dress shoes.
3. Clarks Wallabees:  Don't act like you haven't owned a pair of these in the past.  I did, and wore them out in most SEC towns during college…and loved them.  I had to dispose of them in much the same way they dispose of medical waste after they clocked out…  How about add another pair?  Wear them with jeans, a button up, and a Snap-T and relive the glory days like you are heading to General's.
4. New Balance for LL Bean 990v4 Running Shoes:  I still wear running shoes in the winter…I like the look.  And New Balance did the Lord's work when creating these 990s for LL Bean.
5. Oak Street Bootmakers Suede Camp Mocs:  Camp Mocs are the unsung hero of casual loafers.  Much cooler than the WAY overplayed boat shoes, these look great with any pants, and are actually functional.  Worth every penny.
6. Russell Moccasin Alligator and American Bison Air Ship Moccasins:  Every man deserves a pair of nice slippers.  I wear them all winter long.  Call me old fashioned…I don't care.  My feet are warm and comfortable.
7. Alden Plain Toe Bluchers:  I have been a fan of the plain toe bluchers for quite some time, but the sizing is tricky.  If the are too wide, they look like clown shoes.  Instead, order a B or C width.  Head over to Miller Brothers and try a pair on…you'll see what I mean.
8. Red Wing Pecos 1178s:  The best work boots ever made.  If you can get your hands on a pair, do not pass go, do not collect $200, BUY THEM.
9. Footjoy Classics:  Since we play golf up to and through Christmas around here, add a pair of brown leather golf shoes.  But here's the thing: don't get anything new because they all look like Star Trek costumes.  Find a pair of old Footjoy Classics and send them to Larossa to get rebuilt from the ground up.  Thank me later.
What did I miss?