Hunting season is getting close, especially dove season.  It's still hot when they allow us to start shooting at those missiles, so preparing accordingly is paramount.  The folks at Duck Camp have us covered.
Duck Camp aims to provide those who do with a premium hunting shirt that provides performance in all the right places.
"Duck Camp isn't just for the Wingshooter. Really, the brand is for every hunter, fisherman, cowboy, backwoodsman, mountain man, stump jumper, city slicker, roughneck, river rat and outdoorsman. But it's especially for the Wingshooter," Sim Whatley, Founder of Duck Camp, quipped. "For a year and half, we have worked tirelessly to create a brand and product that speaks to those who live for hunting season. We are happy to announce that our own opening day for Duck Camp has arrived."
"We were tired of buying shirts that were marketed as performance hunting shirts and getting ill- fitting, Hefty bags in tired camouflage patterns", Whatley explained. "I thought there must be a better shirt out there, but after buying every hunting shirt I could get my hands on, it was evident that if we wanted a quality shirt, we would have to make it ourselves."
Duck Camp has created what they consider to be a modern hunting shirt for the modern hunter. After a 6-month intensive search, they have chosen 100% Nylon Supplex for their Lightweight hunting shirts collection. "It is a fabric that has the feel of the softest cottons with all the perks of synthetic fibers; it's fast drying, breathable and durable. We promise it will be your most comfortable, best performing hunting shirt," says Whatley.
It's not a slim fit, but it is more tailored through the body. They hope this resonates with bird hunters, who spend a lot of time walking the woods, training their dogs and living active lifestyles.
Duck Camp has created their own proprietary camouflage patterns that they think hunters will appreciate. There is an apparent shift in demand for more modern camouflages, away from pictures of sticks and leaves, and towards patterns that use the science of how animals see the world they live in. Thinking through the environments that wingshooters encounter, Duck Camp has come up with three signature patterns: Wetland, Midland and Woodland. Wetland was designed for coastal marshes and prairies, Midland for high desert and brush country, and Woodland for forests and flooded timber. Additionally, Wetland and Woodland come in two variations – an Early Season and a Late Season – which allows hunters to match the
right colors for the time of year that they are hunting.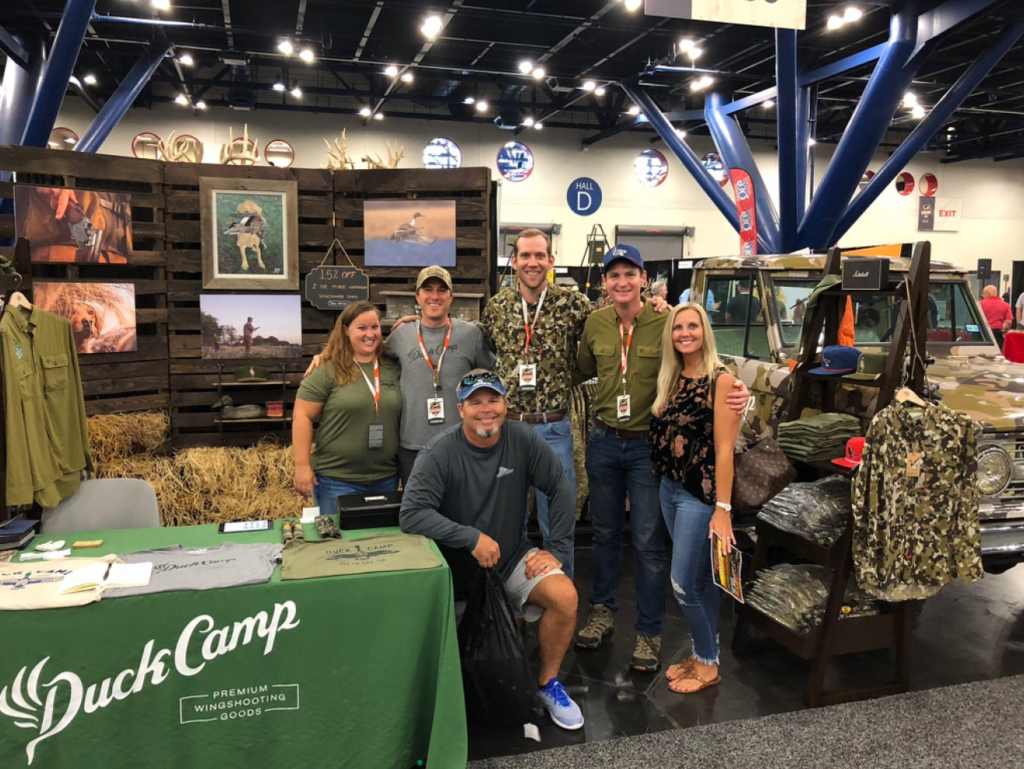 You won't be seeing Duck Camp products in your nearby Big Box store. Duck Camp, like a lot of brands these days, has decided to sell their products directly to their customers. "We wanted to make the highest quality shirt we could make without making it the most expensive shirt you could buy," explained Whatley. "By being Direct to Consumer, we don't have to bake in a retail
mark-up, which allows us to spend more money on premium fabrics to make the best hunting shirt on the market at a reasonable price."
The fine folks at Duck Camp were nice enough to provide some more insights…here you go:
What is the best part about running Duck Camp?  We get to strategize around bird hunting all day! We were already thinking about it all day as it was…why not make it a profession!? Also, driving the Duck Camp Bronco around has its perks.
What type of guy is a Duck Camp customer?  A guy who lives for the camaraderie of Wingshooting and the feeling that overcomes us all when we arrive at the Duck Camp. Our core customer embraces high performing gear in unique camo patterns, but doesn't need to put off that he's the most badass hardcore hunter people have ever seen. He appreciates everything that goes into the hunt and enjoys a stiff drink with his buddies after the hunt.
What is the 'elevator pitch' to someone who isn't familiar with your brand?  Duck Camp makes premium goods for the Wingshooter. We have developed what we think are the best hunting shirts on the market in our own proprietary camouflage patterns. They blend old school style with new school fabrics and are designed for different environments and stages of the bird hunting seasons.
What is your favorite type of hunting?  Gotta say Waterfowl hunting. But we're into all types of Wingshooting!
Semi Auto, Over/Under, or Side by Side?  It's tough to beat an old school O/U, especially when chasing upland birds.
What do you like to do outside of Duck Camp and hunting?  I like to fish, hike, kayak, cook tasty but simple food, travel and generally get outside with my yellow lab, Sadie. She is the HR Director here at Duck Camp, and takes pride in her pivotal role.
What's on your Spotify playlist?  I actually started a Duck Camp playlist called 'Duck Camp State of Mind.' It features artists like Chris Stapleton, Turnpike Troubadours, Cody Jinks, Greta Van Fleet, Sturgill Simpson, The Band, Cody Johnson, My Morning Jacket, Nathaniel Rateliff & The Nightsweats, Robert Earl Keen and Dan Auerbach.
These guys sent me down one of their Lightweight shirts to try out – I went with Early Season Wetlands design.  I figure this is perfect for a few dove hunts and maybe an October quail hunt before it turns cold.
The design is really cool.  Not too 'Star Trek' in the design, but technical, with a nod to the old school Duck camo designs that I'm drawn to.  As mentioned, the fit is trim, but not slim.  I really like it – most of the hunting shirts I buy are either too wide, or if I go a size down, the sleeves are too short, which is a huge pet peeve of mine.  It feels like I'm wearing an older brother's hand-me-down.  The Duck Camp folks figured it out.
The fabric is lightweight and breathable, but not so lightweight that it is flimsy.  There is still some structure and some heft to the fabric.
There are a lot of subtle advantages to the shirt.  It's not overly logo'ed, and the pockets are deep.  There's a zip pocket behind the front left, and the tail of the shirt is a touch longer than the front.  Good for sitting on a bucket waiting for dove.
There are a couple areas for venting – right under the neck and on vertical along the shoulder blades.  That's what gives this shirt the advantage on those hot days in the field.
At $79, this shirt is a good value proposition.  I plan on using this one quite a bit, not only hunting, but also fishing.  It washes well, and there's no need to dry it – just throw it on a hanger and you'll be good to go in an hour or so.
For someone who's not much of a technical fabric guy, the shirts from Duck Camp have my attention.