One of my favorite hobbies is Goodwilling.  I've been doing it for years, and am always amazed at what I find.  Most of the time I walk out empty handed, but every once in a while I strike gold.  I get asked all the time: 'what are you tricks?'  The honest answer is that there aren't any tricks, but I do have a couple honey holes that usually produce.  A buddy of mind suggested that I do a post on my best finds, which actually wasn't a bad idea.
So here we go: in no particular order, here are what I would consider my five best finds:
1.  Alden X Brooks Brothers 986 Shell Cordovan Loafers.  These were by far the best find I've had.  Here is the latest post I did on them, when they needed a tune up from Alden.  I found these way back in the day…I rarely see Aldens at Goodwill anymore.  These needed some work when I found them, but Alden did GREAT work restoring them:
2. Titleist AP2 Irons.  This was a good day.  I was in the market for a new set of clubs, as I was tired of my Mizuno MP-60s.  I came across these barely used AP2s (along with two other sets of Callaways) for $13/set, and thought I'd give them a whirl.  They are still in my bag today.  I don't know if I'll ever buy anything but Titleist.  Here is the original post I did on these:
3. Scotty Cameron Putter.  I was anti-Scotty Cameron until I found this one for $4.  I refurbished this guy, and eventually sold it off to fund my Cameron restoration habit.  I'm at two putters now, but it all started with this one:
4. Kiton Cashmere Sport Coat.  I found this it a completely random Goodwill where you would NEVER expect to find a Kiton.  It was on the roller rack, and I noticed the liner right away.  The fit was off, but the color was perfect.  After some serious alterations at Sid Mashburn, this 100% cashmere bad boy is ready for cooler weather:
5. Footjoy Classics Golf Shoes.  I came across these at a very suburb Goodwill, and the soles were pretty beat up.  However, the original owner didn't know that Footjoy Classics have a lifetime warranty.  I snagged them for ~$5, called Footjoy, sent them in, and they sent back a GREAT classic pair of golf shoes.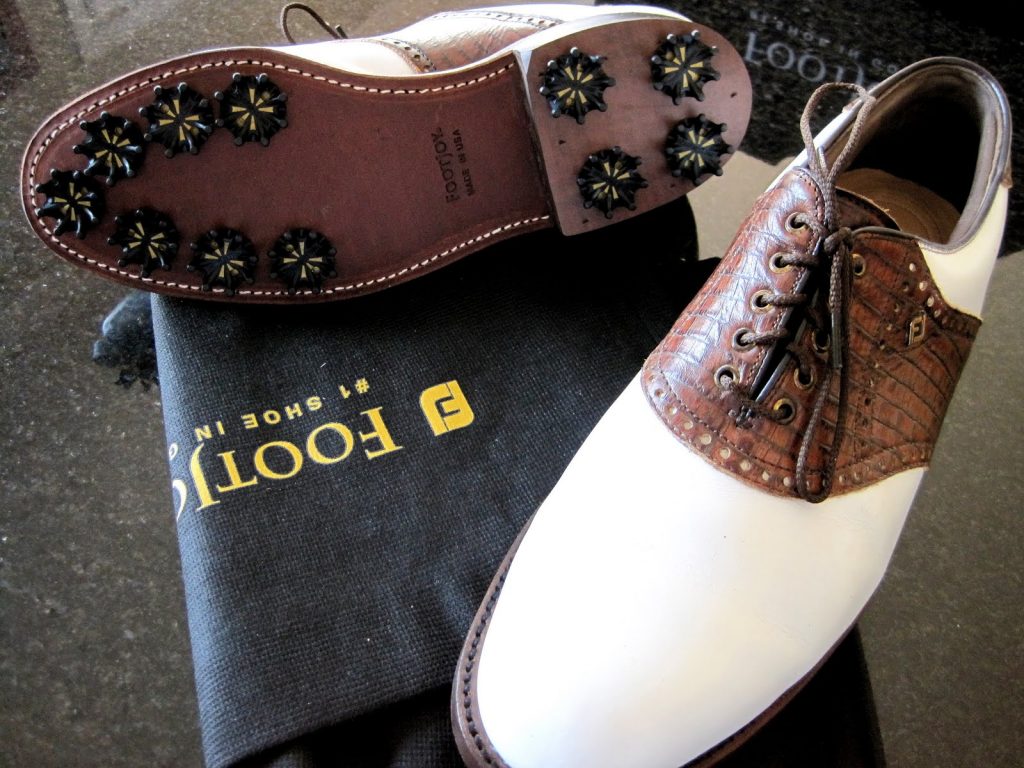 Beyond my top finds, I always pull the trigger on certain items I find, mainly because I use the hell out of them.  Sometimes it's not about the unicorn find, and instead about finding something really useful.  Here are my top five most used Goodwill finds:
1. Patagonia Stand Up Shorts:  I have more pairs of Stand Ups than I care to disclose.  A good number of them have been found at Goodwill.  I can tell you that sizing has changed over the years, so 32s will fit like 34s, 34s will fit like 34s, and 36s will fit like 34s, depending on what year they were produced.  I wear these all the time, and thoroughly enjoy beating them to death.
2. Old Grey College T-shirts.  When it comes to the t-shirt racks, I usually go through the grey t-shirts, and that's about it.  If I see a Champion logo on the sleeve, I'll take a look, but I like the old traditional athletic look (I don't really wear 'updated' t-shirts).  I wear the hell out of these t-shirts.  I view them as disposable, since I only spent $2-4 each.  Here's a sample of my collection:
3. OCBDs.  To be honest I currently have at least a dozen blue OCBDs that I've bought from Goodwill, and donated back at least that many.  I love them.  Oxford cloth gets better the more you wash them.  I usually buy it if the collar and cuffs are unlined, as they wash, dry, and iron exactly they way they should.  Any time you see a Brooks Brothers USA-made must-iron OCBD, get it:
4. Vintage Pique Polos.  I don't know why I love them so much, but I can't say no.  Maybe it's because they remind me of the good 'ole days.  I recently found an old Britches Warthog polo (that I couldn't get a stain out of) and a kelly green Ralph Lauren Polo Golf polo with the crossed clubs and shield (that I wear the hell out of).  They are completely disposable, and look great on my back porch drinking cheap beer and throwing the tennis ball for my dogs:
5. Silver Bowls.  Don't laugh, but we love these things.  They are usually covered in tarnish when I find them, but after I give them a little elbow grease, and they look new.  Extra points for engraved bowls…  We have these all over our house, as decoration, candy dishes, and key holders.  Here's a sample of our collection, which will continue to grow as long as I frequent Goodwill stores:
What are you greatest and/or most used Goodwill finds?