I started getting the Ben Silver catalog when I was in college.  I was looking for a Palmetto hat, and a buddy from the Low Country suggested I give them a call.  Yes – the hat was outstanding (I got two more later on – more on that later), and the catalog has been delivered to me ever since.  I doubt you will find a greater selection of regimental and emblematic ties, as well as suits, sport coats, and shoes.  Their footwear selection has the three most important words when talking about shoes: Custom, Shell, and Alden.  I think their label is appropriate – London, and Charleston – Ben Silver has a very 'English' feel in the traditional cuts and regimental style, and the Southern feel of madras, seersucker, and saddles.  They go well together.
I've been to Ben Silver before my last trip to the Low Country, but this time I snapped some shots with my iPhone.
Blue Blazers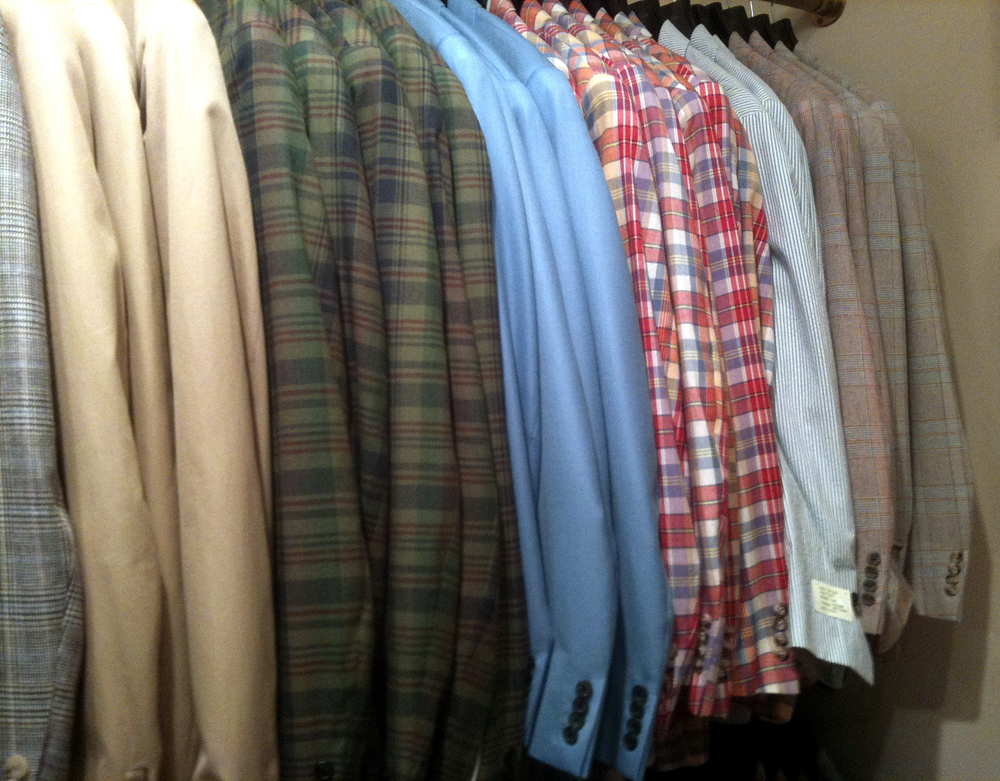 A shade for every season
Cool ties
Warm Ties
The shoes
The Crockett & Jones Repton Double Monks
The staff was a pleasure.  Not pushy at all, but conversational – they shook my hand, asked my name, and if they could help.  They know their products, and can speak intelligently about what is in the floor.  The presentation in the store is great – it's like a big closet; the exact closet that you want.
I was in Charleston a couple years ago when Ben Silver held their Warehouse Sale at the Cigar Factory.  It was outstanding – big discounts, and lots of selection.  I didn't pull the trigger on anything – but I almost bought a pair of black cordovan cap toes.  They had these (quite possibly the greatest shoe ever made) – but not in my size (1/2 too small):
Alden for Ben Silver Snuff Suede Tassel Loafers
I spoke to folks in the store about their availability, and they said that with custom orders like this, they have to order a dozen (minimum).  Anyone else in?
As I mention above – I do have some Ben Silver stuff:
(L-R)
Ben Silver ties – some of my favorites.  The jumping lion Cravate hasn't made it's debut, but it won't be long…the Fall wedding calendar is filling up.  Three so far.
Yellow micro-gingham oxford.  Due a trip to the dry cleaners.  No starch.
The Palmetto hats.  I wore out my first Navy blue one, and actually found these at the short-lived Ben Silver outlet in Myrtle Beach.
I didn't pull the trigger on anything while I was there, but I did get a first hand look at their Polos.  They really look great: good quality, nice colors…on the list.  Oh – that and everything else…