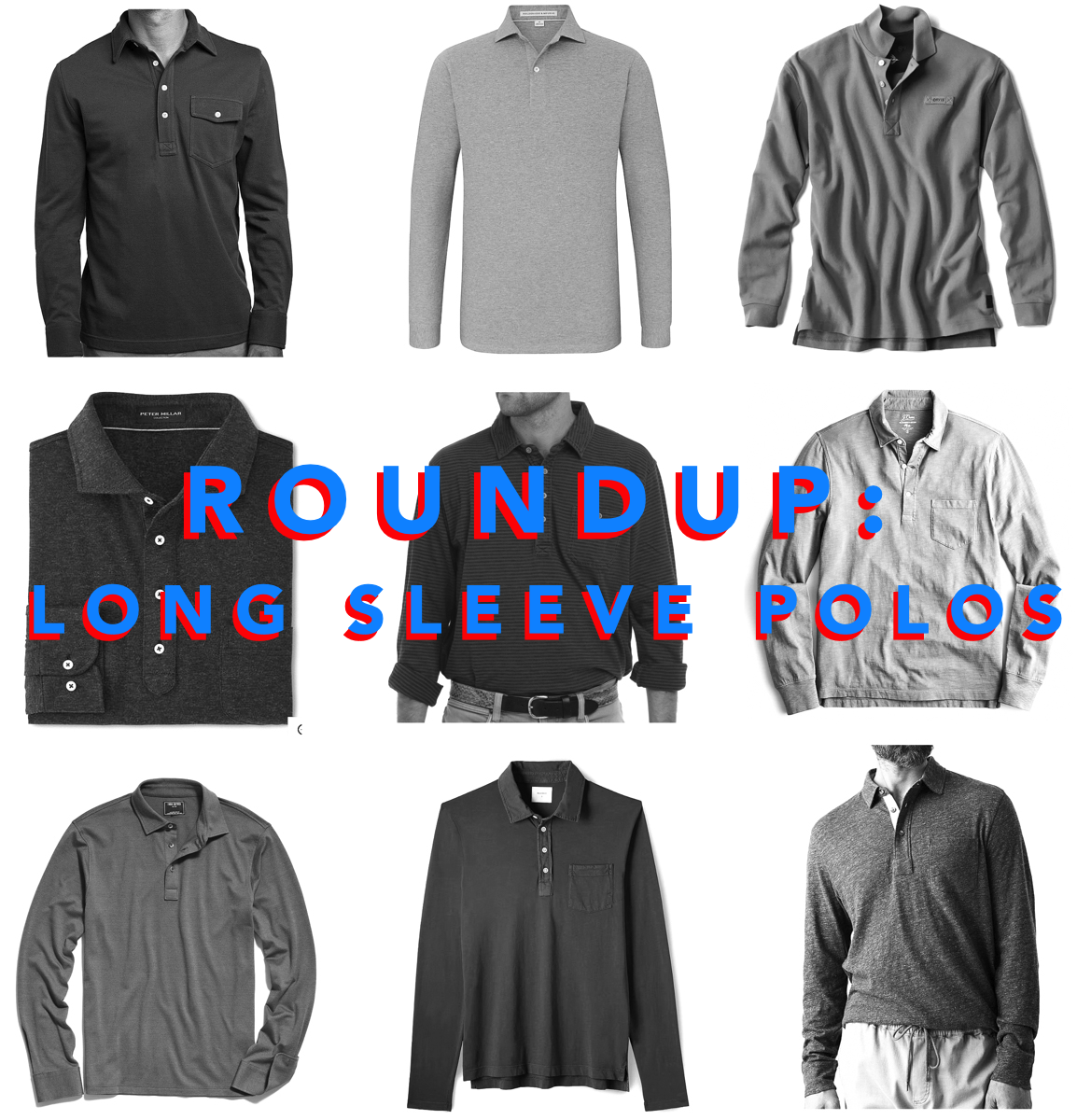 Sleeve season is upon us.  It was 59 here in Atlanta the other morning, which means it's time to start transitioning the closet.  Mine is full if oxfords, sweaters, vests, and sweatshirts, but one option that is underrepresented is the long sleeve polo.
Historically, the thing about long sleeve polos is that they never worked.  They were all cut like a garbage bag.  With most brands focusing on a slimmer silhouette, better fit, higher armholes, and longer sleeves(!) – a huge pet peeve of mine – the long sleeve polo is now a major contender in a wardrobe.  I love the look of a dressier long sleeve polo with a vest and 5-pockets, or untucked with jeans and Camp Mocs.  They are easy to care for, relatively inexpensive, and the collar will dress up your Zoom game.
Different styles from all over the spectrum are available: dress shirt substitutes to dressy long sleeve t-shirts.  As with every piece, focus on the fit and the rest will fall into place.  Here's what I like: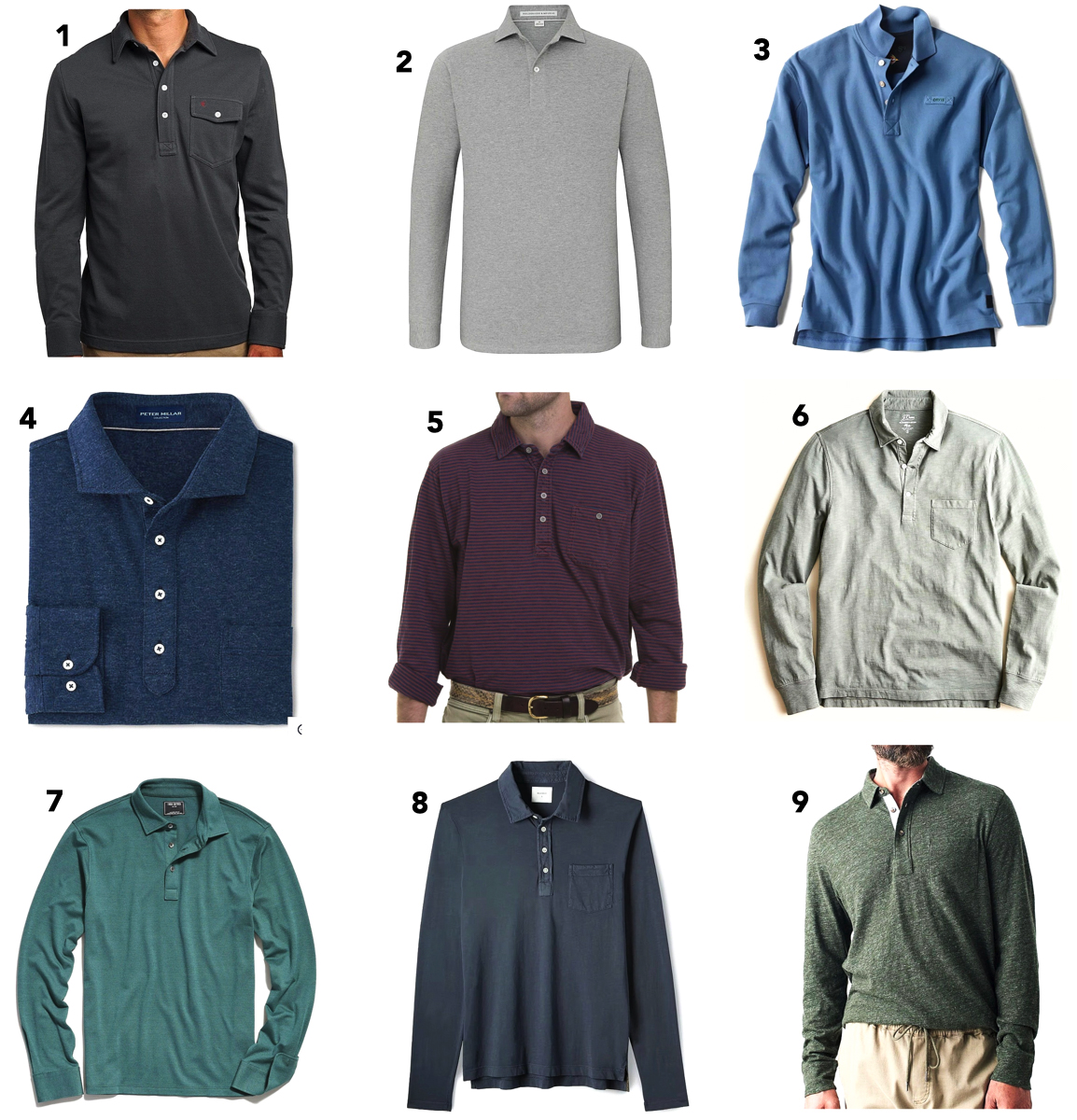 From Top Left:
1. Criquet Pique Long Sleeve Polo: Probably the first of the bunch to be a thing, the Austin-based company's option is a healthy pique cotton with dress shirt cuffs, and a subtle pocket.  The middle-80%-er.
2. Holderness & Bourne Johnston Polo:  A dressier version of #1, the Holderness & Bourne effectively replaces a dress shirt.  Fantastic cut, great collar, and just the right color choices
3. Orvis Signature Pique Long Sleeve Polo:  A bit more casual; let's call this the weekend version.  Built in their fantastic pique material, this one leans more towards a sweatshirt vs. a polo.
4. Peter Millar Amble Long Sleeve Cashmere Polo:  And then there are the top-shelf options…  The Amble from Peter Millar features a cashmere blend that is extremely soft.  The 4-button placket and the slim cut make this a serious contender in 'business' enviornment.
5. H. Goose Harbour Polo:  A rough and tough option that can handle working in the yard, as well as a happy hour at your favorite watering hole.  Nice, organic cotton feel with barrel cuffs.  A heritage/vintage look.
6. J. Crew Long Sleeve Garment Dyed Slub Cotton Polo:  My wife wears a lot of the J. Crew t-shirts (I think they call the women's fabric 'tissue').  It's extremely thin and soft, so I would classify this one as a dressy long sleeve t-shirt.  Order a size up and dry it on high.
7. Todd Snyder Long Sleeve Pique Polo:  I really like everything Todd Snyder does (except for the prices of his LL Bean stuff), and this long sleeve p0lo is not exception.  He had me at the cutaway collar.
8. Billy Reid Pensacola Polo:  The Fancy Southern designer has a great take on the long sleeve polo. It's a little thicker than it looks, so it holds up.  It might be the perfect option if he had barrel cuffs…maybe next season.
9. Faherty Long Sleeve Luxe Polo:  I am struggling to understand Faherty, but I really like this long sleeve option.  Let's call it a 'beach in cold weather' look?  Plenty of spots in the wardrobe for a shirt like this with texture.
What did I miss?