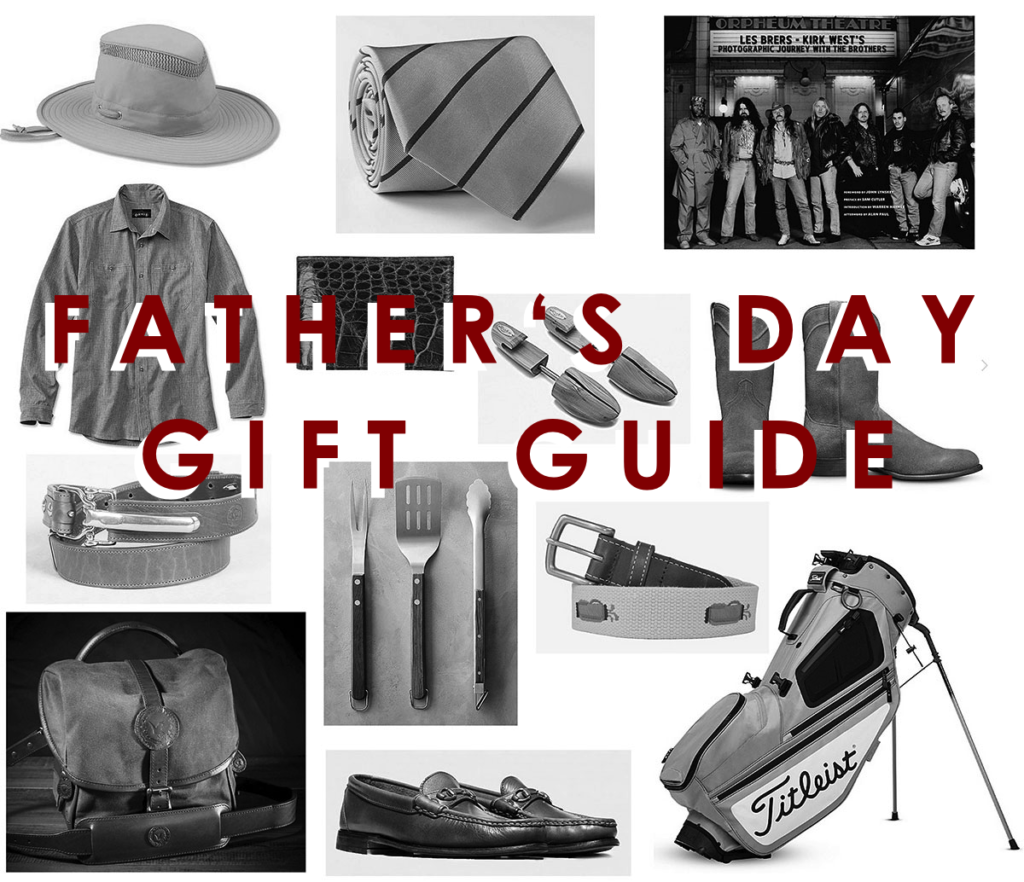 Of course the best Father's Day gift is spending quality time with your kids- on a boat, at the beach, at the ballpark or golf course, an afternoon nap, a really cold beer, and a hamburger on the grill.  That's what it's all about.  Time.  Now that I'm a dad, I love nothing more than hanging out with #HJS, almost as much as he likes hanging out with me.
However, I also like shopping for my dad.  He's a super cool guy that has impeccable style (I blame him for being inspiration for the blog), and besides sharing all of what I mentioned above, my brother and I have always tried getting him something that he would enjoy.  This year we are taking him fishing and replacing the lenses in his Costas…and maybe something else, but he reads this so I'm not tipping my hand.
Here are a few things that I think make GREAT Father's Day gifts.  Some of these I have, and the rest I'd like to have…let me know what you think: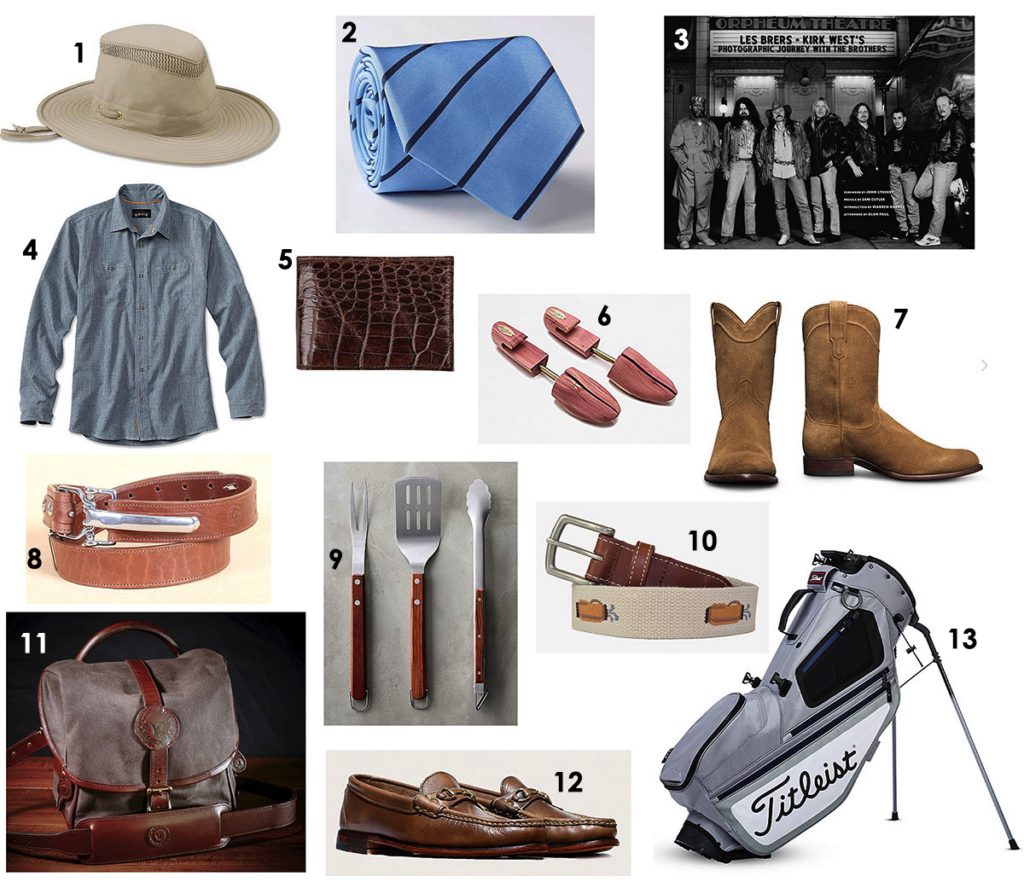 From top left:
1. Tilly Airflow Hat:  Hardcore dad hat.  It's got it all: breathability, packability, and don't-give-a-shit-ability.  Great for in or around the water, and they only get better with age.
2. Southern Proper Charles Necktie:  I was really excited when Emmie and the rest of the Southern Proper crew released their Gold Label neck ties…they harken back to the regimental stripes that we all wore as pledges…before the fun, whimsical ties.  Since I always wear a tie to church, these are a great addition.
3. 'Les Brers: Kirk West's Photographic Journey with the Brothers':  I have this, and can verify that it is the coolest coffee table book we own.  We usually don't associate with people who aren't Allman Brothers fans.
4. Orvis Tech Chambray Work Shirt:  I don't have this one, but drool over it every time I'm in the store.  It's the tech shirt with some style…now you can enjoy the Braves little league OR big leagues in 95 degree heat and still look like a stylish guy that isn't sponsored by Under Armor.
5. Onward Reserve Alligator Slim Wallet:  I'm sure your dad doesn't carry a velcro wallet.  I'm also sure that he's love to flash this bad boy at the taco stand.  Upgrade his wallet to something exotic…maybe he won't give you so much grief when he loans you a $20 out of it…
6. Woodlore Shoe Trees:  The ratio of leather shoes to shoe trees should be 1:1, and I guarantee he's short a few.  This is a useful gift that shows you understand long term value.
7. Tecovas Shane Suede Ropers:  How about some suede boots this summer?  To me, suede is all-season friendly, and gives a nice pop to an outfit, especially in the Honey or Grey options.
8. Colonel Littleton No. 5 Cinch Belt:  Give his shotshell belt a rest, and upgrade him to something a lot tougher.
9. Williams Sonoma Walnut BBQ Tool Set:  For the grill master.  From a practical standpoint, grill tools should be replaced every couple years if he's an avid griller.  I'm sure now is a good time.
10. JT Spencer Golf Bags Belt:  A cool belt that isn't too flashy or neon, but sends the message.
11. Wren & Ivy Ditty Bag:  Super functional bag that holds all he needs when he's headed out in the flyways. He'll be the coolest guy in the duck blind…
12. Oak Street Bootmakers Natural Bit Loafers:  Deal sleds.  That aren't Gucci.  And better.
13. Titleist Hybrid 5 Golf Bag:  The one piece of golf equipment that doesn't get a lot of chatter…a new golf bag will have almost no impact on his score, but it's does lug around all of his butter knives, so an upgrade every decade or so is a fair investment.
Dads – what did I miss?
P L E A S E    S U P P O R T    O U R    S P O N S O R S :