Those of you that follow Red Clay Soul's Instagram account know that I'm out here on the West Coast.  I like it out here.  It's a great place to visit.
Any time I am within 100 miles of La Jolla, I make sure to stop in the Panerai boutique.  It is a great place with some amazing Panerai watches.  Kiril, the shop proprietor, is a treasure-trove of information.  I bought my Panerai from him here three years ago.  It was my first major watch purchase, and I absolutely love it.  I know Panerai has a love it/hate it reputation, which I understand, but you know my camp.  I am currently searching for #2…
If you are ever in the La Jolla / San Diego / Torrey Pines area, be sure to stop in.  It's like nothing you've ever seen, which is my favorite characteristic about Panerai.
Here are some images from the trip: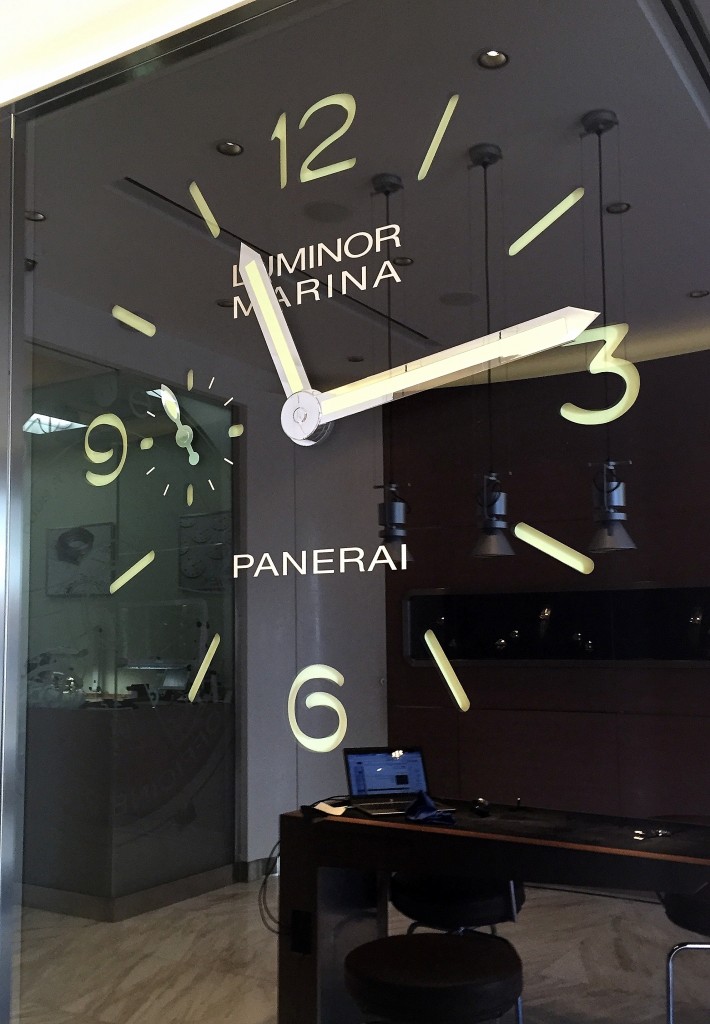 Wall-sized clock.
The Panerai Regatta PAM526.  The only Panerai that has any orange.
An extremely rare Panerai SLYTECH 5218-207 A that Sylvester Stallone owned.
Sylvester Stallone is credited for bringing Panerai to the mainstream…
Radiomirs look good.
The PAM372.  A very good, historical piece.
The PAM424, with the ultra-cool California Dial.
The PAM499, which features a daylight face.  It was hard not to buy this one…
A 47MM work of art.  A lot of nods to the historical Panerai's – gold hands, raised crystal…very handsome.
Lined up…
The La Jolla Panerai Boutique is located at 1137 Prospect Street.