Tomorrow is the big one.  America's birthday.  It's a day-to-night event that starts on a body of water, either chlorinated, salty, or fresh, followed by some variety of meat cooking and an ultimate pyro-level celebration of our great nation.  The theme is red, white, and blue.  Simple.  Here's how to do it right, with a little extra credit: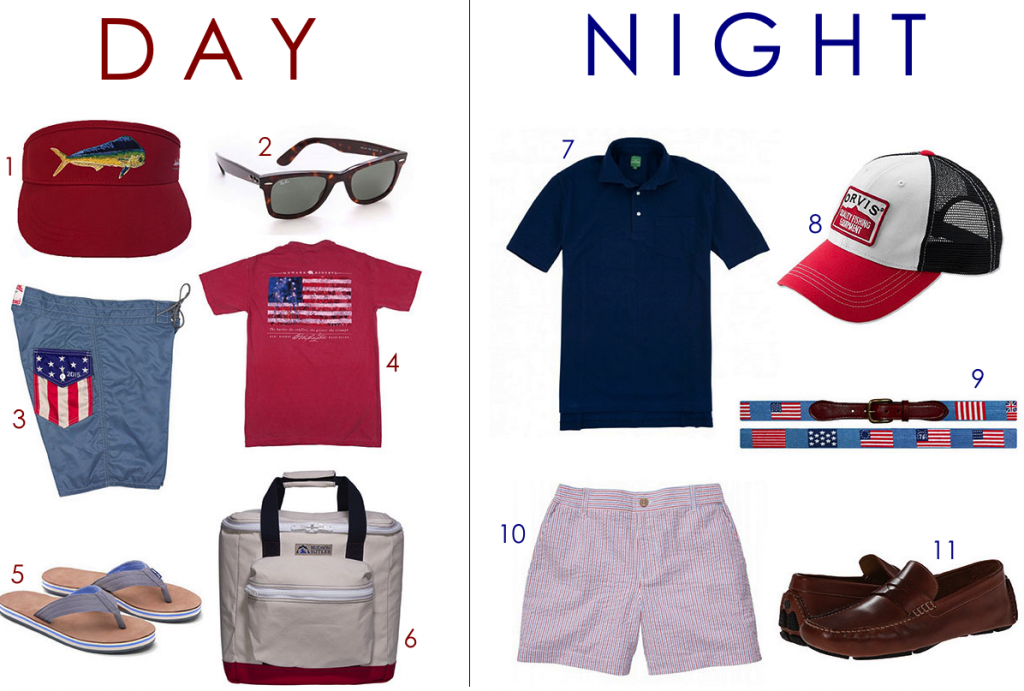 Day Action:
1. Atlantic Drift Mahi Visor:  Be bold.  Expect this to get dunked quite a few times.  Try to keep it on your head while you slalom.
2. Ray Ban Classic Wayfarers:  It doesn't get any more classic than a pair of Ray Ban Wayfarers.  Think JFK.
3. Birdwell Limited Edition "Old Glory" Beach Britches:  The coolest trunks that no one talks about.  And these bad boys are a special edition just for the 4th.
4. Onward Reserve Penley Colonial Flag T-shirt:  An awesome America shirt.  And Penley to boot… all good in our hood… if this flag offends you, quit reading this blog, immediately.
5. Hari Mark Flip Flops:  Better than Rainbows.
6. Hudson Sutler Montauk Cooler Bag:  Never show up to a party empty-handed.  This new bag from Hudson Sutler holds a 12 pack, and has a front pocket for your koozie, sunscreen, and backup koozie.
Extra Credit:
To drink: Budweiser.  Come at me.
To eat: Hot dogs and hamburgers.  Easy and easy.  Extra mustard.  And AMERICAN cheese.
Tunes: "The Big Chill" soundtrack.  Try it.  No good music has been made since 1999, so stick with the classics.
Night Action:
7. Sid Mashburn Polo Shirt:  Best to go dark so you don't see all the spills that are sure to happen.
8. Orvis Americana Hat:  I'm not a big hat-at-night guy, but this one makes the cut. Especially on Independence Day.
9. Smathers & Branson Flags of our Fathers Belt:  A history lesson for your waist.
10: Southern Proper Red, White, and Blue Seersucker Shorts:  The red, white, and blue is a really nice up-do to the traditional seersucker, and the inseam is pretty aggressive.  Just like you.
11: Cole Haan Howland Penny Driving Loafers:  Somebody's mom and dad will show up, so try to spruce up your look, just a touch.  These are the denominator of driving loafers.  Everyone's got them, everyone has worn a pair out and/or watched their dog tear one apart.
Extra Credit:
To drink: Budweiser.  Keep it real.  Bring out the good bourbon after the fireworks.
To eat: Ribs and slaw.  Does it get any better?
Tunes: Stream the Dead50 show from Chicago.  Shed a tear cause you aren't there.
"If I get home before daylight, I just might get some sleep tonight…"