I've got a birthday coming up.  After 21, they don't really matter, but I always get the question from my loved ones: "What do you want for your birthday?".  To be honest, I have too much stuff.  I've moved to the opinion that space in my place is like real estate – with a high value per square foot.  What takes up space better be worth it…no squatters.
I don't really like asking for stuff…but I do have my eye on a few things: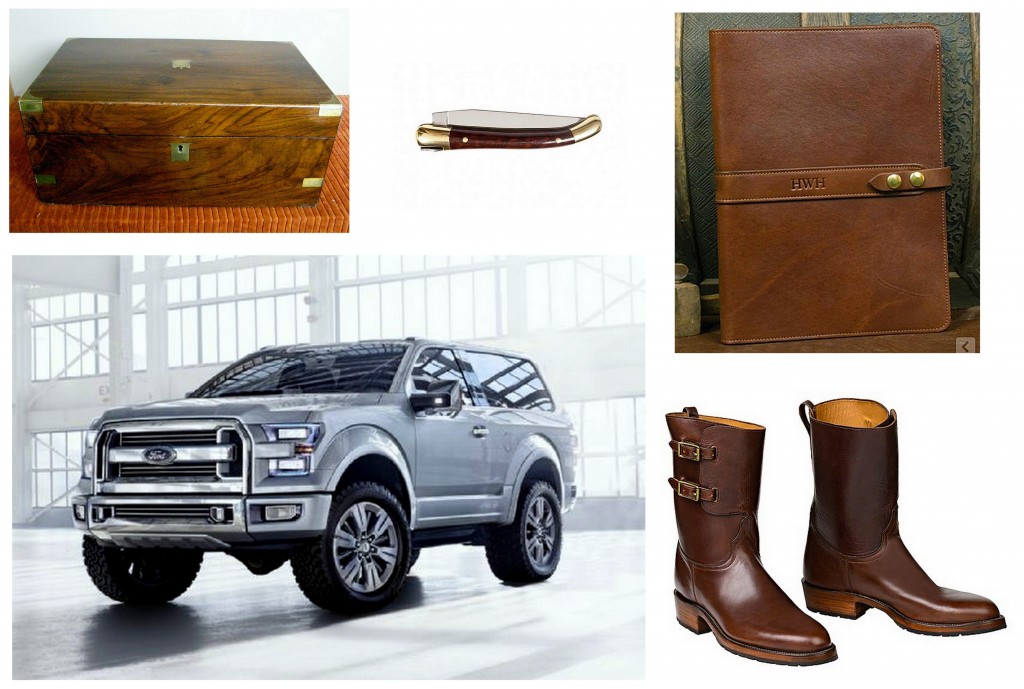 Clockwise from top left:
1. Antique Box: I've got a bunch of stuff – watches, collar stays, cufflinks, etc., and I need a place to keep them.  Something like this has to be found over at an antique market.  The search is the best part.
2. Laguiole 7mm Knife: I like to think of this as the 'business man's special'.  I have been carrying a knife on my keychain, but it's too tough to use.  I want this one to act on it's own.
3.  Col. Littleton No. 18 Portfolio: Even though we work in a highly technical world, not everything can be carried on a Macbook.  Sometimes I have to go old school and carry documents and make/take notes.  I want this one to be my caddie.
4. Lucchese Powell Boots: Something new from Lucchese..how cool are these?  I like the double monk touch, but I really like the dressy look with rubber soles.  Wear these all day long…
5. 2015 Ford Bronco: Because it's 100% badass.