Starting in roughly 2009, quite a few collaborations between reputable brands starting popping up.  Some of the early 'X's' I remember were with Barbour, and then between Billy Reid and K. Swiss.  I'm a big fan of this exercise.  When two brands bring their strengths to the table to offer goods is a 'best of both worlds' feeling.
Any why not?  Do all K.Swiss wearers shop at Billy Reid?  Conversely, do Billy Reid customers wear K.Swiss?  Quite frankly – this was a brilliant move for both.  Billy Reid was able to resurrect the iconic K.Swiss 'Surf & Courts' by partnering, and adding his personal touch.  To say that this has been successful is an understatement.  The Blogosphere ate it up, which resulted in sales.  Brand management and execution are key, as not everything will be a hit…release it slowly, and let the product speak for itself in an organic fashion.
Some recent work that is Red Clay Soul approved:
Filson and Levi's teamed up for a few products – my favorite is their Oil Finish Trucker Jacket.  I've never been a 'jeans jacket' guy, but I don't mind the style.  By using Filson's iconic tin cloth, it is now appealing to a whole new demographic.
Cooper's work with Brooks Brothers has brought a whole new feeling to the typically traditional offerings from the folks at 346 Madison.  This collaboration started quite some time ago – actually before the Billy Reid X K.Swiss work.  I especially like the BB X Social Primer bow ties – they are whimsical enough for all age groups, but serious enough for the traditional Brooks Brothers customer.
Unionmade is awesome (more on this later).  They are extremely creative, and I need to never visit their store without a serious line of credit.  They have almost perfected the art of the collaboration.  Even though they aren't a 'brand' in the same sense as Levi's or Brooks Brothers, their work hits it right on the mark.  Their collaboration with Wm. J Mills & Co. on a line of bags and totes is spot on.  The customizable feel and relatively short runs create a demand that brings in customers of the outside brands (Wm. J Mills, as well as Alden, Raleigh Denim, and Gitman).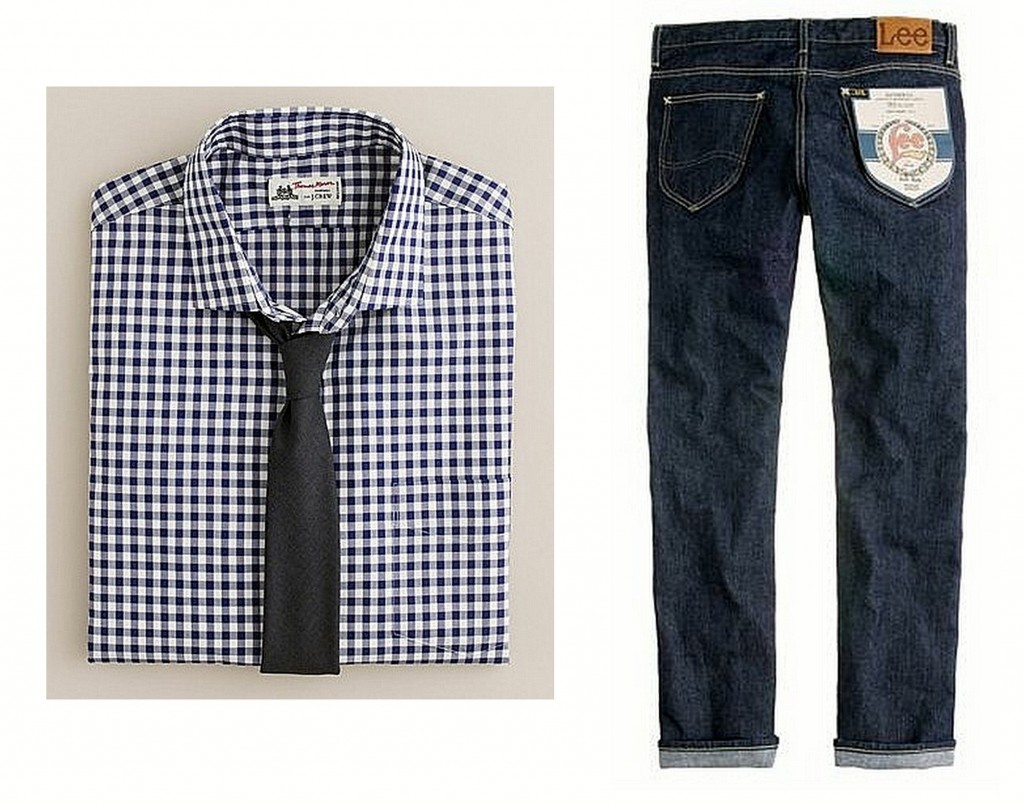 J. Crew has done some excellent work in this area.  Anyone who saw the recent CNBC feature on CEO Mickey Drexler and J.Crew knows that they are happy to think outside of the box.  All of their partnership work may not be 'collaborations' in the sense of the word (they carry the Billy Reid X K.Swiss Surf & Courts), but they are inclusive in bringing in products from brands that meet their aesthetics, and will ultimately sell to J. Crew customers.  Their work with Thomas Mason and Lee Jeans (above) are excellent examples higher quality products that are available from J. Crew.  Brilliant.
So who am I missing?  I know of a few on the way that will be fun.  What are some other great collaborations out there?