So working from home has been fun…  Over the past month or so, I've had to re-learn my working situation at home.  At the office, I've got a nice setup, where I'm very comfortable.  Two monitors, keyboard/mouse, office chair, drawers, etc.  A lot of equipment that make the day as efficient as possible.  Here at home, it's a much different situation.  I don't have a home office that mimics what I have at the actual office, so I've had to make the best of it.
I've found that the key is what I'm calling 'mobile organization'.  I have a pile of 'stuff' that I carry around with me to a few different places around the house.  I've found that moving around has been mentally helpful, in that I'm not staring at the same walls day after day.  In addition, keeping all of my gear organized has become important.  Otherwise, things get scattered and then chaos ensues.  After learning all this, I think I have it dialed in.  Here's what I'm doing: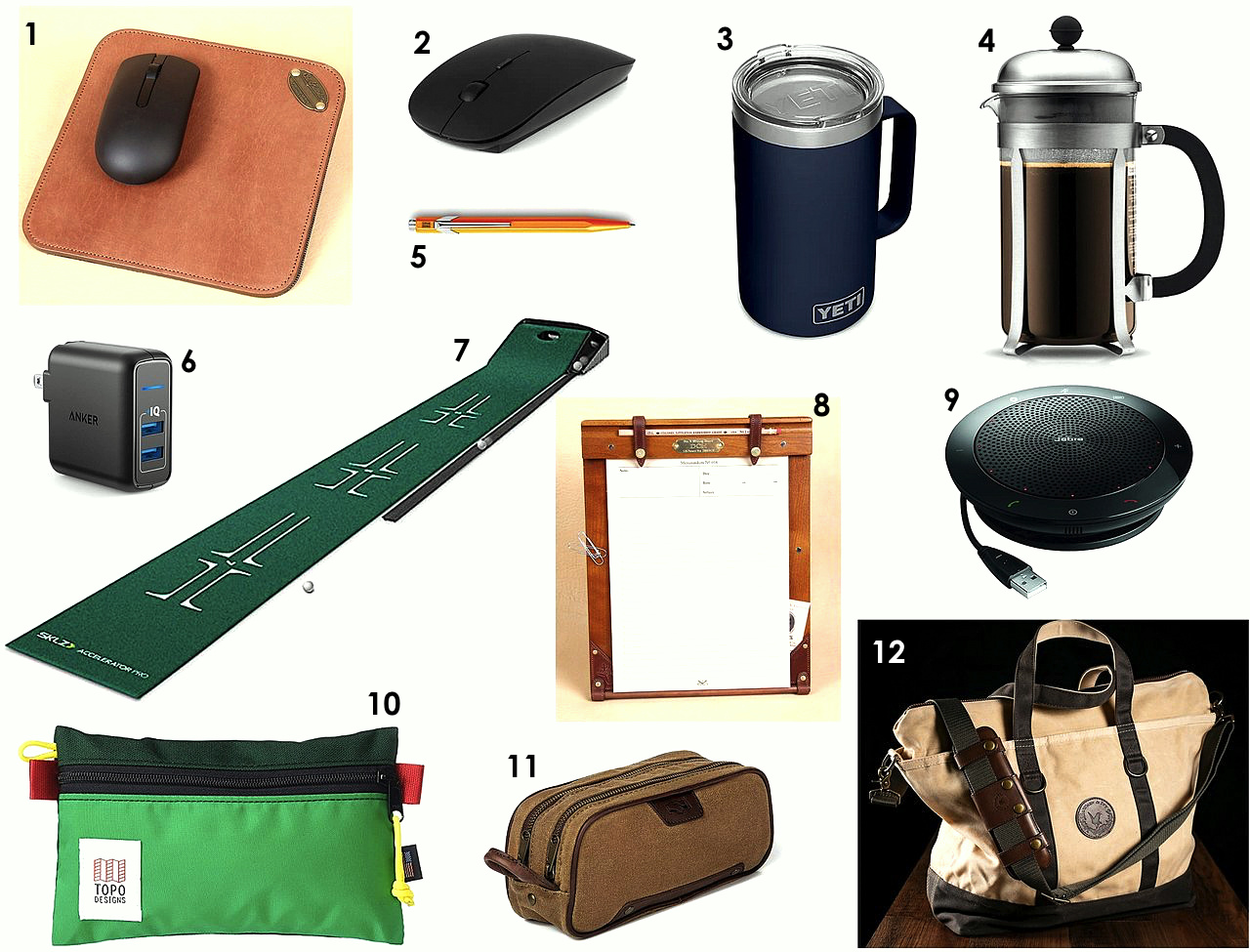 From top left:
1 Colonel Littleton No. 3 Bison Mousepad:  I really don't like trackpads on laptops.  They are really slow and sensitive, especially when working in Excel or Powerpoint.  I always have a mouse and a mousepad with me.
2. Wireless Mouse:  Following up on #1, I've been using this mouse for quite some time.  Very inexpensive and easy.  Mrs. RCS turned me on to it.
3. Yeti 24 Oz. Mug:  A good mug with a lid.  I drink two cups of coffee every day, then wash it out and switch to either water or sparkling water.  Since there are a lot of moving parts, I like to keep the lid in case it gets bumped.
4. Bodon French Press Coffee Pot:  Why not?  Get a little barista action happening.  Nothing wrong with some great coffee when Starbucks isn't the immediate option like it used to be.
5. Caran d'Ache Ballpoint Pen:  I keep a bunch of pens in #11, but keep going back to these.
6. Anker 24W USB Charger:  Apple has been selling 24W chargers with iPhone 11s, and I'm completely sold.  I pack one of these and keep my phone charged all the time.  It takes about 30 minutes to fully charge my iPhone.  One less stress.
7. Practice Putting Mat:  Gotta have something to do during all these conference calls.
8. Colonel Littleton No. 9 Writing Board:  I've just started using this, and absolutely love it.  It's a modern version of a clipboard, and very helpful when working on the couch.  Colonel Littleton really knocked it out of the park with this one.  I'll do a deeper review on Instagram shortly.
9. Jabra Wireless Bluetooth Speaker:  This is the same speaker I use at the office for conference calls, and can't recommend it enough.  Getting one of the house was a no-brainer.  I just have to keep Mrs. RCS from stealing it…
10. Topo Designs Zip Pouch:  Back to the organization theme, I use this to pack all my 'stuff'.  Cords, chargers, the Jabra, etc.
11. Mission Mercantile Campaign Waxed Canvas Accessory Bag: I use this to keep all my pens, Bic Flairs, and pencils.  It's a great keeper at a really nice price.
12. Wren & Ivy Generations Field Tote:  And there has to be somewhere to keep it all.  At the end of the day, I pack it all away and store it in the dining room chair.  This way, I know where everything is. Out of sight, out of mind…until the next morning.
What tricks have you found for working from home successfully?