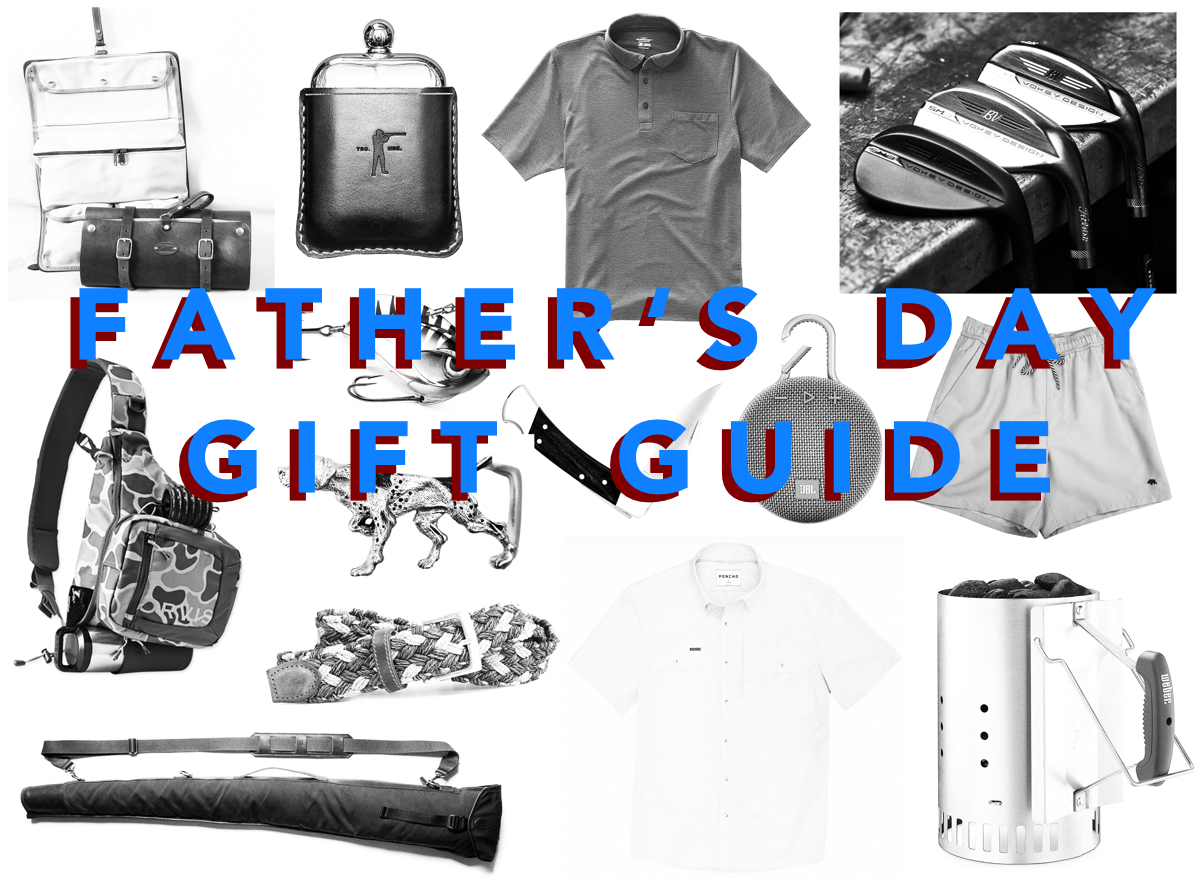 Dear old Dads…  Now that I'm one twice over, I am actually a little uncomfortable having a day all to myself.  Mrs. RCS and I have a really good system with our two boys, and I would be unusually uncomfortable lying around the house all day.  That doesn't register with me.  My ideal day is going fishing or getting out on the course in the morning, then coming home and spending the afternoon with my wife and boys, grilling out burgers, and relaxing.  My boys are too young to join me in the boat or on the course, but those days will come.
Ladies: it's been a tough couple of months for everyone.  Moms and dads are going above and beyond to keep some semblance of normalcy with our kids.  It's been tough, but also rewarding in a lot of ways.  If you can, make that tee time for you husband.  Get the boat gassed up.  Whatever.  I'm not saying that he gets a 'get out of jail free' day, but at least some time to enjoy what he loves…then make a plan for the afternoon and for dinner.  Pro tip: homemade cards from the kids.  I feel like my kids are growing so fast, so I'm all about making memories.
And of course, if you'd like to surprise him with a great gift, here are a few things that I'd recommend: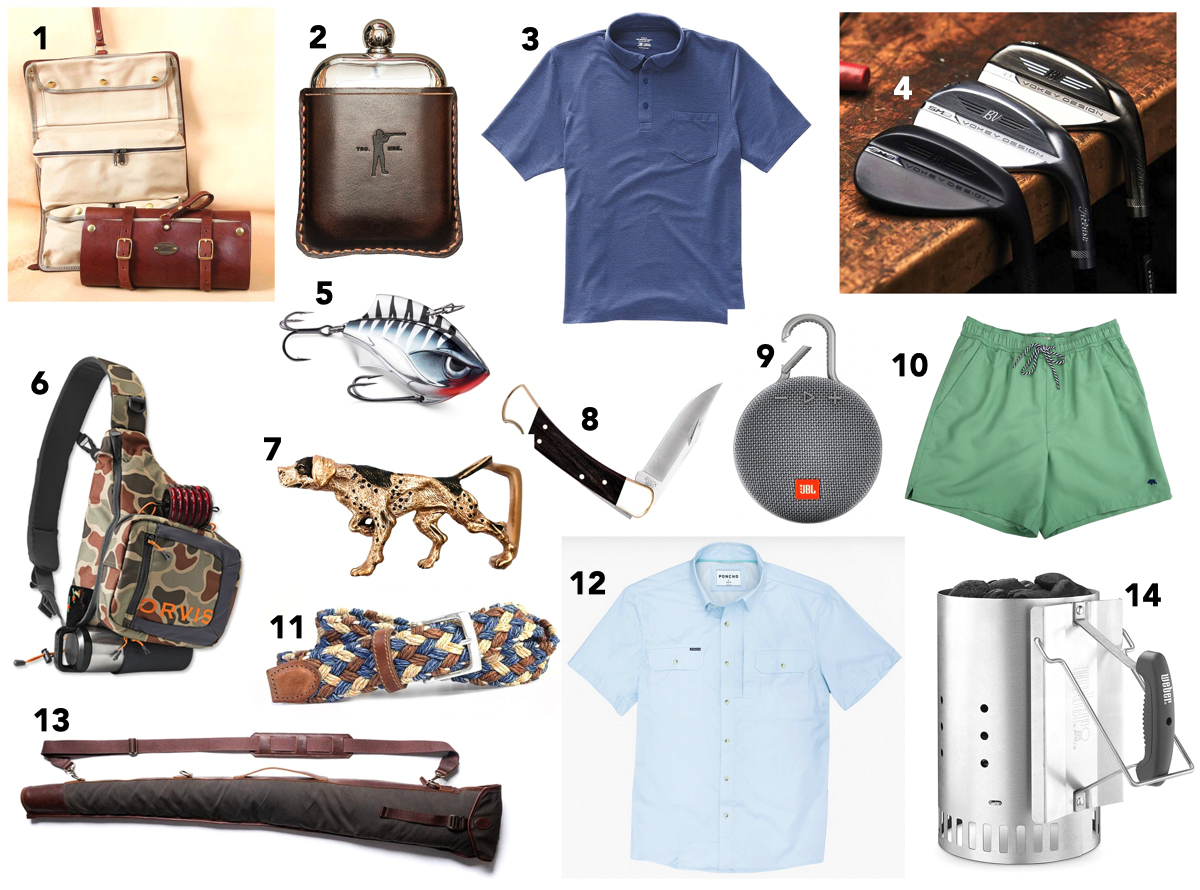 From top left:
1. Colonel Littleton No. 2 Shave Kit:  The Cadillac of shave kits.  This bad boy means business for the dad who travels.  This may make those hotel bathroom experiences a little more bearable.
2. Ball and Buck Roger Flask:  Dad likes a little nip every now and then.  How about helping him do it in style?
3. The Sporting Gent Barrier Polo:  The 'do-everything' polo.  Good for the course, good for the grill, good for the lake, and good for your mom to borrow.
4. Titleist SM8 Wedge:  A new wedge in the bag is a sure-fire way to make those duffed shots around the green OK.
5. Rapala Rap V Blade:  All the rage…if he's a fisherman, he needs a few of these in his tackle box.  I added three and have had fantastic luck thus far.
6. Orvis Safe Passage Sling:  Upgrade his fly fishing gear.  These slings are fantastic…makes being on the water much more enjoyable.
7. Hook 'N Hide English Pointer Belt Buckle:  Some of the coolest buckles on the market.  They added some dog themes earlier this year, and I can't get enough.  Your dad will love it.
8. Buck 110 Folding Knife:  The classic gift for any man in your life.  Nothing better than a Buck lock blade.
9. JBL Clip 3 Bluetooth Speaker:  A great gift for your dad.  Clip it to your golf cart, your umbrella at the beach, or bring it in the boat, and he can jam out while hanging out.
10. Onward Reserve Atlantic Trunks:  The classic swimming trunks profile in a solid color.  The ultimate dad suit.  And don't sleep on the new 'vintage green' color at Onward.  They've got a bunch of stuff in this color, and it's outstanding.
11. Martin Dingman Portofino Braided Belt:  An upgrade to all those stretchy golf belts that seem to be the rage on the PGA Tour.  This one has some style that your dad is sure to appreciate.
12. Poncho Blue Steel Fishing Shirt:  SSBD shirts are absolutely fantastic.  So are fishing shirts.  Poncho is leading the way, and their 'Blue Steel' has all the functionality of a fishing shirt, but doesn't look like one…he could wear this anywhere.
13. Tom Beckbe Canvas Gun Sleeve:  Give your dad an upgrade for carrying around his shotgun.
14. Weber Chimney Charcoal Starter:  Tell me there's anything better than a cheeseburger off a charcoal grill.  There isn't.  You've got to start it somehow…
What's on your list, dads?