Is it me, or did Rainbows fall out of favor about five (or so) years ago?  I can count three pairs that I owned between 2001 and 2010, but didn't re-up when that third pair needed to be retired.  I moved on to Havaianas, and even bought a pair of Chacos.  Sure, you still saw Rainbows around, but they just weren't as prevalent as they once were.  There was a short stint where 'fancy' sandals became a thing, which has thankfully backed off.
Anyway, the other day I saw a guy walking into High Country wearing a pair of Rainbows.  They were the acceptable single layer Sienna Brown style, and they looked GREAT.  They had just hit that good, broken-in look…the sole probably had about a year's worth of wear and had darkened significantly, and the straps had a good case of fade out.
That got me thinking…why did Rainbows essentially disappear from the #menswear ethos?  They hadn't done anything wrong…  My thought is that they were a little too much of the 'frat' culture, and hit too fast.  And with most things in that cycle, once everyone has a pair, they move on to the next thing.
They are comfortable, they have a good value proposition, and they patina as good as anything out there.  Some excellent examples:
And don't forget: they start out like this:
Here's the thing: I am back on board with Rainbow.  Maybe I've come full circle, whatever, but I'm ready to pull the trigger again.  I really dig the American made thing, especially the Birdwell-esque, old school California surf vibe.  After doing a tidbit of research, I found out that they make 2,000,000 pairs of sandals a year.  That is nuts.  Here's a little history and the back story on the Rainbow Sandals:
Hard not to be a fan after that, right?  And here are some more technical details from Rainbow: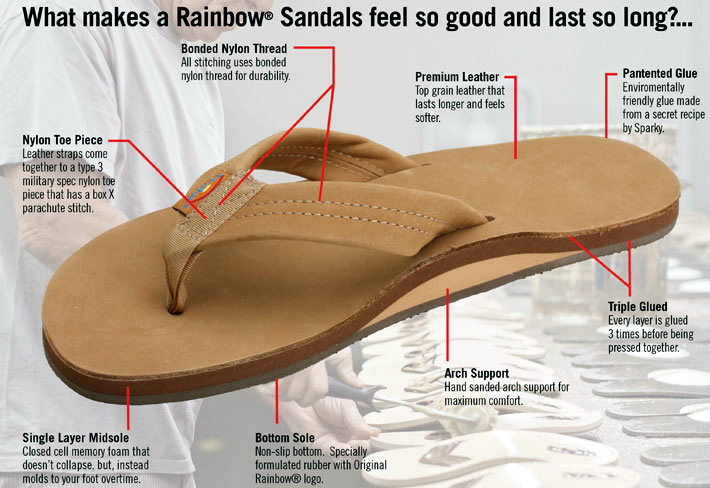 I don't have any skin in the game with these guys, but I wanted to plant my stake in the ground.  Consider my pair of Sierra Brown single-layers ordered.
Images: Google Image Search