I'm a big proponant of owning a few good polo shirts, as it's impossible to wear oxfords everywhere.  The older I get, the more picky I get about everything – including the polos.  If you follow @redclaysoul on Twitter, you are well aware that I spend as much time on the golf course as possible – therefore I'm always on the hunt for a good polo.  The good folks at Cash Robinson contacted me asked if I would give a review of their shirt.  I must say, I am very pleased.
The Cash Robinson brand concept is all about horse racing and bourbon.  Makes sense – they are based out of Kentucky.  Their Silks (jockey silks) Reserve polos are the first of their Small Batch Apparel Collections.  They are producing each collection in limited runs, so that each shirt has a sense of uniqueness.  My first impression was strong – the shirts are sold in a custom cedar box:
The color is great.  Very vibrant.   The fabric is very pleasing; it isn't scratchy, nor is it too 'stiff' like some of the comparable options.  I would rate it on par with Peter Millar.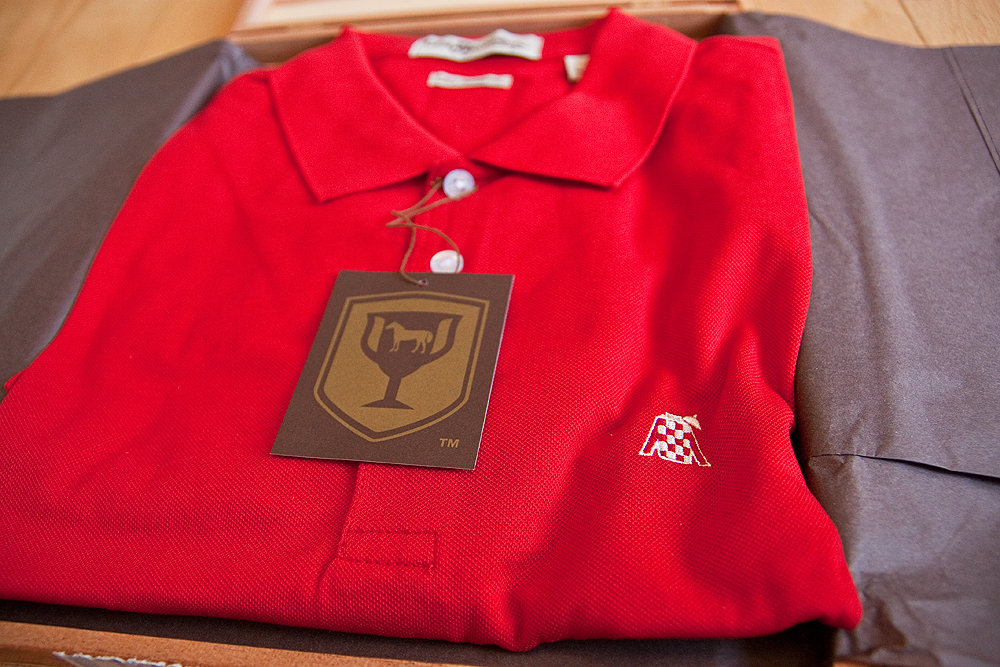 The logo is good – but not overbearing.  I am a big fan of the small logo.  The logo on the back of the neck is nice too – for the next run they may try it a bit smaller on the sleeve – to give it that 'Country Club' look.  The fact that it is the same color of the shirt and 'hides' is a nice touch.
One of the best features: open sleeves.  This really gives the shirt it's character.  With the open sleeves, it hangs correctly, and doesn't ride up like banded sleeved shirts.
The fit is good.  It's not a slim fit, but not a box.  Right in the middle.  I would put it on par Polo sizing.
Overall, I would definitely call this an 'Adult Polo' – very classy and sophisticated.  I wore this on the course recently – and while it didn't shave any strokes off of my round, it fit in nicely.  It will also fit in nicely between the hedges this Fall.