With today as the first day of Spring, it's only appropriate that we talk GOLF.  It's been way too long since I've swung a club, and the itch is real.  I can't wait to get back out there and try to find a few birdies.  The Masters is less than a month away(!), so let's go ahead and knock one down the fairway.
By now you know that I'm a HUGE fan of the Holderness & Bourne brand.  John and Alex do such a great job of releasing a refined collection each year.  The shirts are the best on the market.  They have a technical element, but they don't look like it at all.  Their collars are more like a dress shirt than a golf shirt, and the fit it fantastic.  No logo – they don't need one.  Besides that, they offer great coordinating pieces like vests, pullovers, sweaters, belts, and bags that all sing the same professional, refined tune.
And not to mention that they are two of my favorite guys.  We make it a point to have dinner every time they are in town, and they are some of my favorite nights.  We dominated Fellini's a few weeks ago, and did some chatting…
Holderness & Bourne has been around for a while now, and is making some major traction. What has the last year been like?  We have been thrilled to see the brand grow so quickly. Last year we tripled the number of pro shops around the country that carry H&B, and the line sold well which has led to bigger orders for 2019. This year we will be stocking 300+ golf clubs and resorts, including more than half of the Top 100 in the U.S. This momentum has given us the opportunity to expand our product range, and we've got a bunch of new styles we're excited about. On the operations side, scaling up has been a lot of hard work, but we've hired some fantastic people who are helping us get to the next level. As much as we care about making great apparel, we are also focused on offering the best customer service, whether to the shops we stock or the folks who buy directly on our website. So we are investing as much in operations and service as we do in expanding the product line. It's nice to see the demand out there for what we're offering though, especially given the fact that neither of us came from an apparel design background. We just have a strong point of view.
How has H&B changed? If at all?  We haven't changed at all in terms of our approach. We're not looking to become a huge brand overnight. We would rather grow carefully and have a tight range of awesome products in the right colors, and keep our customers happy. We are excited to introduce a number of new styles every year, because we've got tons of ideas (such as The Ward crewneck sweater), but the way we go about things won't ever change.
What is your take on the golf apparel industry?  Similar to our take on golf courses. There's a lot out there, but not much of it is special. We hope that people will think of H&B as special. There's a lot of trend chasing in the industry right now – it feels like that has increased even over the past four years since we started – but we steer clear of it. We're not big fans of golf apparel looking like costume. One of our company mantras is, "make it look easy" and when it comes to style that means helping guys look sharp without having to put much thought or effort into it.
Has your customer base changed?  Thankfully it's much bigger now! But no, it's still the same in terms of customer type. We have proven that our approach to fit works well for guys across the size spectrum – sizes Small and Medium are true slim fits, Large is just a bit slim, and XL and XXL are more accommodative, classic cuts. The perception that H&B is a brand only for skinny guys is one that we continue to overcome. These days we make the point that some of the clubs we stock have mostly older memberships, and we are doing well in their pro shops. So it's also not just a younger guy's brand. The only other thing we would mention is that a lot of guys who don't even play golf tell us they wear H&B, and we're all for it.
What are your favorite products in the new S/S line?  Alex: I've been wearing our new Hilton and Egan shirts almost every day since we got our first shipment from the factory. They are made with 95% un-mercerized Supima cotton with 5% stretch and they're just crazy soft and comfortable. Same deal with our Ward sweater, which I tell people is basically a cotton crewneck sweatshirt with a country club paint job thanks to its jacquard-knit texture. It dresses up like a nice sweater, but also looks great with jeans if golf is not in the cards that day.
John: My favorite new style is our Westland tech pullover. I work in our warehouse a fair amount, keeping the operations side of the business running smoothly (which is to say moving boxes), but I also need to be ready to jump out to visit a club we stock or to a business lunch, so versatility is key. The Westland is comfy, stretchy, and moisture wicking, but also has a sharp look that is presentable pretty much anywhere.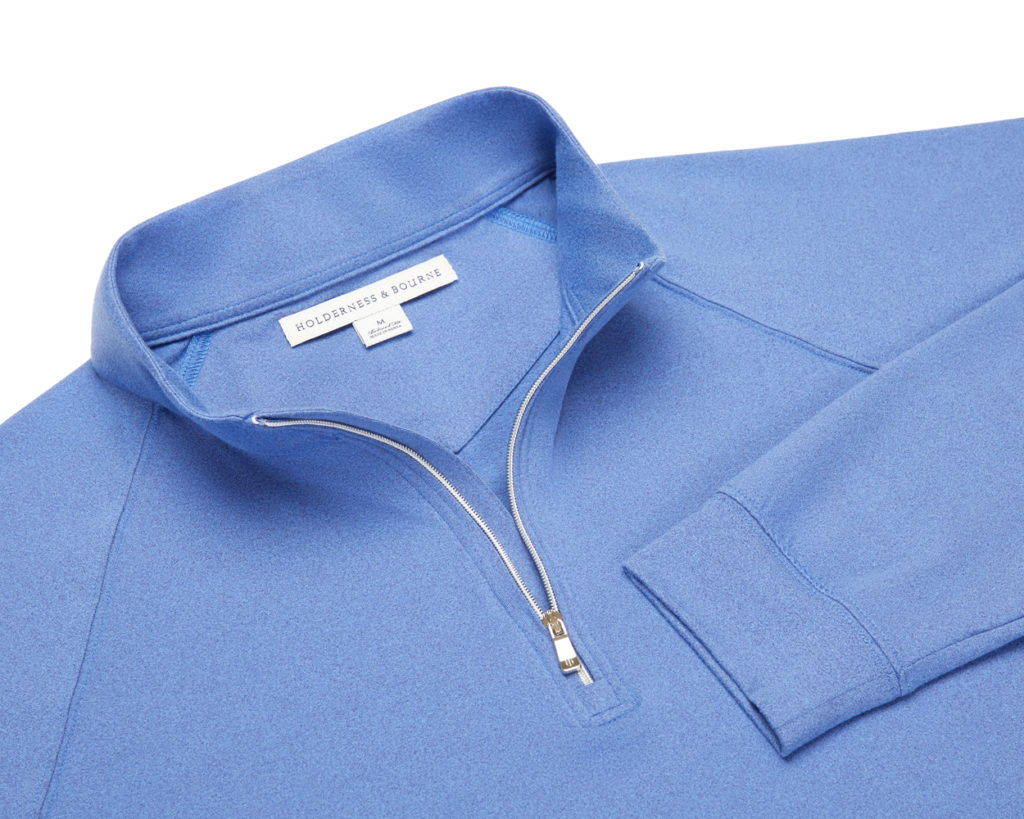 What was a moment for each of you that was a 'holy crap' moment?  Alex: I'd have to say getting out to watch Roberto Castro – one of our brand ambassadors and a good friend – compete in The Masters at Augusta and the U.S. Open at Shinnecock wearing H&B ranks way up there for me. We'll get photos from time to time of big name guys sporting one of our shirts or sweaters during a casual round, which is also cool because we don't pay to get the product onto anybody, so if they're wearing it that means they bought it and enjoy it.
John: Getting called up to do the gift packages for the big summer member/guests at both Fishers Island Club and Winged Foot last year was pretty awesome.
Lastly – and most importantly – who do you like to take home the green jacket?  Alex: I think Rory finally slays the dragon this time around. Career grand slam.
John: I'm surprised Alex didn't bring this up given that he's a lefty, but Phil looks good lately, limber as ever. Would be something to see him clip Jack's record as the oldest winner.
There you have it…you can see the entire Holderness & Bourne collection on their website.