What a journey Ledbury has experienced over the last few years.  I first posted about them in March of 2012 when they were producing high quality dress shirts out of Richmond, VA:
Since then, things have EXPLODED.
They started producing sweaters.  Then sport coats, then pants, then socks, all along more shirts…all of which keep that cool, stylish Ledbury aesthetic that we've all come to know and appreciate.  To me, Ledbury is my best friend's older brother that is well educated, well traveled, has a great job, drives a cool car, has a great watch, and is always dressed well.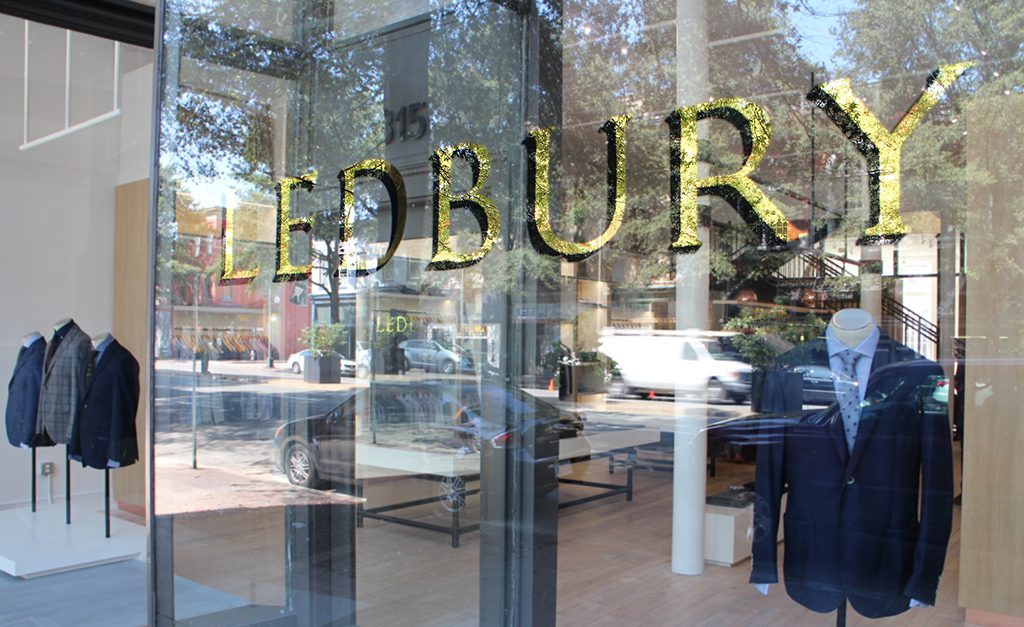 Over the last year, they've had two big things happen.  First, they moved their headquarters to a huge space on Broad Street in Richmond, VA.  2000 square feet of the ~12000 space is retail, and in the back they have a special made-to-measure lounge, where customers can interact and pick up a few of their famed shirts.  It also gives them the ability to do more short-run options, like they did in October (a new, small batch shirt every day).
They are starting to show up in some of your favorite retail spots.  Our friends at Beau Outfitters in Jacksonville gladly display their selection of Ledbury shirts next to their Filson bags and Criquet long sleeve pullovers.  They fit right in.  Beau owner Ryan Switzer admits 'these are the nicest shirts, and they move extremely well for us.'
Second, shirt construction.  One aspect that hasn't been covered is Ledbury's expansion into more casual shirts.  And by 'casual', I mean the S-M-L-XL shirts that are constructed for an expanded scope of wearable options.  And beyond the new construction, they are exploring new fabric options as well.  They aren't just dress shirts anymore, folks:
There's flannel, but it's good flannel.  Not the overly thick shirt that looks like an adult diaper when tucked in, but a brushed cotton that can be worn comfortably under a sport coat:
There is traditional oxford cloth, which is a welcome addition.  Their Mayfield Oxford fits like a dress shirt, but wears like your favorite OCBD:
And there are more casual fabrics, like the Culver, which is a loosely woven dyed oxford.  The texture is money:
The cut of these shirts is a slim, and there is standard available as well.  I wear a L in these slim fits, and comparatively speaking, I wear a 16×34 slim fit in Brooks Brothers, and a Medium in J. Crew sport shirts.  I get L because I like a little room, and it's worth the money shortening the sleeves by an inch.  This new breed of Ledbury shirts are cut a couple inches shorter for those that like to wear them untucked.  It's a nice touch for post-Christmas dinner…you know what I mean.
All in all, I could play Flag Football or swing a golf club comfortably in these shirts…they fit that well.
Ledbury is one of the first companies I talked about on this blog.  Not only do they produce GREAT products, but everyone on their team is such a pleasure to work with.  Both Paul's are extremely passionate about what they do, and it shows in their work – not just with the shirts, but with customer service as well.  They realized early that their greatest asset are their customers, so they work to ensure that the shirt off their back would work on their customer's back as well.  We love seeing our friends succeed, and appreciate that they help ya'll look good too.
Store images: Richmond BizSense