I'm in the market for a new shotgun, and have been for way too long.  One of my favorite pastimes is shooting, and I want a gun that meets my needs.  Now, I'm not a big hunter, but it is a large part of our culture here in the South.  I'm good with that, but even though I've lived below the line my entire life, I've never had the urge to be in a deer stand or duck blind.  Walking a field with dogs, though – I'm all in.  My problem is that I'm tired of borrowing my buddies' guns.
There are two shotguns I'd like – a 12 gauge semi-automatic, and a 20 gauge over/under.  I'm going to start with a 12, and then get the 20 later on.  I wanted to shoot, so a couple buddies and I headed to a sporting clays club in North Georgia to hone our craft.  I hadn't shot in nearly three years, but I've wanted to pull the trigger for quite some time.  I was really excited – and anxious – to shoot.
After getting the supplies (shells, ear plugs, etc.), we prepped our gear and loaded up the cart.  The club has two 14-station courses, each with two clay throwers that simulate various bird flights.   We chose the South course and headed out.  We couldn't have picked a better day – the weather was perfect, and there was low wind.
Most of the stations were 3- or 4-report pairs, but a few were 'true pairs' – which sends two clays at the same time; much more challenging – but also more fun.  We all took turns at each station – shooting, working the clays, and keeping score.
I became more comfortable with each gun as we got deeper into the course.  My two buddies are much more experienced than I am with a shotgun, which is fine, because I prefer going out with better shooters.  I learn a lot more from them than they learn from me.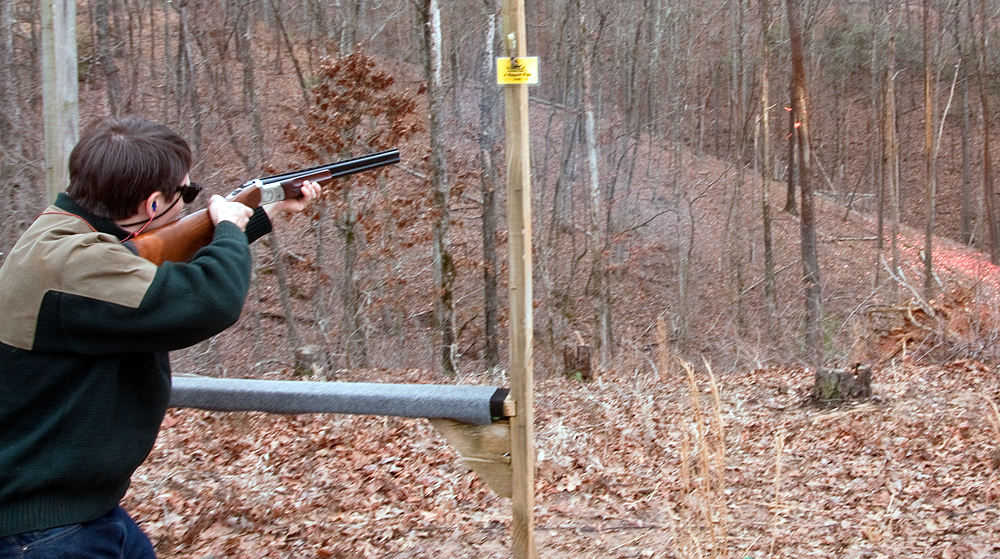 What a day – we all had a great time, and hit quite a few clays.  I scored a 'Herschel' (34 out of 100), which I was very pleased with considering I hadn't shot in such a long time.  While I wasn't the best, I confirmed my shotgun plan:  I see a 12 gauge in my (very) near future.  A 20 is soon to follow.
After shooting, we rewarded ourselves with a lunch at a local BBQ place.  The perfect ending to a day with good friends and gunpowder.
Thanks to Filson for running this post on their Life Blog…it's nice to be associated with such great company.