I really like Drake's.  It's easy to say they are 'so English', but it's more than that.  As a traditional American dresser that appreciates elements of Ivy, all regions of Italy, England, Japan and France, Drakes has a tendency to keep me in check.  Their looks make me want to sit up straight, drink coffee in the afternoon, and read Fitzgerald.  Their look isn't bold, but you know it when you see it.  It's arguably the best off-the-rack clothing on the market.
Their Fall and Winter line was released last week, and to no surprise, it looks absolutely outstanding.  There isn't anything that's a 'flyer'.  Any of these pieces will work today and in 20 years, not only from a style perspective, but because of the construction.
Some of my favorites from the new collection:
Creative Director Michael Hill was nice enough to give us some insight:
What sort of guy is a Drake's customer? The Drake's man is someone who appreciates the finer points of dressing, and wants that to show in their appearance, but doesn't want to appear stuffy, or too dressed up. It's something we sometimes refer to as a 'relaxed elegance.' That being said, the Drake's man could be anyone, but the uniting factor seems to be an appreciation of craft, and an eye for a certain timeless style.
Explain the importance of a green sport coat in a man's wardrobe. Green is sometimes an overlooked colour for sport coats. One tends to think immediately of navy or brown, but green more than earns its place in any man's wardrobe. It pairs easily with anything from grey flannels, to indigo denim, to beige chinos or brown cords. It also lends itself well to strong colour combinations (perhaps even more so than brown), so makes picking a shirt and tie a breeze. Our green Harris tweed jacket from this season is a personal favourite.
What is your favorite piece(s) from the Fall collection? Besides the aforementioned green tweed, there are a wealth of items from this season that stand out. We have a check wool overcoat with raglan sleeves, in the classic 'Balmacaan' style. There's also our long point collar shirt in a fantastic broad stripe poplin, and our madras check cashmere scarfs, made authentically in Kashmir. And, of course our brushed Shetland jumpers, in a range of colours, from magenta and mustard to teal and kelly green.
Let's get on with the show: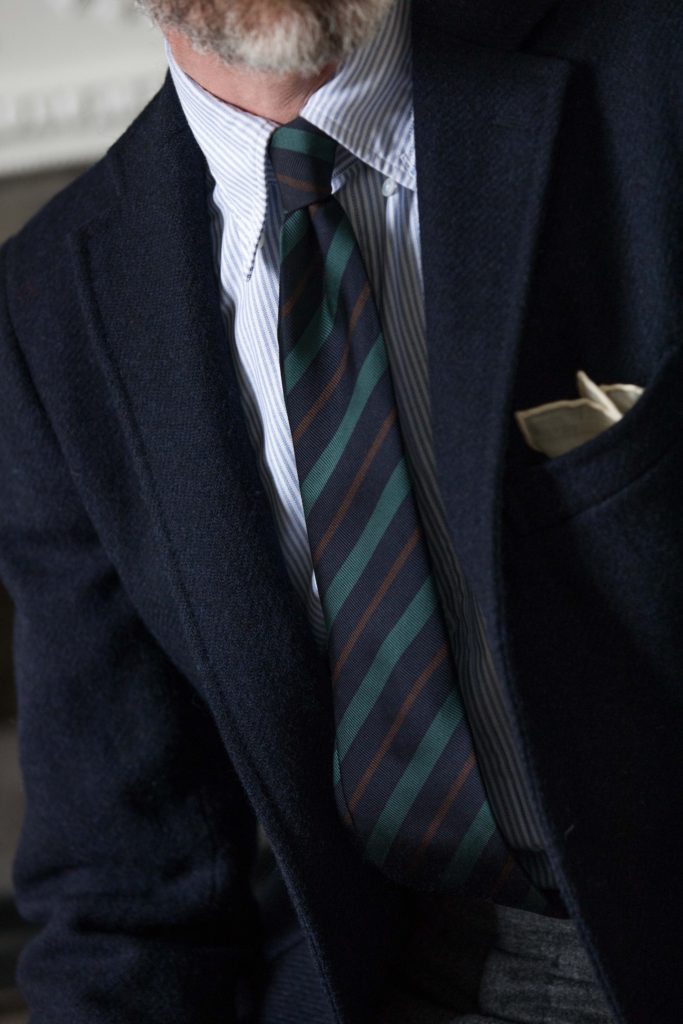 It's like a breath of fresh air, right?  What caught your eye?