While it's no secret I'm a Filson fan boy, one of my favorite Google Image Searches is for 'vintage filson bag' (or some variation).  I love seeing good, quality products that have had the crap beat out of them.  They look better than new.  I'm working on getting mine in that sort of shape, but it's going to take some time (and isn't the ride half the fun?).
We'll get into the Interactive part of this post in a minute, but for now, enjoy this eye candy from one of those Google Image searches: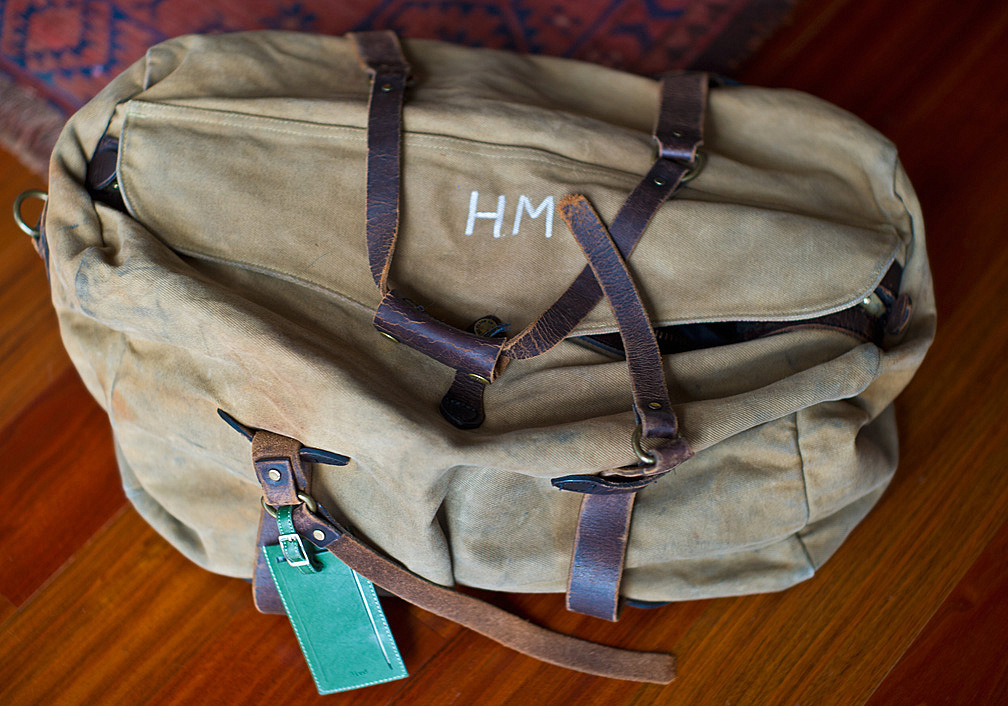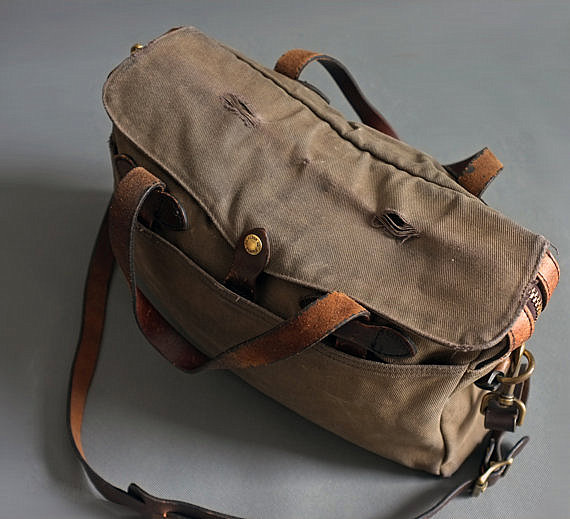 And now for the Interactive part…
Below was my setup for Family Vacation Numero Uno.  It included the older model Medium Duffle (which I had monogrammed), the padded laptop briefcase, the medium field bag that I use as a camera bag, and the orange double-zipper travel case (which they don't make anymore).  It's very rare that we travel without using a couple Filson bags:
Here's what I'd like to do:  Send me a picture(s) of your Filson gear.  You can send it to jrs at redclaysoul dot com.  It doesn't have to be well-patina'ed or overly-vintage, it just has to be yours.  Give me a little insight to what you have and I'll update the post will all the submissions.  I know there are some Filson users out there…let's see it!
September 27th Update:
From Micah @ Old Try: Thought I'd toss my cameo making Filson into the mix. Wife gave it to me 7 years ago, on our cotton anniversary.
From Ryan T.: Typical lineup for this Texas road warrior. The padded computer bag has been all over the world in the past 5 years. I prefer this briefcase over my Tumi T-Pass or King Ranch briefcase.
Filson Otter Carry-on
Filson Otter Padded Computer Bag
White Wing Camo Dopp Kit
From Theodore C.: here is a picture of a packed 240 Volvo with my Filson collection and Noodle!
Also here is the whole horde …
2 large duffles
1 suit cover
1 briefcase
1 Pullman
1 game bag
They also have matching luggage tags, are embroidered with initials, and are numbered 1-5…I know I have a problem
From Brian B: This Filson Briefcase was a 'new job' gift that I received two years ago. I am a banker in rural West Texas and split my week between two branches. This bag is my office.
From Garrett H.: I bought this guy my second year of law school and haven't looked back since. I'm now a practicing attorney and use it as my briefcase. It's got plenty of space to haul my computer and  documents but still looks classic. I get tons of compliments on it and it hasn't shown much wear, except for a pen smudge. I hope to keep using it for many many years to come.
From Chuck A.: My Filson briefcase. Taken in my office at Howard H. Baker, Jr. United States Courthouse.
Keep your submissions coming…these are GREAT!