I had the pleasure of meeting Daniel and Stephen of Cobbler Union not too long ago.  Cobbler Union is a men's shoemaker that keeps the bespoke mentality, but gives greater accessibility.  They are doing their part in keeping Atlanta as a prime source for outstanding mens style.
Their shop is located in Inman Park, right in the thick of it.  The feel of the shop is very specific: there aren't a lot of frills, except for the shoes.  And the shoes are outstanding; they are as nice as any shoes I've seen.  Cobbler Union's shoes keep to the classics, but there are some great options available for the more adventurous.  It's a very comfortable environment, with good conversation and some excellent options.  Quite frankly, the price point is what sets these shoes apart.  The value proposition is extremely high with Cobbler Union.  You can see the full collection on their website.
Daniel and Stephen were nice enough to do an interview and let me snap a few pictures of their store.  Enjoy:
What is the history of Cobbler Union?  Cobbler Union was born in Barcelona, Spain, in 2014 with the vision of disrupting the luxury industry by offering men access to bespoke-inspired luxury shoes at half to one-fourth of the price of similar shoes at luxury boutiques. At Cobbler Union we believe in the power of style and self-expression and believe that a great pair of shoes can transform a man. One of our biggest priorities is to help preserve, promote and celebrate our wonderful craft and to serve as facilitators between the artisans making our shoes and the men wearing them. We're committed to doing everything in our power to ensure that the shoemaking craft can grow and prosper for years to come. With Union members (aka customers) in over 30 countries and an ever expanding product offering, we look forward to continuing to build a new type of luxury brand focused on authentic design and craftsmanship.
What type of guy is a Cobbler Union customer?  Our typical Union member is above all a real guy who appreciates style and quality and has a certain level of sophistication and aesthetic sensibility. Some members lead on their college campus; others run multi-national organizations. No matter the age, or where he is in life, the one thing they all have in common is they know how to express their viewpoint.
What is it like getting a custom pair of shoes?  Our members love creating made-to-order shoes with us. Even with the customizations, their shoes still end up being about half the cost of another off-the-shelf luxury shoe. But more importantly, our process allows for each guy to express his style exactly the way he wants to. Whether it's a man just looking to change to rubber soles for his winter commute, or a shoe aficionado wanting to create his dream shoe, it's rewarding to be part of the creative process.
Describe "value proposition" as it relates to a pair of dress shoes?  A great pair of dress shoes screams confidence and success. It's that simple. Whether we are trying to improve personal or professional relationships, the right shoes can make a huge difference. A good looking, well-fitting pair of shoes will be the best part of your outfit and something that everyone will notice.
What makes Cobbler Union shoes unique?  Cobbler Union shoes represent an entirely new value proposition in the luxury market. By cutting middlemen (third party retailers), we are able to offer men exquisitely designed and handcrafted shoes made with beautiful top grade French calfskins at a significant fraction of what a similar shoe from those heritage brands we all know would cost. Our teams' background in bespoke shoemaking means that we not only know how to make a phenomenal shoe, but that we have the mindset to actually want to make a phenomenal shoe. Our attention to details, quality of materials, and focus on craftsmanship – at our price point – is unheard of in the industry. We're gentleman here, but we're causing a ruckus… and we like it.
What do you like about being headquartered in Atlanta?  We are very fortunate to be in a city that's going through an amazing transformation. And, most importantly, we're excited to play a role in that transformation. Atlanta offers us a unique opportunity to build a global business without sacrificing quality of life. We also enjoy how willing other successful entrepreneurs are to offer their advice and support as we grow. And, of course, we love having direct flights to New York and Barcelona – two common routes in our hectic journey.
What is the most important pair of shoes a man needs to have in his closet?  The most important pair will be different for every man. However, this one pair will be the one he would wear to close the deal. If forced to pick just one, he'll definitely have a perfectly shined black cap-toe Oxford – a timeless classic perfectly capable of attending a wedding, shining in a big business meeting and stylish enough to wear with jeans on Friday evening.
What is on your Spotify playlist?  We have three go-to playlists we use depending on mood and time of day: Cobbler Union Gents, Cobbler Union Lounge, and Cobbler Union Latino. The Gents play list begins with It's a Man's World by James Brown. At Cobbler Union "it's a man's world, but it wouldn't be nothing with out a woman or a girl." When the sun does down we cue the Lounge playlist which leads off with M83's We Own the Sky. And we turn up our Latino playlist to liven things up and get back to our roots.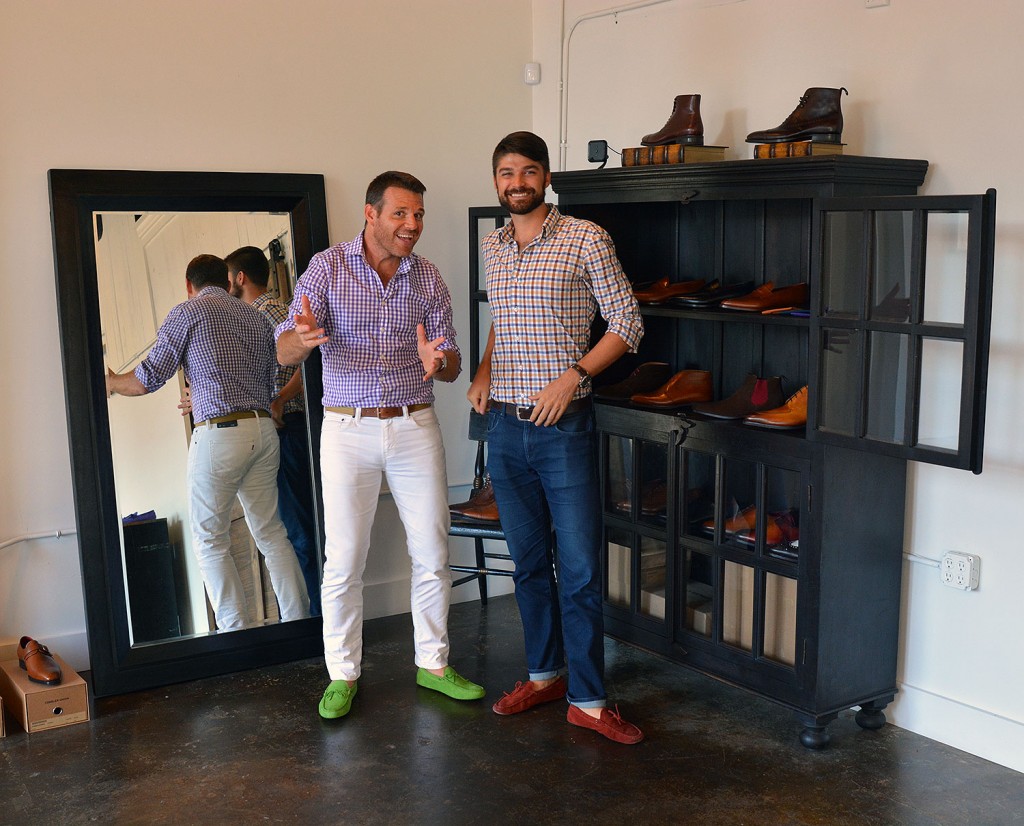 Be sure to stop by the store next time you are in the neighborhood…