Over Under Clothing is a great up and coming clothier out of Jacksonville, FL that deserves some attention.  They are doing it the right way – 'preserving the sporting lifestyle', making all of their products in the USA, and focusing on support of Labrador retriever rescues and worthwhile outdoor preservation societies.  Owner Bryan Horn was nice enough to give us some insight into what makes Over Under tick:
What inspired you to start Over Under?
I have always had a love for tradition.
I grew up with a closet that hung a Navy Blazer, white and blue button downs and few pair of khaki pants, a seersucker suit and some Brooks Brother's stripped ties along with a couple pair of penny loafers and black and brown belts. Some might say boring, but I love the classics.
After working at George Gibsons in Athens, GA and learning about the business, then being frustrated with the down turn in the commercial construction industry, seeing the success Southern Tide was having with their brand and being inspired by similar start-up stories like Vineyard Vines, Southern Proper and Ralph Lauren, it was in January of 2008 that the idea of Over Under Clothing was born. I was on the roof of 2 yr Commercial construction project that was pretty much my "baby" and I was dealing with your usual design issues and about to pull my hair out when I thought to myself, "there has to be a better way to make a living!" What is it that you really love Bryan? What do you want to do? It was that very moment that I looked down and in the back of my truck was Lottie Grace, my 1 yr old Chocolate Lab standing in the most beautiful broadside pose. The one you now see on our logo. I got down from the roof, went to my Construction office and drew hew profile on a Napkin and immediately started researching American Polo shirt manufactures that very afternoon.
You are a big 'Made in the US' guy – why is that important to you?
I believe this country was built on ingenuity and greatness that can still be found today if we just wake up and begin to realize what outsourcing all of products to overseas manufactures is really doing to us a whole.
I have past family members that were in the US. Army and at one point as a Senior in College during the turmoil of 911, I thought long and hard about enrolling in Officer Candidate School, so I have always had a love for the Red, White and Blue. While Christmas was and still is huge in my family, the 4th of July was almost just as big. I love this country and everything it represents, but I feel we have lost a real sense of who we are and what the ideals this country was built on. By making all of our products in the USA, I know we are affecting numerous businesses and not only keeping jobs on our soil, but helping create them. I believe it is my duty as American citizen, and small business owner to help my country and others in every way possible.
With that being said, I have found that the quality of goods we can make, the personal relationships we can develop with our manufacturing partners and the jobs we can help create are reason enough that Over Under Clothing is and will always be MADE IN THE USA!
What is your shotgun of choice?
I recently bought a Ruger Red Label Over Under Shotgun (Made In USA which they sadly just quit making). I have only shot it a handful of times, and I love it! This gun has some nice engraving, it is well balanced and made in the USA. I probably won't shoot it again because I have decided (once we finally get our Polo's ready) to do a promotion with the 12 GA Ruger Over Under Shotgun and let every polo purchase (online and in retail stores become registered for a chance to win the nicely engraved American firearm. I have a myriad of shotguns as I have always loved collecting various firearms in this category and one brand that doesn't get much credit in the "beauty" or "fine firearm" category, but in my opinion and experience performs flawlessly in tough conditions while out in the field are Mossberg shotguns. Mossberg's have and hopefully will always be American Made.
Our very own Marines currently use them for all kinds missions, so I figure if they are good enough for our servicemen in life and death situations….they should be good enough for me to throw in a duck boat and bag a limit of mallards. Coincidentally, I will say my first Mossberg was actually won at a Duck's Unlimited banquet when I was a kid. My first ever shot with a shotgun was taken from my fathers old .410 Ga Winchester Model 42 that was bought by his father at a Sears and Robuck in Montgomery, Alabama in 1959. After that I received a hand me down Ithaca 20 Ga pump from my uncle, and next up for me was the ever popular Remington 1100 automatic. After much desire and salivating, I finally got an older used "Olin" (owned by Winchester) Over & Under shotgun in my teenage years after cutting quite a few lawns and saving for what seemed like years. You asked which was my favorite, but I guess they all have a special place in my heart, because each one has a specific memory attached to it. My first dove, duck or turkey was taken with those above mentioned guns and many times it may have just been shooting skeet with my dad, older brother and family friends, but one thing that all of those guns have in common is that they were all made by american workers, out of raw materials that came from our own natural resources. So I guess to answer your question, my shotgun of choice is one that when you look at the barrel and read that stamping……it reads "MADE IN U.S.A"
Tell me about your lab, Lottie Grace 
My Chocolate Lab is by far (other than my faith and my wife) the most important thing in my life….and she rivals the above mentioned closer than some might believe. With that being said. I grew up with dogs, but didn't grow up with labs. I was always around them and my neighbors had a White Lab named Destin that I looked after quite a bit as they traveled extensively, so I knew and loved the breed at an early age.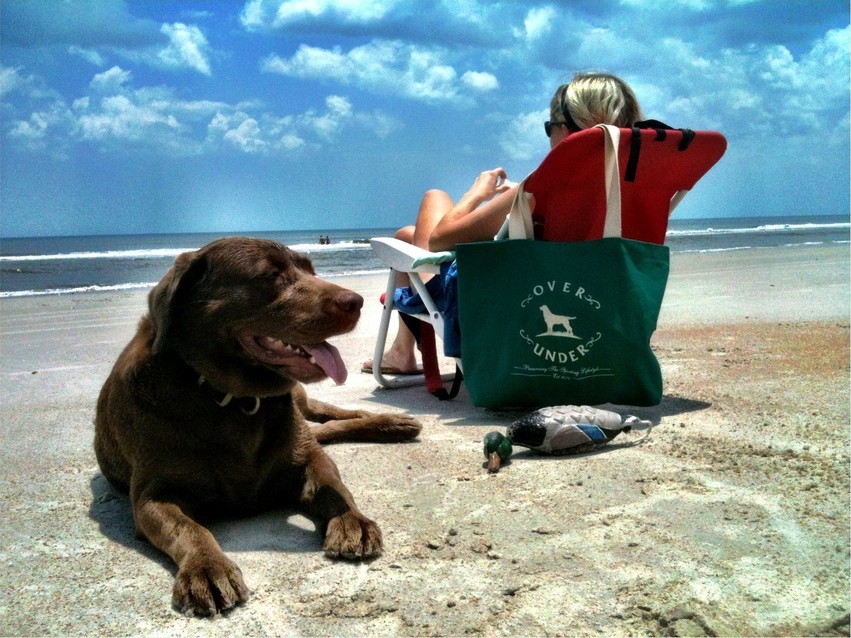 Lottie Grace was originally picked out by myself because I was tired of loosing ducks. I duck hunt frequently and I was raised that you always eat what you shoot. Many cold, very early mornings, I spent countless hours pursuing migratory birds and wood ducks in the coastal marshes and Georgia swaps. In the southeast we don't have the best duck hunting, so when you spend countless hours in the marsh and more money than any sane person should on equipment and gear……and then you only shoot a 2-3 birds (if it's a good day)……only to spend hours looking for a downed or wounded duck, the amount of frustration one experiences will cause them to look for a trainable retriever very quickly. Hence Lottie Grace came along. Not from any well known Kennel found in the back of a Duck's Unlimited magazine, but from your regular everyday "salt of the earth" Alabama family man that just had one damn fine female hunting retriever and he wanted a litter of her pups. Lottie sire was no slouch either as he spent most of the season in the LA swamps where the hunting and retrieving is usually pretty steady. Nonetheless, she was still from your just your average joe, but that was just fine with me as I was ready to train her! She was the fattest, lightest colored pup in the bunch and every photo I received from the family that owned Lottie's mama (Dixie) showed Lottie (or "Latte" as they called her) with something in her mouth, so I knew she was already retrieving at just 6 weeks!
I spent every morning before work and every evening after work in my neighborhood park near San Marco in Jacksonville, Florida with a check cord, training pistol, duck calls, wading boots and plenty of bumpers for little Lottie to retrieve. I got plenty of stares from the neighbors, as they weren't at all use to seeing this type of behavior and hearing blank pistol shots in a residential neighborhood, but I really didn't care what they thought as I was on a mission to train my new hunting buddy! Lottie was an amazing pup. She spent the first 2 weeks of her life traveling with me from destination to destination and actually made her first retrieve on a green winged teal at the extremely early age of 14 weeks in Lake Okeechobee, FL. Most people would tell you I'm lying about that feat, but I watched unfold before my very eyes. Anyway, her training was somewhat easy compared to some stories I hear, but I ways tried to make it fun, and remember that she is pet 1st and working dog 2nd. I took her everywhere….to work, to restaurants, on every trip, and she would probably hang out with humans versus other dogs because she thinks she is any bipeds equal.
At 8 months of age Lottie got a 8 yr old Chocolate rescue named Hayden, and she was a little jealous at first but quickly bonded with "Miss. Hayden" as we called her. Having an older dog around helped Lottie mature and develop not to mention have another companion around while my wife and both worked full time.
Lottie has been a part of my engagement to my wife, a part of almost every outdoor excursion I have been on whether it was doves, deer, ducks, turkeys or fishing trips. She has been to countless tailgates for UGA and Auburn football games, and anyone that knows my wife and I knows that if you see the two of us you will probably see an 87 lb Chocolate lab that we think hung the moon, heeling by our side on a new Over Under  "Huntington leash."
Lottie is an extremely strong swimmer that would probably rather live in water than on land, has a very calm disposition in the house and around people, but when you show her a shotgun and a bag of decoy's and you ask "you wanna go hunting?" She is all ears, ready to load up in the truck and make her master proud. There is nothing in this world she would rather do than please me with a few long, cold retrieves on a hard to find Mallard, Woody or Pintail and then come home to curl up on the couch with my wife and take a much needed nap!
What's coming from Over Under?
More dog products are also on the horizon, as many people have requested some nylon and ribbon style collars that are water friendly.  Ideally, we want to grow into a brand that offers polos, button downs, khaki pants, etc as well as even more top quality specialty sporting dog products. We have numerous ideas and desires for new products as you can tell, but slow growth has been our plan from the start to ensure top quality of our products and to be able to supply the demand to our customers. With that being said, what you will be seeing immediately from Over Under Clothing are our much anticipated Hill-Top Hat Labrador Hats and Tour Visor, as well as our Signature Logo Sportsman's Cap in a new camouflage pattern.
Like what you see?  Then how about a Over Under giveaway?  The winner gets a prize pack which includes a Beach and Boat tote, a t-shirt of your choice, a handfull of koozies, some chums, and stickers.
Leave a comment to this post to enter.  For additional entries:
+1 (2 Total) 'Like' Over Under Clothing on Facebook
+1 (3 Total) 'Like' Red Clay Soul on Facebook
+1 (4 Total) 'Follow'  Over Under Clothing on Twitter
+1 (5 Total) 'Follow' Red Clay Soul on Twitter
+1 (6 Total) Tweet the following about the giveaway 'I love Guns, Labs, and the USA, so I entered the @Over_Under_Co X @redclaysoul prize pack Giveaway.  Click to enter: http://bit.ly/Mw3d4T'
The giveaway is going to run through Sunday night, and we'll announce the winner on Monday around lunchtime.
Good Luck!
Special thanks to Over Under Clothing for offering the prize pack for the giveaway