Preface: last night I watched the game, then a couple interviews, turned the TV off, and went to sleep.  I woke up about an hour ago, and haven't watched any news or read any articles about the game.  Now that the emotions have dulled a bit, here are my thoughts on the game:
1.  The best National Championship game I've ever seen is the 2006 Texas vs. USC game where Vince Young single-handedly beat the Trojans in the 4th quarter.  The 2016 Clemson vs. Alabama game ranks right up there.  We'll talk about this game as a standard-bearer for what is expected in the modern playoff structure.  Alabama is right where you expect them, and Clemson is shooting up the ranks in terms of national prominence.  Dabo is worth every penny…Bama is going to have to pay him boy band money to come to Bama after Saban retires.
2.  Deshaun Watson is the best player in College Football.  Clemson has a lot of skill players and a good OL, but this is the best Bama defensive front ever, and Watson still put up 400+ yards.  Henry is an awesome RB and deserved the Hiesman, but it would have been a different story if the voters were able to include this game.
"Hey"
3.  Alabama's butt was saved by the tight end.  Numerous times.  Hats off to Lane Kiffin, who is about as slimy as Jabba the Hutt's gym clothes, but got the ball to #88 when it counted.
4.  Dabo has a valid argument for the clock management by the refs at the end of the first half.  If the clock had been managed correctly, Clemson would have had 14 seconds and a time out, which is enough time to run one, maybe two plays before having to attempt a kick.  Instead, they had no time outs, and only 9 seconds on the clock.  I'm not a big 'what-if' guy, but we are talking about Clemson's offense, who didn't have much trouble getting the ball down the field – especially in the first half.  A Clemson lead at halftime would have changed the complexity of the game.
5.  I love onside kicks.  That won the game for Alabama.  Clemson had perfected the trick plays leading up to this one, but with one chip kick, Alabama was able to immediately swing the momentum to their side.
6.  Alexander's injury really hurt Clemson.  There was a hole in the defense, and it was exploited.
"I don't talk trash.  I speak facts."
7.  I'm guessing Bama has a stable of running backs behind Henry…for their sake, I hope.  Especially since Henry is a foot taller than their last Heisman-winning RB.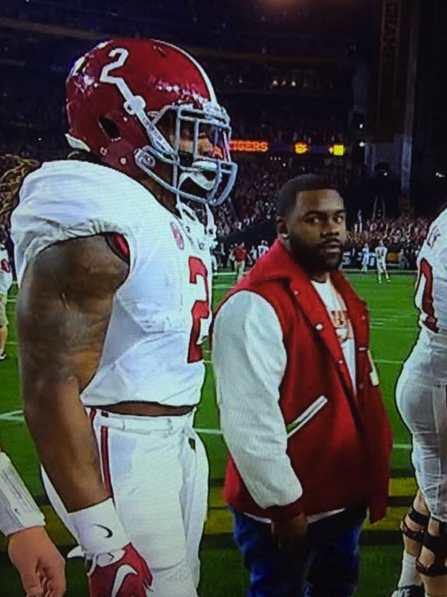 "Sup"
8.  I wonder how the Bama coaching staff feels about Coker.  Their offense requires a QB to manage their offense, not do anything out of the norm.  Very McCarren-ish.  Very "don't eff it up".  Coker is more of a wild card.  Bigger risk, and potentially bigger reward.  He did spend a lot of the night on his back, though.
9.  Saban isn't retiring any time soon.  He was way too emotional.  Compare that to Mark Richt, who coached his last few games from a lounge chair…
10.  Clemson will be the Pre-season #1 team, and Watson will be the favorite for the Heisman.  They will also keep Vegas very happy…  The line was 6.5, and that last Clemson TD moved quite a bit of money away from the favorite.  Nice play…
Oh, and Hey Kirby!