We talk so much about date nights, dressing up, suiting, etc. here at RCS.  I actually really enjoy it, and I know you do as well.  However, it goes without saying that weekends are a time for relaxing and being comfortable.  I'm not a PJ's all day type of guy, as I am a religious practicer of a morning routine: coffee, make the bed, and GET DRESSED.  I think I got it from my Grandfather, who was a very regimented guy, and a very good dresser (origins of Red Clay Soul can be traced back to Ole George…).
That said, on the weekends I'm not going to don a suit or anything that requires ironing.  Instead, I'm looking to get dressed in a way that is comfortable, and appropriate for everything from chasing our boys around the house, errands at Home Depot, a quick lunch with the family at the taco place, or most importantly: lounging for a nap.  It's pretty easy in the summer: a polo, baggies/Stand Ups, and flip flops.  In the winter, it's all about layers…  As with most of my wardrobe, it starts with a blue OCBD…here's the rest of the story: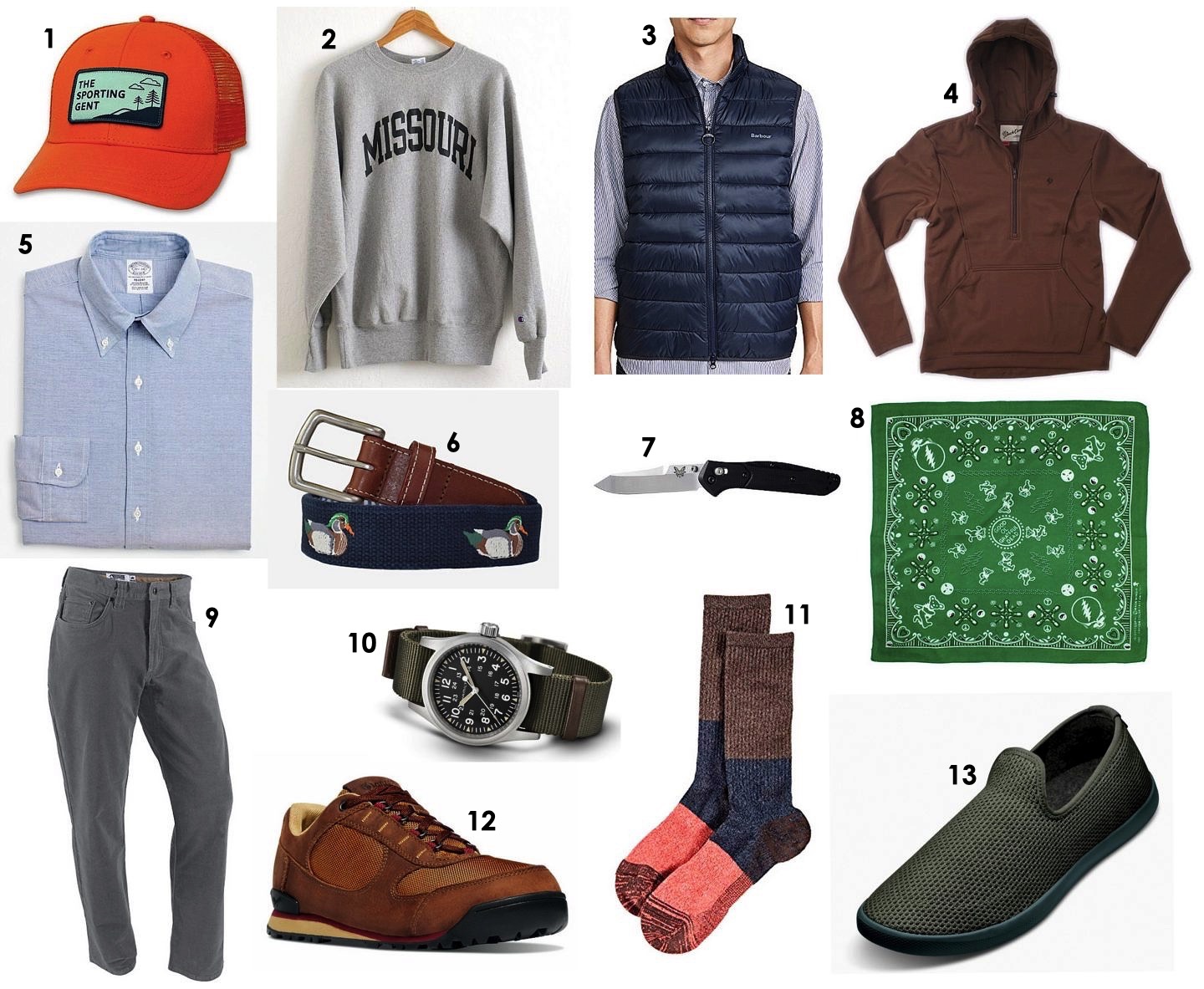 From Top Left:
1. A Hat.  Always a Hat:  This way, I don't have to – you know – do my hair.  Very post-nap friendly.  I prefer some sort of seasonally appropriate hat that could be considered a bit loud.
2. Random College Champion Sweatshirt (Reverse Weave Preferred):  Always a Goodwill must-buy.  I love the old Champion sweatshirts, and I wear them as a layer on the weekends.  I have no problem any sort of random college adornment.  Well, not all colleges.  I have standards.
3. Barbour Bretby Gilet Vest:  Some sort of lightweight packable vest is nice on the weekends.  The ultimate layering piece, and an extra set of pockets.  This one from Barbour is nice…and can be worn almost anywhere.
4. Duck Camp Head Guide Fleece Hoodie:  Another layer, but this time with a hood.  These fleece anoraks are super nice, and extremely functional.  A good transition from the hunting lodge to chaperoning a trip to the Zoo.
5. Brooks Brothers Must-Iron OCBD:  I know a lot of you see my #goodwillfinds posts – and you see that I always buy the USA made, must iron Brooks Brothers OCBDs.  Well, here is where they come into play.  I rarely iron them, and ue them as the base layer to the weekend casual wardrobe.  They get softer with age, but still look 1000 times better than a t-shirt or some sort of tech/Star Trek shirt.  And since they cost a whopping $4.99 ea at Goodwill, they are essentially disposable.
6. JT Spencer Wood Duck Belt:  ALWAYS add some extra with the belt.  Again, seasonally appropriate.
7. Benchmade 940-2 Reverse Tanto Knife:  A staple in my Everyday Carry.  I have started using Benchmade clip knives, and I haven't looked back.  This reminds me that I need to get them sharpened…
8. 100% Cotton Bandana:  100% honest: I wipe a lot of noses this time of year.  It's a lot easier to have one of these in your pocket for when those blowouts are imminent.  Always 100% cotton.  I feel like my grandparents when I pack this in my back pocket, but it's saved me more times than I can count.
9. Mountain Khakis Canyon Cord 5-Pocket Pants:  Comfortable, cool pants.  Yeah, I'll wear some jeans on the weekend, but I really enjoy 5-pockets like these Mountain Khakis Canyon Cords.  They are GREAT for winter, have a touch of stretch, and fit well.
10. Hamilton Field Khaki Mechanical Watch:  Nothing too fancy here, but looking for great function.  Something like this Hamilton can take a beating, and still be the coolest watch in the room.
11. Comfortable Crew Socks:  Let's not think too deep on this, but something comfortable that doesn't stick out.
12. Danner Jag Low Boots:  And for footwear…I've been wearing my Jag Lows a TON (and may add this color to my arsenal), and highly recommend.  I prefer shoes that don't require a ton of work – so 6″ Bean Boots, the new Vasque Clarions, or a pair of New Balances are A-OK here.
13. Allbirds Tree Loungers:  I think I may have found the answer to my slipper question…
How do you do it on the weekends?