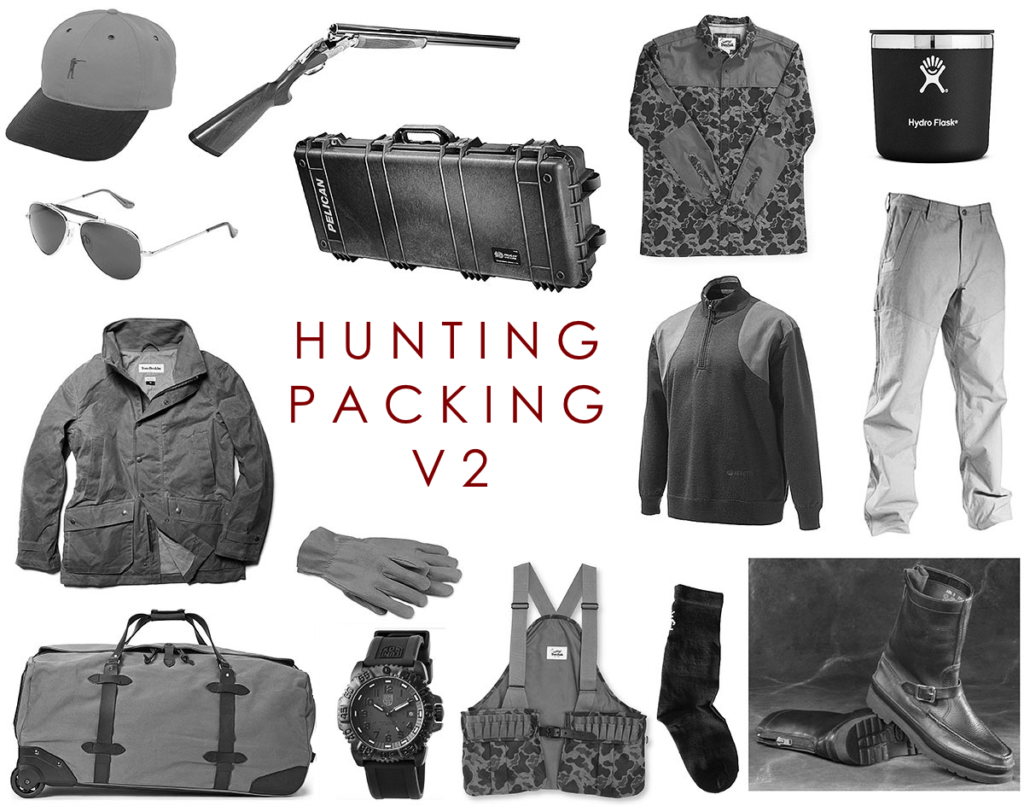 Last year, I did my first trip to South Dakota to hunt pheasants.  The trip was life changing.  Not only is South Dakota one of the most beautiful places I've ever seen, but chasing pheasants is an experience that has become part of my ethos.  I absolutely love it.
I learned a lot on that trip – in a lot of different areas.  One of those areas was around what to pack.  Last year I packed WAY too much, not only in terms of quantity, but also in function.  I'm leaving this Friday to head back up to South Dakota, but this year we're heading up for opening weekend.  Last year we went in mid-November.
Taking note, here are some pieces that I'm bringing this year, and why.  To level set, the forecast looks perfect: highs in the low 50s, lows in the low 30s, and winds between 10-15mph.
Here we go:
From top left:
1. Ball and Buck Upland Hat:  When upland hunting, you have some blaze orange.  May as well do it right.  Get a good hat that fits well, and wear it to death.
2. Beretta Silver Pigeon I 20 Gauge Shotgun:  This year I'm only bringing one gun.  My trusty 20 ga Silver Pigeon.  It's all I shot on last year's hunt, so there's no need to lug the long Pelican case (see #6) and the 12 ga.  Keep it simple.
3. Duxbak Long Shot Field Shirt:  I really like a good canvas shirt for hunting.  Duxbak has been doing it for quite some time, and their new shirts are just what you remember from this iconic brand.
4. Hydro Flask 10 Oz Rocks Tumbler: Something to bring to the field for our celebratory bourbon toast after each hunt.  Obviously this will double as my coffee mug in the morning, but come on: priorities.
5. Randolph Engineering Sportsman Sunglasses:  Do with these what the were built to do.  Spring for the good, polarized lenses.  Worth every penny, and made in the USA.
6. Pelican 1700 Breakdown Case:  I was lucky enough to stumble on a Pelican breakdown case.  This one is much easier to lug through the airport.  Just remember that TSA requires a lock per hole.
7. Tom Beckbe Tensaw Jacket:  I like this jacket because of course it's functional, and the waxed cotton provides protection from the elements (wind and rain), but it also fits like a dream.  I wouldn't call it a 'slim' fit, but it sure isn't cut like a box.
8. Beretta Windstop Sweater:  The weather looks really nice this weekend, but it will be breezy.  The wind will beat the hell out of you if you aren't prepared.  I really like these sweaters as they provide a good layer of warmth, but also act as a windbreaker.  Be sure to pack Chapstick as well.
9. Mountain Khakis Field Pants:  I bought two pairs of these on sale at Amazon, and have been wearing them almost exclusively on any bird hunt since.  Can't beat 'em.
10. Orvis Uplander Shooting Gloves:  A nice-to-have, not a have-to-have, but good for early morning work.
11. Filson Rolling Duffle Bag:  I debated on getting this bag for quite some time, but I found the brown version on super sale since they discontinued that color.  The wife and I have used this Filson bag on a few trips, and it works very well.  Tough as nails, and holds a ton.
12. Luminox 3051 Watch:  I don't hunt in any of my nice watches, as I'm worried all the shooting will have a negative impact on the movement.  I typically hunt in this Luminox and love it.
13. Duxbak Sportsman's Strap Vest:  Pheasant hunting in South Dakota is a LOT of walking.  I like wearing the strap vest as it allows me to carry quite a bit.  I'll pack shells in one pocket, camera, gloves, and sunflower seeds in the other pocket, and a water bottle in the back.
14. Smartwool Sock Liners:  Last year I packed a couple pairs of heavy wool socks, and it was a bad idea.  This year I'm bringing liners and wearing boot socks on top.  It's all I'll need.
15. Russell Moccasin Double Bottom Zephyr Boots:  The best in the business.  It's a worthwhile investment to keep your feet dry and comfortable on those long treks to find the birds.  You'll only have to buy a pair once every ~20 years.  Repair, don't replace.
I'll do a recap of the trip when I get back.  Otherwise, be sure to follow RCS's Instagram here.  It should be rather lively.