It's funny to look back at certain points in time: specific periods in your life, and directionally changing events that influence the future course of your life.  For a lot of us, it's when we left home for college and pledged a fraternity.  Not only is it a tough decision, but it happened within weeks of leaving home for the first time and being out on your own.  It's a very accelerated 'coming of age' story.
The great thing about being in a fraternity is this: no matter when you pledged, it was the best it's ever been.  The years before you, and after you in no way compare to your time on campus in the house.  You and your brothers did it right, and were the absolute best at it.  Don't deny it…they very quickly become 'the good ole days'.  It's a common view that the guys that initiated after you graduated are wusses who have no idea what real brothers went through, and the guys that initiated before you are solid, but are basically a bunch of window-lickers who had to have all their wrongs righted by you and your class(es).  I've been to enough Alumni golf tournaments/homecomings/etc and seen the looks.  You know what I'm talking about.  Regardless, you are all brothers, and will always deny 'till you die.
Fraternity life shaped you.  It turned you into the guy you are, and the guy you will become.  It introduced you to a network of friends that will become business counterparts, golf partners, and eventually God parents to your children.  The Fraternity taught you about responsibility, leadership, how to entertain, how to party, and how to cut loose.  Fraternity life also has a certain style that you will carry with you for the rest of your life.  At least it does down here in SEC/ACC country.  We don't wear hoodies.
Back in the late-90's and early 00's, the Fraternity style was much more mystical than it was after the mid-2000's adoption of camera phones and Facebook.  Back then, you learned about Fraternity style by looking at your older brother's ZAPS photos, or by seeing it in person.  Let's call this late-90's to early '00's time period the pre-iPhone era.  Now sing it with me…starting from the top:
Headwear was relatively simple.  The gold standard was a white bar hat from The Game of some SEC or ACC school that wasn't yours.  The key was to break it in quickly.  Everyone had their technique, and it was employed very quickly.  Some guys would wear it into the lake and let the sun bake it dry.  Some would be surgical, cutting the webbing out with Xacto knives and putting it into the dishwasher.  Others would just let nature take its course.  However the final, broken-in destination was reached, your Game hat was as good as it gets.
Second in the lineup, but never second fiddle, was a hat from The Masters.  These hats eventually took over like a firestorm towards the end of the pre-iPhone phase.  This happened for two reasons: first, The Game hats went ka-put.  Disappeared.  It was weird; you couldn't find them anywhere.  Second, The Masters hats became more accessible, as patrons would come back with a dozen or so for their brothers.
Tour visors were prevalent during this time, but they were worn with much more disdain than today.  They were NEVER clean and had been through some rough afternoons at the lake or at the beach.  Today's visors may as well be a flat-brim compared to how it was done back then.
Lastly, everyone had a disgusting, vintage corduroy hat that got some serious wear in the colder months.  It was usually embroidered with a cigarette, beer, ski resort, or shotgun brand, and housed the top half of the winter frat-shag.  The corduroy hat was treated gently as it slept through the warmer months.
Remember, Costa Del Mar didn't hit the scene until the mid-'00s, but sunglasses were just as important in the late-90's Fraternity style.  They weren't as much of a financial investment.  There were Ray Ban Wayfarers, which were all the rage, as well as the Suncloud and Revo wayfarers.  But, if you'll remember, similar knock-offs found at a gas station on the way home from Florida were A-OK.  As long as they were tortoise shell.  Sunglasses were much more disposable back then.
Regardless of the sunglasses, Chums were a must.  Dirty chums.  They were preferred because they broke in and patina'ed a little better than Croakies, and largely because non-Fraternity guys started wearing Croakies.  And the sunglasses NEVER left the neck.  They were either hanging, resting on your neck with a Chums necktie, or being worn.  Sunglasses were on your person more than shoes.
There were a lot of Oakley's that found the back of the drawer as soon as rush started.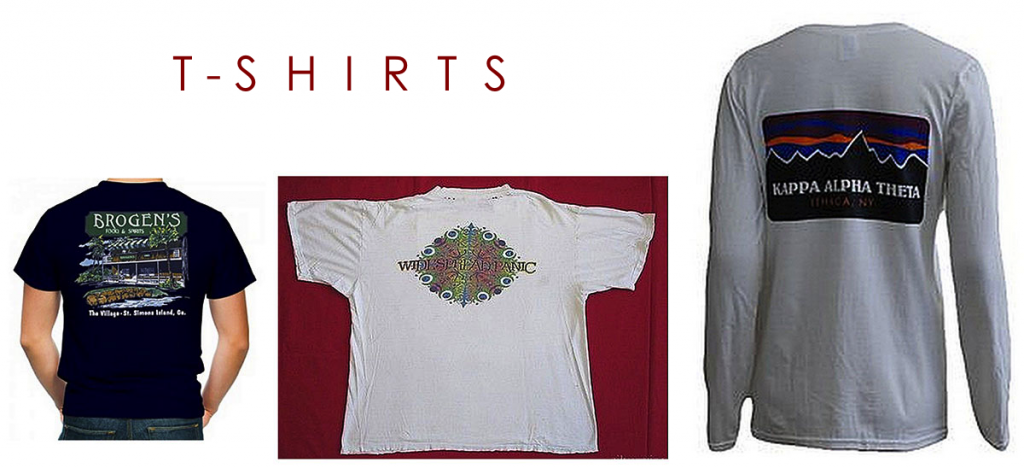 I would credit the current t-shirt market's success to the late-90's era Fraternity t-shirt style.  There were three specific categories:  First, there was the bar t-shirt.  Brogen's on SSI paid their rent off of the t-shirts they sold during Georgia/Florida weekend.  They were essentially a right of passage.  Second were concert t-shirts.  The old Widespread Panic t-shirts were a must-have for any Fraternity man in the late 90's / early 00's.  Extra points for lot shirts.
Finally, deserving of a paragraph all it's own, were Fraternity and Sorority shirts.  These have left a lasting impression that has carried through to today's t-shirt designs.  Back then, the 'been there, done that, got the t-shirt' was true for ANY fraternity or sorority event.  The coveted t-shirts were Sorority formal or date night t-shirts.  It proved that you knew how to talk to girls.  Next were theme party shirts, followed by rush t-shirts.  Rush t-shirts didn't get much play, and we usually gave them to our sorority friends (there was no better way to advertise…).
The greek shirts weren't restricted to your own campus.  Sorority date night shirts from other schools were choice as well.  Not only did that prove that you could talk to girls across state lines, but it showed that you were mobile.  With all t-shirts, they were worn until they fell apart.  They carried a lot more sentimental value than t-shirts do today.  And they were a lot cheaper.
It was a much simpler time for polo shirts 20-ish years ago.  The competition was relatively low, and so were the choices.  The pre-iPhone era Fraternity man had about three different styles: the Brooks Brothers Golden Fleece (always a size down), the Polo from Ralph Lauren (always on-size), and the original Patagonia polo, with 'patagonia' embroidered on the left chest in tonal thread.
Speaking of logos, that was a key factor: the logo had to be small, almost invisible.  Anything larger than a nickel was out (and quite frankly, still is).
I learned how to wash my polo shirt the right way during this period: always inside out so the collar doesn't get creased.  After about 40-50 washes, these polos were at peak performance.  Maybe a little threadbare at the seams and on the cuffs, but softer than a pledge that quits after the first week.
Oxford shirts were the bedrock of pre-iPhone era style, as Fraternity men were the only ones wearing them on campus.  Everyone else was wearing flannels, Abercrombie plaids, and Chaps sweaters.  Gross.  The oxfords – mostly from Polo by Ralph Lauren and Brooks Brothers, created a long-tail effect to the polo shirts.  If Patagonia had made oxfords, I'm sure the Fraternity man of the late 90's to early 00's would have worn it like a badge of honor.
Oxfords went with everything, and they were easy.  The choice colors were white, blue, and the blue university striped, with pink rounding out the top four.  Back then a pink shirt was not as common as it is in today's Easter Egg palette.  The pink oxford was a dare – not to the wearer, but to everyone else.  Regardless, it took nuts to make fun of a Fraternity man wearing a pink shirt.  It was an insult to the entire Greek community, and the insulter paid dearly.
These oxfords became your 'school colors', as these were part of the gameday uniform.  These oxfords, along with khakis (we'll get to those later), a tie (later), and a blue blazer (we're getting there).  Christmas was prime oxford shirt time, as Santa seemed to know that post-football season was just the right time to restock.
These oxfords were rarely dry cleaned.  They washed well, breaking them in and softening them up.  They ironed well, which is a skill that seems to have left today's Fraternity man.  Find anyone that initiated in the late '90s to early '00s, and you've found someone who can iron an oxford shirt lickity-split.
The Fraternity mans' coat of armor.  The navy blazer screams Fraternity style, as much today as it did in the pre-iPhone period.  It's included here because it has to be.  Back then, the green blazer got a lot of play as well, and seersucker was spotty.
As brothers, it was our duty to encourage pledges to go spend $100 on a Chaps dumpster navy blazer, as it was sure to get destroyed while they were pledging.  Never was a piece of clothing abused as much as a pledge's navy blazer.  Precision cuts were made in the lining to sneak in airplane bottles to the football games.  There was always a tear in one of the pockets.  But after some abuse, it fit like a glove.  Even though it became a second skin, there was no pause when disposing of the pledge blazer.
After initiation, the workhorse was back in play, or you splurged and bought a new navy blazer.  This blazer would become your best friend over the next few years until it needed to be replaced as a result of some arson-esque adventure that is likely still under investigation.
Brooks Brothers and Polo were leading the pack for neckties in the late 90's and early 00's.  This was before Southern Proper, Vineyard Vines, and the rest of the 'fratty' brands started pumping out all the nostalgic ties.  Either Brooks Brothers or Polo made a tie in every Fraternity's colors, and that was a must.  Beyond that, it was regimental stripe after regimental stripe.
Towards the end of the pre-iPhone era, some nostalgic ties started popping up, as well as a few bow ties.  They proved to be significant, as it launched brand after brand serving the preppy, Southern demographic.
The outerwear stayed true to the Patagonia/outdoor-esque mentality.  The ski bums look, living well South of the Mason Dixon line.
The Patagonia Snap-T was a hugely popular item in the late 90's to early 00's, probably more so than it is now.  During that period, Patagonia was more refined and generally found at outdoor stores like High Country, or in catalogs like Campmor.  Patagonia didn't have as many crazy designs as they do now, usually sticking to the primary colors with a contrasting trim and pocket flap.  The Snap-T was the choice during the cooler months.
For the cold months, it was a North Face ski jacket.  These took hold like whiskey hangovers.  Available in only a few colors, and a relatively simple design, that North Face logo on the back shoulder was the choice for the pre-iPhone era Fraternity man.
Belts were easy.  The Orvis shot shell belt was the go-to for the Fraternity man.  They don't sell the original with the Winchester shell (to Orvis' defense, it's not their fault – it was a supply issue), but that was where it was at.  There were a lot of trips made to the old Orvis store in Buckhead after pledge pins were handed out.  In addition to the shot shell belt, The ribbon belts were starting to make their way around the waists of Fraternity men in the pre-iPhone era.
I had a friend at the College of Charleston who got me a South Carolina flag belt, and it got a TON of wear.  It was a great alternative to the traditional leather and was the precursor to the enormous embroidered/needlepoint belt market today.
Pants were very easy.  Khakis ruled the day.  Jeans were around, but they weren't as prevalent as they are today.
Polo Phillip Pants were the choice of the Fraternity man.  They were a good, medium-weight flat front chino that washed well, and were easy to iron.  Ironing was a must for events that required a tie.  Otherwise, some ironed and some didn't.  There wasn't a formula.  Besides the Polo Phillip Pants, there was room for the original $25 Duck Heads, but they were on their way out after the Atlanta olympics in '96.
Jeans were A LOT simpler.  For the most part, Gap Standard Fit was a sure thing, as well as Levi's 501s.  Both with a darker fade.  NO whiskers…they hadn't been invented yet.  No Fraternity man in the late 90's or early 00's cut their jeans to be more of a boot cut.  That was a trashy, preemptive move by people who would go on to frost their tips.
Khakis and jeans were a classic fit, not too baggy but not slim, with a leg opening wide enough to fit over boots, but narrow enough to look appropriate with loafers.  Regardless, late 90's to early 00's Fraternity men bought pants with enough room in their pocket for a pack of Marlboro Lights and a Bic lighter.
It's hard to say that shorts are indicative of Fraternity style, but there was one, and only one, that screamed Greek letters: the iconic Patagonia Stand Up Shorts.  5″ inseams.  Tan, navy, and tan.  They only got better with age.  Cargo shorts were coming into style back in the late '90s, and these were the antithesis.  Of course, there were other shorts choices – the Polo Andrew shorts were a big hit, mainly driven by the short inseam.  That was the denominator back in the pre-iPhone era: inseam.  Anything longer than 6″ was considered trash.  Today, we may have given an inch, but that inseam rule still holds true.
When all was said and done, there wasn't a clearer middle finger to non-Greeks than a pair of Patagonia Stand Up Shorts.
Footwear, believe it or not, was as straightforward as it gets.  The bedrock of pre-iPhone era Fraternity men was a pair of grey or navy New Balance running shoes.  The 990s (grey) and the 587s (navy blue) were interchangeable and became a beacon for those that earned their Greek letters.  It didn't take long for this look to dilute into the general population, mainly led by the GDI-friendly 'trail running' shoes.
For dress shoes, there was but one (two, really) choice: Cole Haan Penny Loafers.  These loafers were perfect for the khakis/blue blazer look, and could be worn with or without socks.  They upped the ante when it came to Sorority date nights, and looked the part during Homecoming weekend.  Once the penny loafers were toast, they could be easily replaced with the Cole Haan Tassel Loafers.  Same look, just with a little more flare.
For boots, Clarks Wallabees were a very popular choice, as they bridged the gap between casual and dress shoes.  These would become toxic hazards after about a year of wear, and you could just scrub them with a toothbrush.  Their low price point allowed for replacement when absolutely necessary, but no one ever did.
Wellington style work boots were another participant in the pre-iPhone era Fraternity man's footwear lineup.  The Justin work boots were a go-to, as well as the Red Wing 1155s.  There were cowboy boots and Bean Boots, but they were spotty depending on the campus.  By the end of Junior year, all three were at the bottom of the closet.
Here's what's funny about all-of-the-above style:  I still wear 90% of it.  It's funny looking at the images above and thinking 'yeah, my closet still looks a lot like this'.  It's funny how this style resonates.
I'll ask you, dear readers, what is your take?  What was it like on your campus?  What did I miss?