Mrs. RCS and I were lucky enough to get over to Augusta National on Monday for the practice round.  This was both of our fifth time at Augusta, the visit second together.  We really like to go on Monday or Tuesday, as the course is in pristine condition, and there is a 'relaxed' atmosphere unlike later in the week.  Wednesday is fun, but the par 3 has turned into a 'see and be seen' event, which is a little annoying.
I have been to one tournament round, which was wonderful, but the reality is this: you don't get to watch much golf.  I'll go to a tournament round if I'm offered a ticket, but I wouldn't buy one.  I like sitting at home and watching it on TV/streaming with my dogs and a cold Coors Light.
We were coming from just north of Atlanta, and we wanted to be on the road by 6AM.  The weather forecast called for heavy rain and thunderstorms later in the day, so we wanted to get our steps in early.  More on that later.
Traffic down to Augusta was exactly as you'd expect.  It took us ~2 hours to get to Augusta, and another hour to get from the Washington Rd. exit (which was closed, but where the backup started) to our parking spot.  There is free parking for Patrons, but the lots always fill up by 9:30-10AM.  We always park behind the Ministry Church for $20, mainly because there are port-a-potties hidden in the back parking lot, so we can pit stop before we head out of town.
Mrs. RCS could barely contain her excitement
Anyway, we made it to the course around 9:45.  We were scheduled to meet a bunch of good buddies – Read Wall was down from DC, but we missed him.  Todd Howell of Cauffman's was in from Greenville, NC, and we missed him too. I was really looking forward to seeing both of them.
We were able to meet up with Alex and John of Holderness & Bourne outside of the merchandise tent behind 16, which was nice.  They are doing some GREAT things in the golf apparel world, and it shows.  Roberto Castro is donning their gear this year.
Our Masters Patron plan is always the same.  Enter through the North Gate (which is right at the clubhouse and the BIG leaderboard), skip all the concessions and merchandise tents at the entrance, and walk straight down the hill to #16.  This does a couple things: first, it lets us stretch our legs.  After being in a car for 3.5 hours giddy with anticipation, it's nice to get in a mile or so.  Second, it allows us to see the course.
That path from the Clubhouse to #16 is the most open part of the course.  Incredible views in almost every direction.  You'll cross a few fairways and see a couple greens, which remind you how beautiful, but how hard Augusta National is.  It refreshes your perspective when watching the players putt during tournament play.  Those greens are lightning fast, and have more bumps and hills than a freshly plowed field.  The bunkers are deep, and the fairways are slick.
We'll usually hang out on 16 for a bit and watch them skip it across the water.  Anyway, the real jewel of that side of the course is just up the hill.  There are some nice stone steps that lead you to another merchandise building, as well as a concession stand, a secluded seating area, and restrooms.  We like it there because it is very sparsely attended.  We got got into the merchandise tent in five minutes, as opposed to the main merchandise tent up front, where I heard the wait was closer to 20 minutes(!).
I always love seeing the Masters merchandise.  It's iconic all over the world, but very special to us Georgians.  Here are some shots of what I saw that I liked:
Smathers and Branson continue to make strides.  You'll see the staples:
New this year, and a contender for 'best new product': This tan and green S&B needlepoint belt.  I have the all green one, and love it, but the tan and green stripe take it to another level.  A hat-tip to the old grosgrain belts.  Very classy.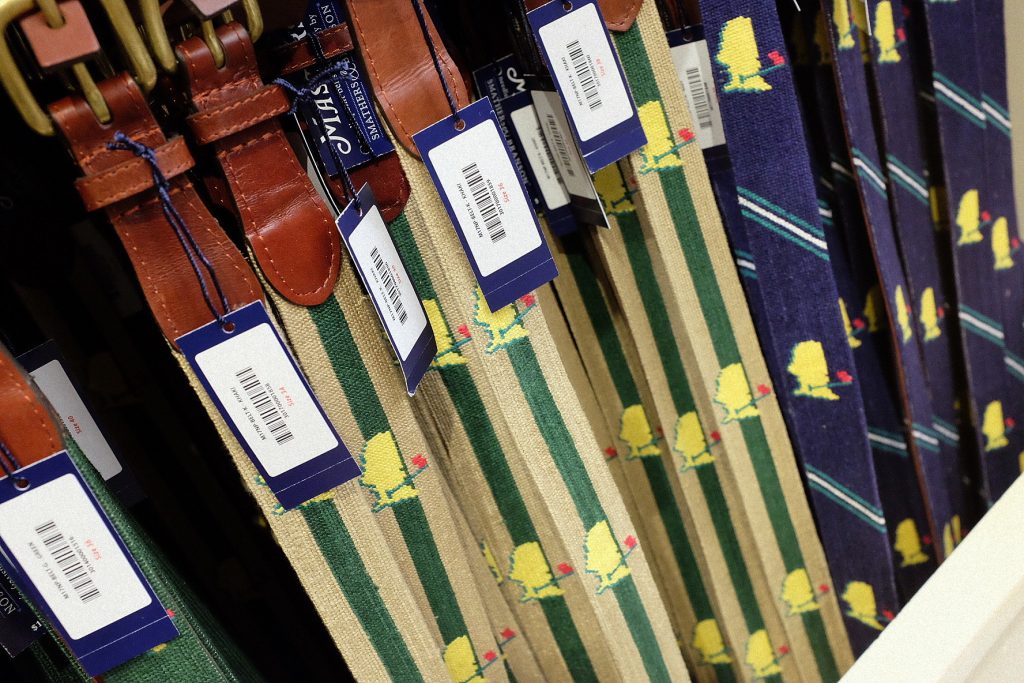 There are two golf shirt sections: first are the 'Masters Collection' shirts, which are really nice, then there are the top of the line Peter Millar shirts.  They cost about $40 more, but are super nice.  Here are the Peter Millar offerings, as well as a few quarter zips:
I am warming to outside vendor-tagged Masters merchandise.  I remember talking to the Smathers & Branson folks back when they first started doing needlepoint goods for The Masters, and they said that they were not allowed to put ANY sort of company logo on the merchandise.  My green belt has no mention of S&B anywhere.  Not the case anymore.  Same with Millar and some of the other brands.
More, higher-end Masters goods.  The wallets were really nice: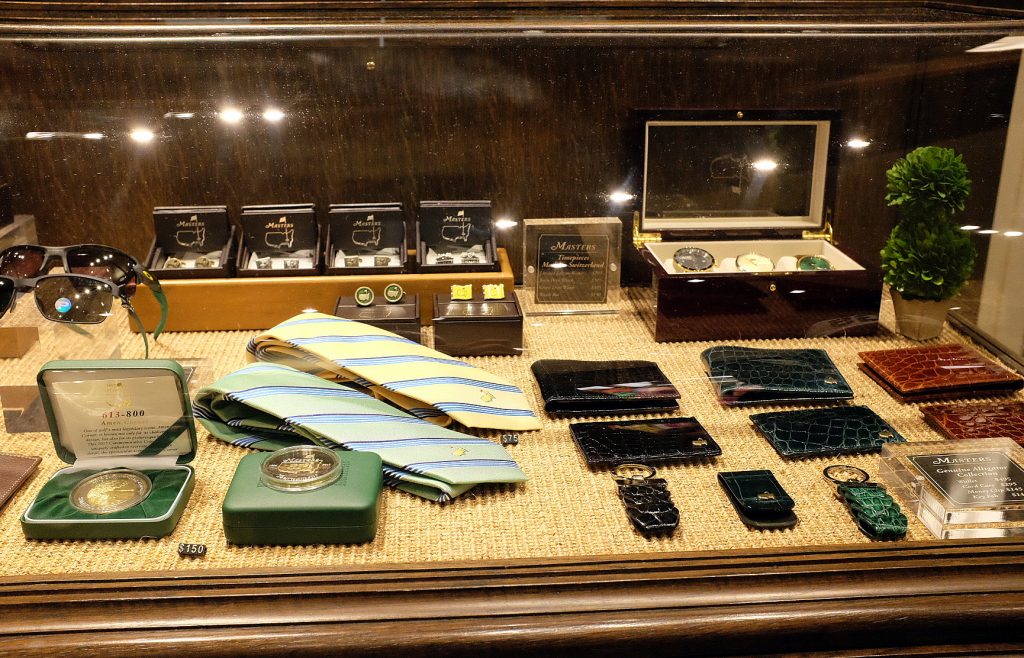 This leather duffle caught my eye.  Not something I'd replace my Col. Littleton Grip with, but very nice.
The t-shirt selection.  I didn't see the famed 'A Tradition Unlike Any Other' t-shirt, as I had a few friends that asked me to get for them.  Still a nice selection.
Normal hat selection with a few updates.  This mint colored hat was really nice.  I got one, and Mrs. RCS has already stolen it.
Signs by the Sea had their own spot, and it looks REALLY nice.  I couldn't get Mr. Fitted Hat to get out of the way of the bottle opener.
All the normal odds and ends at the checkout line:
All in all, I would give the merchandise an A-.  There was a little too much technical stuff, and too many 'modern fit' t-shirts for my taste, but it's all so good.  Mrs. RCS and I loaded up.  More on that in a minute.
As I mentioned, there is a nice, secluded seating area that Mrs. RCS and I enjoyed lunch and a few beers.  She didn't drink (for obvious reasons), but did enjoy a BBQ sandwich and a pecan cookie, which I had never seen before.  I had two pimento cheese sandwiches and a peanut cluster.  We shared our table with a mother and son from Michigan. They had been to the Masters before, so those yankees didn't make asses of themselves. In fact, they were wonderful.
After we ate, we walked around a bit more, staking claim to a great spot at the tee box on 16.  We were here with two fresh beers (for me), a water (for her), a camera, and anticipation as a threesome was about to head over and hit.  Not three minutes later the weather horn blew, and play was suspended.  The thunderstorms had found their way to the Augusta metro area.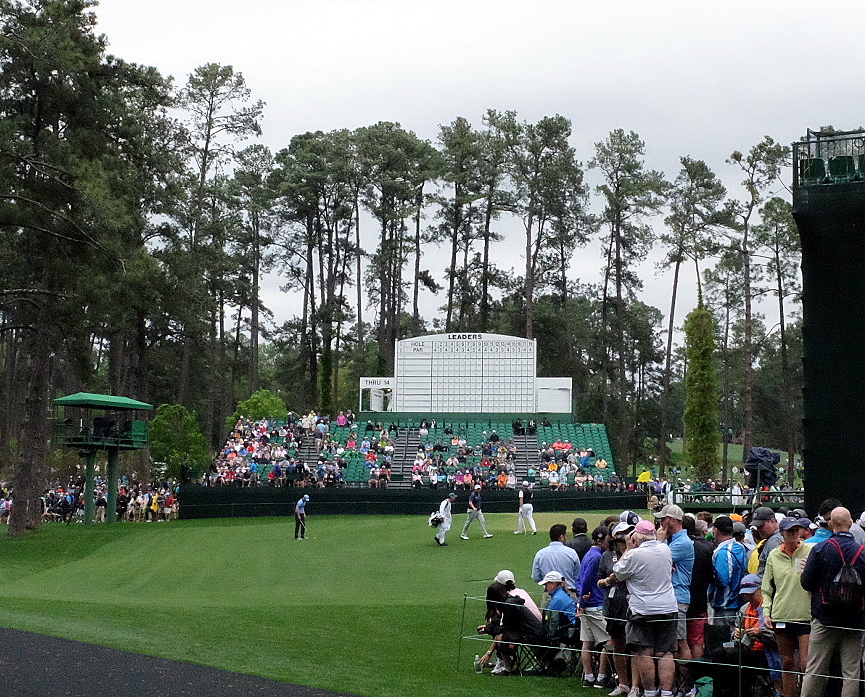 We, along with every other patron, began walking towards the exit, as we had all be asked very nicely to 'seek shelter'.  We made our way up the hill from 16, enjoying the eerily vacant course.
All the Pinterest-esque patrons in their pastel seersucker shorts and loafers, and white sundresses and heels where going to have to wait until another day to get their Christmas card picture.  They were seriously disappointed (and wet).  Mascara was everywhere.
The umbrellas came out when we hit the #9 fairway.  It was about this time that everyone came to the realization that their $500+ investment in a badge was about to be spent.  The rolling thunder snapped everyone back to reality, and we all high-tailed it to our cars.
Remember the post I did on 'Masters Patron Looks'?  Well, this is why I called for tennis shoes.  We did a lot of walking, and my New Balances were put to the test.  We made it back to the car around 1PM, and decided to head back home.  We got three hours in, which was fine with us.  There was another band of showers headed to Augusta, which ultimately kept most players from coming back out onto the course, so we didn't miss any action.  We got home around 5, and enjoyed a dry evening with the dogs.
Some observations:
The Masters is probably the best-run major sporting event in the world.  Tiny Augusta, Georgia must brace for the impact of Masters week, and even though the influx volume is insanely high, they do an excellent job of routing everyone where they need to be.
I am still amazed at the food prices at The Masters.  Mrs. RCS and I ate like preverbal hogs, and spent $15 on food (beer is another story, but it was still extremely inexpensive).  I am glad this will never change.  That pimento cheese is the word of the Lord.
Florida Gator fans are SERIOUS about their gear.  They go head to toe: 100% matching hat, technical polo, technical shorts, pukka necklace, and Nikes.  All in Gator colors.  You can see them from space.  They knew exactly what to buy with that $250 store credit at the Jacksonville Foot Locker.
Finally, here's my loot:
Mrs. RCS got a few things as well, but we'll touch on that if there is any interest.  We overshot on hats this year, but will probably use some of them as birthday gifts for friends and family.  Who doesn't love a Masters hat?  We got our Christmas ornament, as well as a 2017 flag.  We have an idea for this flag that I will share when the project is complete.  Some more details:
These trucker hats were new this year, and they are really great.  I couldn't decide which color to get, so I got them both.  I'm sure these will get worn out.  I also got the blue vest.  This is from the 'Masters Collection' line, and will be perfect on the course.
We also got the Mint hat, which will be perfect down at the beach.  I have a feeling it will fade just a bit, which is fine with me.
Mrs. RCS and I both got new cars over the last year, so we decided to get new keychains.  Smathers knocks it out of the park.  I may have her get me the matching S&B belt when she goes back on Thursday.
Finally, I couldn't pass up this Peter Millar pullover.  I absolutely love these, and the green is just right.
So that's my on-site Masters recap.  As always, it was a GREAT trip, and a perfect start to my favorite week of the year.  Did you get down this year?  What did you see that you liked?