As many of you know, I'm a pretty avid Ebay-er.  I don't buy much, but I do like the hunt.  When I do buy, it's usually some sort of gem that I find for a ridiculous price.  My closet space is like NYC real estate – the value per square foot is continually on the rise, and I like to keep good tenants as occupants.
One of the tricks of good Ebay-ing is using the seasons to your advantage.  There aren't that many Patagonia Stand Ups available in the colder months, but those that are sell for roughly half of what they would sell for now.  Same goes for Barbours…oh, and I snagged this beauty yesterday.
Vintage Barbour Bedale in what appears to be the elusive Sage color – excellent condition – for under $100 (includes shipping).  Needless to say, I'm pumped.
Check out those chest pockets: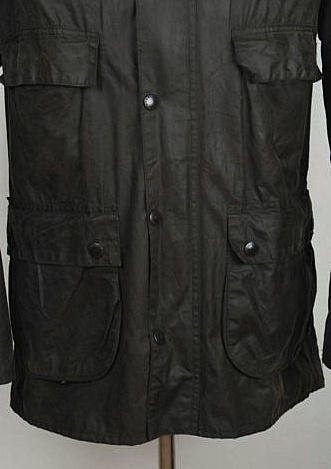 Those are the Ebay images…I'll give a full report once it arrives…