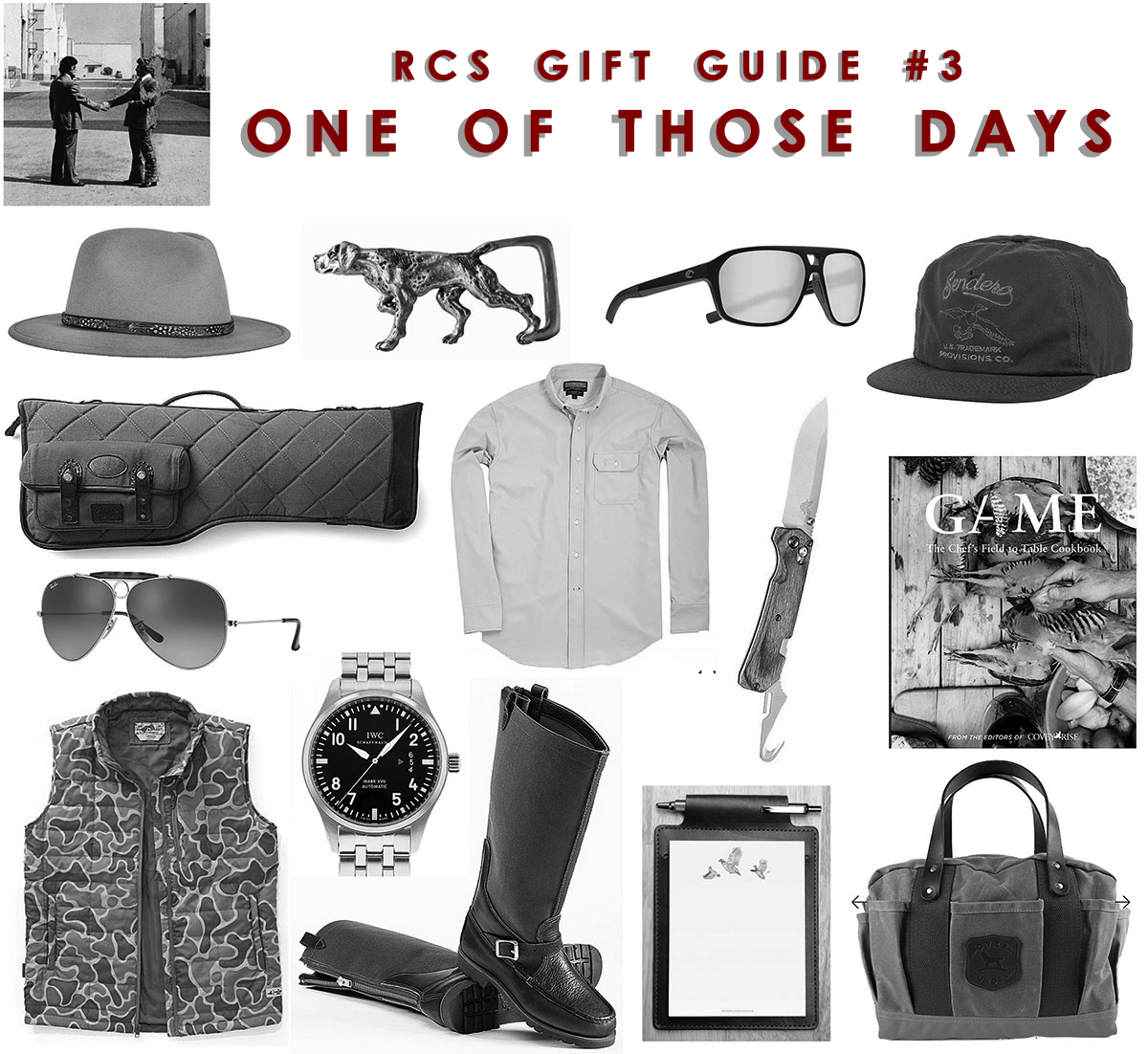 Moving right along…  Do you have a hunter or a fisherman that you need to buy a gift?  If you are like Mrs. RCS, she has a tough time buying for the men in her family because as hunters and fishermen, we pretty much have everything we need.  This gift guide is for those guys – the ones that are tough to buy for.  Consider these ideas an upgrade to your current hunting and fishing inventory.  Without further ado… FIND THE BIRD: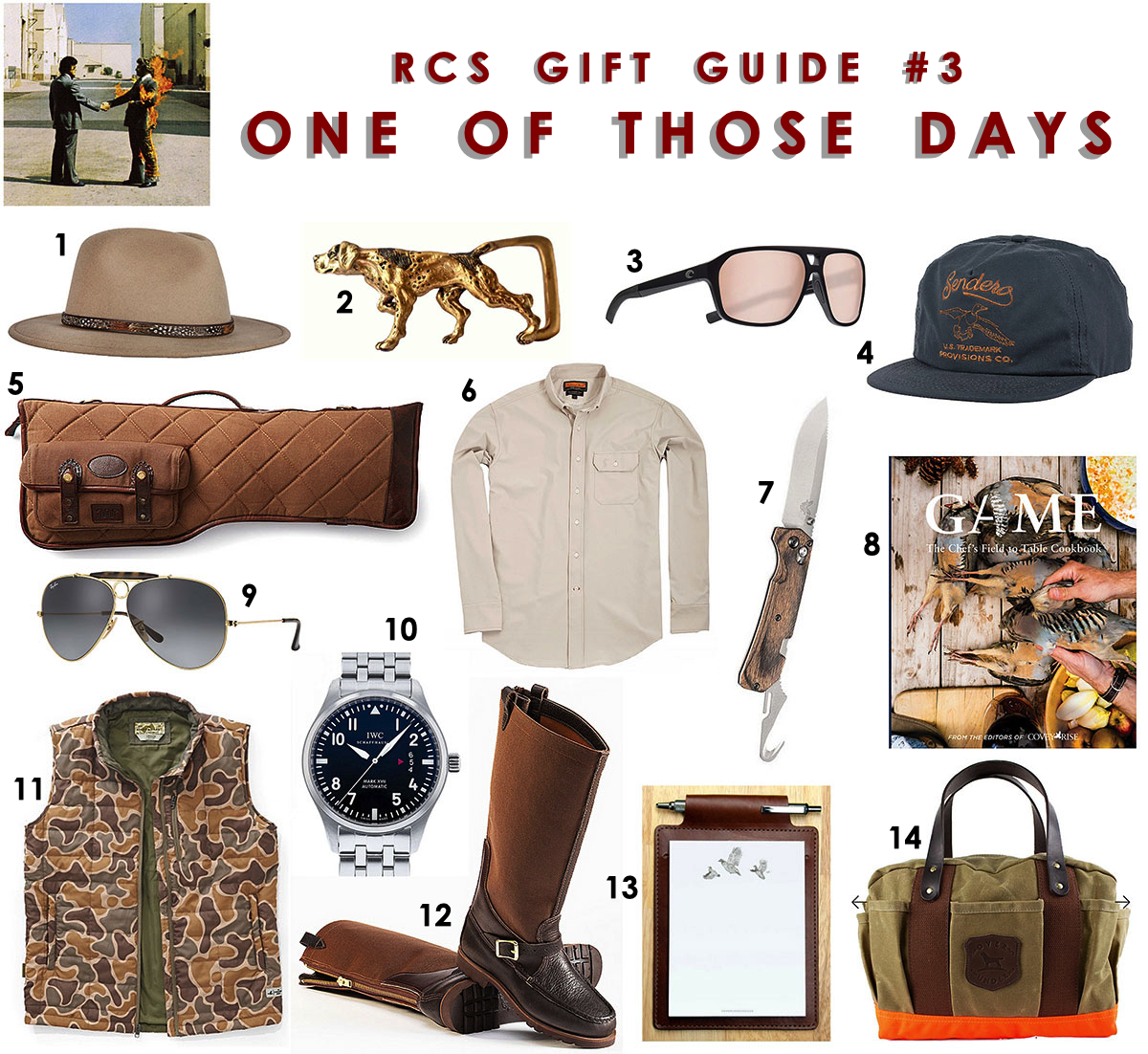 From Top Left:
1. Onward Reserve Broadfield Stetson Hat:  I got one of these right when they came out, and absolutely love it.  It is such a cool look – not only for the field, but I've used it fishing, running errands, and bumming around town.  Don't wear it with a t-shirt.
2. Pointer Buckle from Hook N Hide:  Hook N Hide does some super cool buckles, and their recent release of pooches just upped their game.  I don't want to know a hunter that wouldn't love this bad boy.
3. Costa del Mar Switchfoot Sunglasses:  I love Costa, but I'm not a huge fan of 'sport' sunglasses.  They recently released the Switchfoot, which has more of a Carerra look.  A cool look for the guy that isn't interested in being aerodynamic.
4. Sendero Provisions Mallard Hat:  For the guy that spends a little time in the duck blind…there is no substitute for waxed cotton.  It does an incredible job of keeping you dry.  Not to mention the old-school design is top shelf.
5. King Ranch Breakdown Shotgun Case:  Breakdown cases are strangely tough to find.  I have no idea why, as  over/under shotguns are preferred for bird hunting.  Much easier to transport, and conversation piece.
6. Ball and Buck Anglers 2.0 Shirt:  Keep it simple…  All the details you need in a fishing shirt without all the frills.  Plus, it's made in the USA.
7. Benchmade Grizzly Creek Knife:  Of course he already has a knife from Benchmade…but does he have one with a gut hook?  Well, here you go.
8. 'Game' by Chris Hastings:  Everyone can make poppers.  Everyone.  Why not try a dish with a little more 'umph'?  Hastings knows what he's doing, and this book is a great way to expand your palate.
9. Ray Ban Shooter Sunglasses:  The coolest shades on your hunt.  The vintage aviator look with the shooters brow and the circle holder for your Camel Light.  Cooler than a cucumber.
10. IWC Mark XVII Pilot Watch:  Sure, it's called a pilot watch, but it functions better as a field watch.  A great look for chasing birds and hanging out in the lodge.
11. The Sporting Gent Midszn Camo Vest:  The absolute best vest to hit the market this year.  Vintage camo ALWAYS gets a look from me, but adding it to an everyday vest is a fantastic move.
12. Russell Moccasin Zipper Snakeboots:  Since he already has a pair of Cavaliers or Zephyrs, up his game (and the hight of the boots) with these snake boots.  Perfect for chasing turkey and late season quail hunts.
13. Leather Note Pad Holder w/ Quail Notes:  A fantastic option for note takers (like me).  Andrew Lee put his special tough on the notes with a beautiful quail design (many other options available).  A handsome addition to a desk or parlor table.
14. Over Under Sportsman's Field Bag:  The perfect size for an upland hunt, and built tough as nails.  Over Under knocked it out of the park with these bags.  The more use, the better…and it's made in the USA!
Any hunting gift ideas I missed?  Leave a comment!