OK – here we go.  TONS of great sales, and I'm going to capture them all here.  Be sure to mark this page, as I'm going to update it trough the weekend.  Here is the roundup:
La Matera has released two new belts, the Carrera and the Esquel respectively (above).  What's even better, they are offering 15% off ALL BELTS with the code REDCLAYSOUL
~~~~~
Classic Brands is offering 20% off all items with the code REDCLAYSOUL.  Get your new Glory! Glory! shirt, or anything at Classic Georgia, Classic Carolinas and TheClassicSouth.com .
~~~~~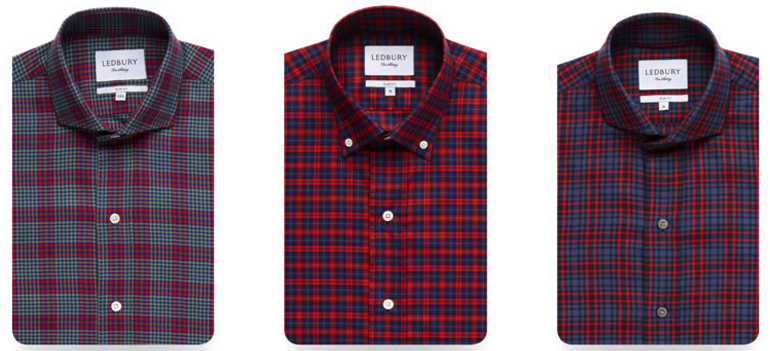 Ledbury is offering 35% off ALL shirts this week.  Need I say more?  You'll be hard-pressed to find a better deal on such good shirts.
~~~~~
Our friends at Res Ipsa are offering 20% off EVERYTHING with the code REDCLAYSOUL.  Been on the fence about getting a pair of these awesome loafers?  Here's your chance at a nice little discount (in price, not in style…)
~~~~~
The good people at Peach State Pride are doing 30% off site-wide today through Monday…get stocked up on all your Georgia goods.
~~~~~
Orvis is doing a massive 40% off sale on a TON of clothes, as well as fishing gear.  In fact, they are offering a free Hydros SL reel with the purchase of any Helio 2 rod.  That's a savings of ~$250…not too shabby.
~~~~~
Bergdorf Goodman, which is an outstanding, albeit expensive stop at the mall, is doing 40% off their designer stuff.  Yes, Mrs. RCS is drooling, but for us guys, there are some GREAT finds…like these canvas trousers from Rag & Bone.  Great stuff.
~~~~~
Brooks Brothers has a lot of spotty sales (sweaters, etc), but the one that caught my eye is the 4 for $199 shirt sale.  That's a REALLY good deal – especially for those that need to restock.
~~~~~
Criquet Shirts is doing a quantity sale…  Take a look at their sweaters, and especially the new JR Shirt.  They will up your badass-ery.
~~~~~
Oak Street Bootmakers is doing 20% off their entire site…good deals to be had.
~~~~~
Billy Reid is offering 25% off the entire site (minus the sale section).  This is a HUGE sale….you know that Bond Pea Coat you've been eyeing?  Yeah…25% off…
~~~~~
J. Crew is doing 40% off of just about everything…  I've preached about J. Crew's sales in the past…but this one is special.  I'm sure you got an email about it.
~~~~~
State Traditions is offering 35% off site wide…yep – 35% off on everything.  Get ready for bowl season with a new lid for your team…
~~~~~
Don't forget that Onward Reserve is doing 40% off ALL OR Branded merchandise.  Be sure to check it out – they've added a TON beyond button ups and t-shirts…you'll like what you see.
~~~~~
Man Outfitters is doing a bunch of special doorbusters, and then ANOTHER 20% off sitewide.  Click here to get the code.
~~~~~
Huckberry is doing some major sales throughout their apparel section as well as their gear section.  Too much to post here, but worth nosing around…
~~~~~
East Dane is still doing their quantity-based sale….tons of good deals to have.  Oh yeah – Penfield is included…which almost never goes on sale.
~~~~~
MUCH MORE TO COME