Remember this vintage navy blue Barbour Bedale?
So I am a big Barbour fan. I have a green Beaufort that gets the most wear, and recently added a navy blue Bedale to my collection. I like the Bedale a lot. It fits a little more like a sport coat, and can be dressed up or down. While Navy blue isn't the most popular color for Barbour waxed jackets, I thought it was worth giving a try.
The problem with this jacket is that it was in need of some serious cleaning and repair. As any Barbour owner knows, you can't throw it in the wash or send it to the dry cleaners. The tag suggests wiping off dirt/etc. with a damp cloth. Anything more will impact the integrity of the jacket. While adding a coat of wax yourself is a good mid-season exercise, when a Barbour gets to this point – in dire need of cleaning and reproofing – send it off to a professional.
The Bedale had some pretty serious issues. First, almost all of the wax had worn off, rendering the jacket worthless against the elements. Second, it was in serious need of a cleaning. The smell was extremely musty, and it had quite a few dirty spots that needed more than 'wiping off'. Finally, there were some rips, tears, and worn spots that needed some maintenance and repair.
There are a few places you can send your Barbour for repair and reproofing. I chose New England Reproofers. The process was very simple. I filled out a form indicating I wanted the jacket cleaned and reproofed, as well as a quote for the repairs. I shipped it to New Hampshire. Within a week, I was contacted with a quote for the repairs. Considering the amount of work, $175 was a reasonable quote. That included a deep cleaning, repairing the bottom hem, the sleeve cuffs, two tears on the sleeve, re-lining the inside cuffs, a total re-wax, and return shipping. I sent in my approval and they started the work.
About three weeks later, my repaired and reproofed Barbour arrived back home. My first impression was that the jacket did feel a bit heavier, but that is because of the wax. Upon my first inspection, I was amazed at the level of craftsmanship in the repairs. The cuffs were re-lined with new fabric, as well as an additional piece of fabric used to cover the tears in the sleeves. The smell was gone. Back is that 'Barbour' smell – mostly because of the wax. The jacket looked new – the rich Navy color is back. The jacket felt better than new, as it wasn't as stiff as a new one off the rack.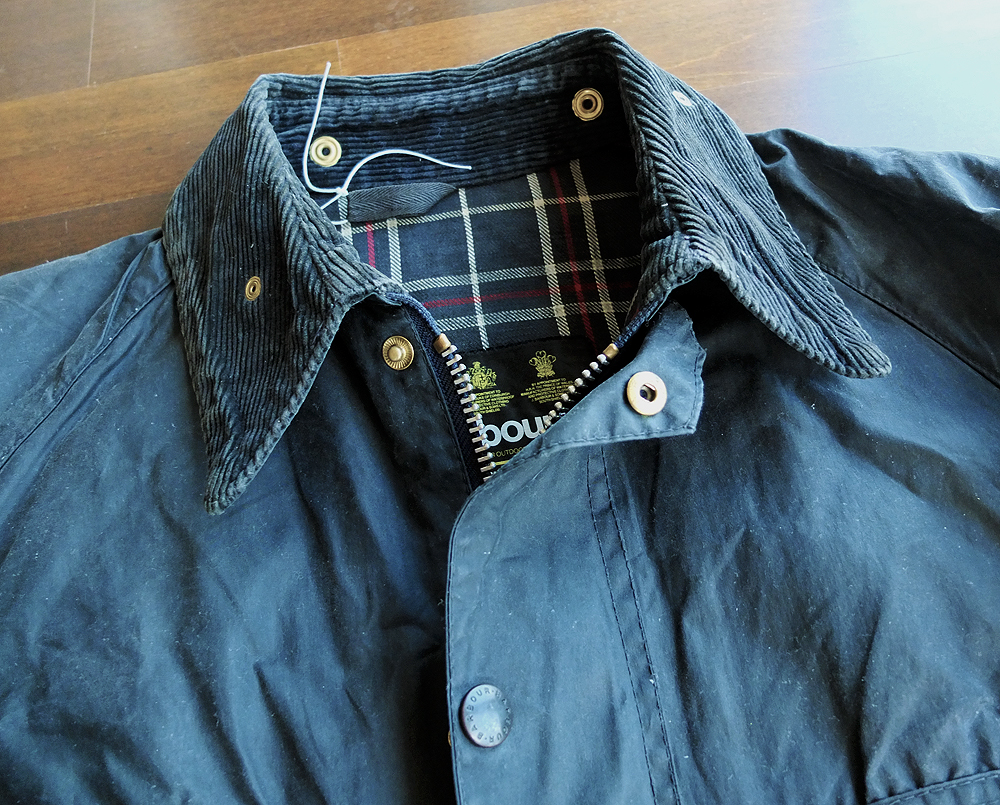 Isn't that the point? You buy a Barbour, and expect to keep it for years. As with most articles of clothing, the more you wear it, the better it fits. Granted, some need to be sent in for annual maintenance, but it's all worth it when it comes back ready to go again.
But wait – there's more.  
In my  hunt for a navy Bedale, I came across this one for an excellent deal from a seller in Italy.  It was listed as Navy Blue, but upon receipt, sure enough it was black.  Honestly, I'd never considered a black one.  It didn't need any repairs, so I decided to send it up to New England Reproofers for a cleaning an a rewax.  I figured it couldn't hurt to have a black Bedale for less than a third of the cost of a new one.  When I got it back, I was more than pleased.
The color is hard to capture, but after rewaxing it has a charcoal gray color.  I really like it, and plan on keeping it for the rotation.  This actually has a more formal look, and can be dressed up with gray trousers and a dress shirt.  It looks the part, and should for a long time.  I'm more than happy.
Thanks to the good folks at Onward Reserve for publishing a portion of this in their Gazette.