In a follow-up to the first Sid Mashburn Warehouse Sale post, I wanted to show you the goods.  After it was all said and done, I didn't realize the value of early entry into the sale.  When the doors opened at 10, the line was roughly around the building.  So here we go…please pardon the iPhone picture quality.
Entry:
For you Atlanta folks, this is the hallway that runs between the old Element space (where the Warehouse sale was held) and Ormsby's.  It literally ran out the back of building almost to the railroad tracks:
Inside:
More inside:
Truth be told, I made two trips.  The first trip was very prosperous, and I got quite a bit of stuff for myself (you'll see that below).  Considering the crowd, and the fact that my arms were full, I had to go drop off my stuff, and come back a few hours later, after the crowds had diminished a bit.  I promised the Feyonce that I would go look for her, which I did.  Of course, I did send her pictures of everything, to which she replied with a thumbs up or thumbs down emoji.  This is what I found for my better half:
Some summer scarves.  They each weigh about as much as a Kleenex..and she loves them:
Dress one:
Dress two:
I've been instructed to buy here white skinny jeans whenever I find them in her size.  Jackpot:
For me, I got a ton of basics at some outstanding prices.  I didn't get anything trendy.  Just some great stuff that I'll be able to wear forever.  Starting with some of the Sid Canvas shorts (green and white):
Some dress shirts (not pictured is another blue oxford with a point collar):
501s – is is possible to have too many?
Two pairs of Incotex pants (the white pair is ChinoLino…and will be coming South with me in a couple weeks):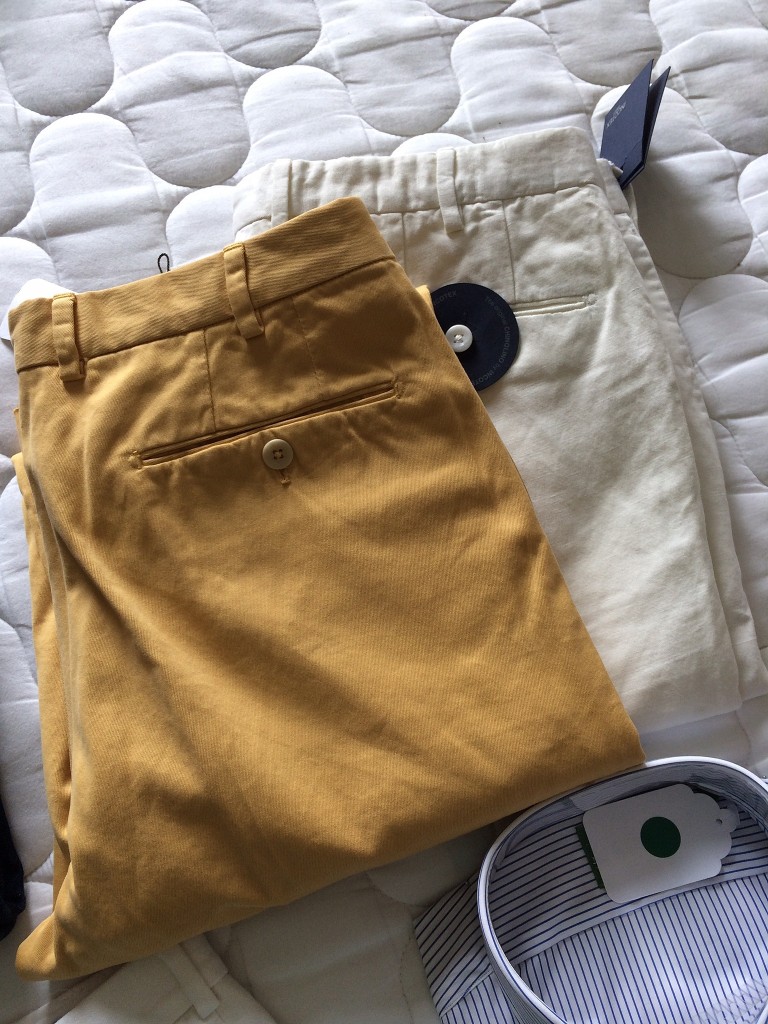 And another pair of red Sid canvas shorts.  Football season is just a few weeks away, and I'm sure these will be put to good use.
Also not pictured:
Navy and Kelly Green paisley tie
I know a bunch of you readers made out like bandits…what did you find?