I'm a very lucky guy.  Both my family and my wife's family are filled with sportsmen (and sportswomen).  We were down on St. George Island for the week of July 4th.  My father in law booked a fishing charter with Captain JB Charters out of Apalachicola, intending to chase reds and speckled trout with me and my brother in law.  Needless to say we were extremely excited.
We started our morning early, meeting at the marina under the bridge around 7AM.  It was very popular place, with a few charter boats loading up.  We met Captain John on his (incredible) boat, and exchanged pleasantries.  He got straight to the point:
"Guys, I know y'all want to chase reds, but let me be honest, the conditions for snapper are absolutely perfect".  We had paid for an inshore trip, and knew this would be a price jump, but after he promised that he wasn't just up-selling us and produced pictures of what we could reasonably expect to catch, we agreed to the change and headed out.
Side note: Apalachicola is outstanding.  It sits at the convergence of three rivers, where ANY type of fishing is available.  Bass under the bridge, inshore around the bay, and offshore through West Pass.  The town is very charming, easy to spend a day or two exploring its shops and enjoying its many restaurants and bars.  I'd seriously consider a long fishing weekend down there with a few guys.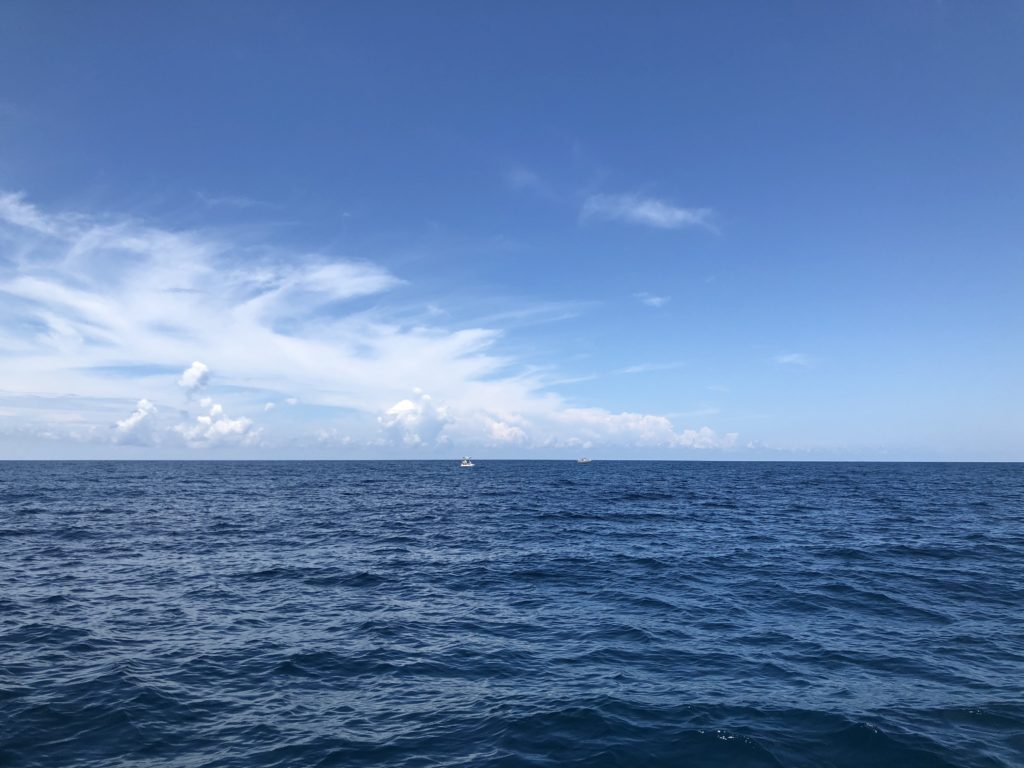 I'm not a big offshore fishing guy.  The idea of riding 2-3 hours for the chance of catching something huge just doesn't do it for me.  I like action.  That's why I like quail hunting and fly fishing.  The action starts as soon as your feet are on the ground or in the stream.  Thankfully, it only took 30 minutes to reach our fishing spot, which was centered around depth around 55-60 feet.  We were out there with the Snapper Navy (copyright) – there were four boats and we were all chasing the same thing: red snapper.
By no means was it a competition, but more of a team sport.  Since there isn't any casting required, we could exchange pleasantries with the other boats.   There was constant chatter on the radio, mostly about limits and the weather.  It felt like we were on a mission to catch fish, and to look out for the rest of the Snapper Navy.
Now for the fishing report.  I had never fished for snapper before.  I've eaten a ton of it, and was really excited to see what all the hoopla is about.  I have a few buddies that rave about snapper fishing.  It's really pretty simple: you put half a cigar minnow on a large hook, attached to a ~3′ leader on a 3 oz weight.  You drop the line off the boat and let it sink to the bottom, then give the reel three turns.  The action happens immediately: the snapper start hitting the bait immediately.  It feels like someone is playing drums on your line.  The trick is to learn what is a hit and what is a bite.  As soon as you feel a tug, you start reeling. That's when the fun starts.
'Strong' is an understatement for a snapper.  As soon as you have it hooked, it feel like you have a refrigerator on the line.  They pull like crazy, and your rod bends to a point where you think a snap is inevitable.  You reel and reel and finally you see the silver/red reflection.  It's surprising that a 20″-25″ fish is so strong, and it's exciting to get them in the boat.
The regulations for Red Snapper are serious- they must be at least 16″ long and each fisherman has a two fish limit.  Interestingly, the limits don't apply to the other snapper breeds, specifically the Mangrove Snapper.
We had quite a bit of luck that day.  We limited out on Red Snapper and added quite a few Mangroves to our haul.  The Mangrove Snapper meat is some of the best, so we were excited to bring that back to the girls back home on St. George.  The cooler looked pretty impressive:
One of the boats in our navy was lucky enough to land a NICE King Mackerel.  That's some good eatin':
Given that it's summer in the gulf, we did have to dodge a few storms, but it made it fun.  It was really interesting to see how much the weather impacted the fishing.  The fish got a little jumpy as the weather got sketchy.
We stopped at a wildlife preserve to dodge a storm, where I was able to get a good shot of Captain John's boat.  He has macked this boat out: high powered lights for night fishing, serious engines so it runs like a NASCAR, and plenty of comfortable seating:
All in all, we had an AWESOME day.  We made it back to the marina, and headed over to Roberts on the outskirts of Apalachicola where they clean and prepare the fish.
These guys knew what was up: It was like sitting at a sushi bar.  We asked that they filet the Mangroves with the skin still on, as we had plans to grill those that night.  The rest of the snapper was divided between the three of us.  We packed it on ice and froze it back at the  house in preparation for the drive back to Atlanta.
The next time you are asked to go snapper fishing, say yes.  It's doesn't require any trolling, and everyone on the boat gets to bend the rod a few times.  If you like action, you'll love it.  We had an excellent time with Captain John and his daughter (she was the first mate), and would recommend them to anyone heading down that way.