I came to know Paul Puckett as soon as I got to know Flood Tide Co.  He's legitimately one of the coolest guys out there.  He proudly shows off his company, and speaks with a lot of passion around keeping it cool and authentic.  '
'Who did all your artwork?' – Me
'Me.' – Paul
Sold.  As you know, Flood tide has some insanely cool artwork that drives their brand, and each piece is the work of Paul Puckett.  The one-time Atlanta resident (and Fish Hawk employee) now resides in Charleston with his wife and new puppy Stormin' Norman.  You'll see his artwork all over CHS, almost as much as you'll see Flood Tide hats.  His art is fun: it's a bit caricature and a bit lot shirt, but all very well done.  Here are just a couple examples: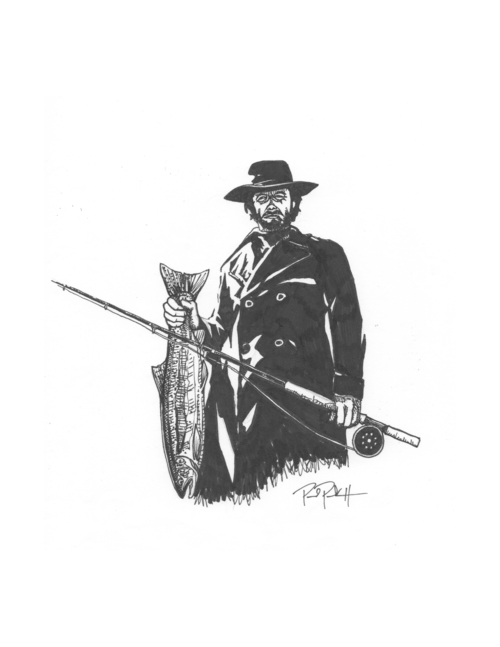 Paul was nice enough give us a look into his world…enjoy:
When did you start fishing?  I was 3 years old with a kid rod.  I started fly fishing when I was 14; I learned watching my granddad fish for bass in TX. Once he passed away I picked up and learned on my own.
What's your favorite type of fishing?  Permit is probably top of the list. You can't beat where permit live. It's beautiful and there's always other species to cast to when the permit decide they don't want to play.
What made you start Flood Tide?  I had to start a brand, everyone was! I was doing some artwork for a few big brands in the industry and I figured since it was working well it was time to see if I could make something out of it on my own. I'd say it panned out alright.
Your art is a huge part of the brand. Describe your artistic process, and how it translates to your company.  Whenever I get to go fishing or be outdoors I get inspired by something. It relaxes your mind and you can think a bit more clearly to come up with fresh ideas. Whether that's for my own painting or creative ideas that go on a shirt. As far as coming up with ideas for the brand, it may be something like a hat design that you won't see for a year or a limited edition shirt that we pump out in a few days.
Describe a day at work…  Oh man… usually the first hour or two is catching up on emails and anything that may be a loose end from the days before. If I'm lucky I have a new idea as far as shirt designs and try to sketch it out to come up with something finished. Lately with iCast being here, it's been a lot of product and catalog development as well as sample reviewing. We also just finished our booth for the show. If I'm lucky I'll squeeze in a twenty minute couch nap around 3-4!
Lots of Lebowski references…what's your favorite quote from the movie?
"You want a toe? I can get you a toe, believe me. There are ways, Dude." -Walter
What kind of guy is a Flood Tide customer?  That's tough to answer. If you like the outdoors, don't count how many fish you catch, and enjoys a good time after the adventures then you're a Flood Tide Co. kind of person!
What's on your Spotify playlist?  Tyler Childers, Wrinkle Neck Mules, Justin Townes Earle, & Waylon Jennings
You can follow Paul via Instagram, as well as Flood Tide Co.
Bonus points: For all you guys that DON'T brunch with a stemmed glass, here's the Manmosa: