Hey, let's be honest…we're all continually looking, right?  Here are a few things that I've got my eye on: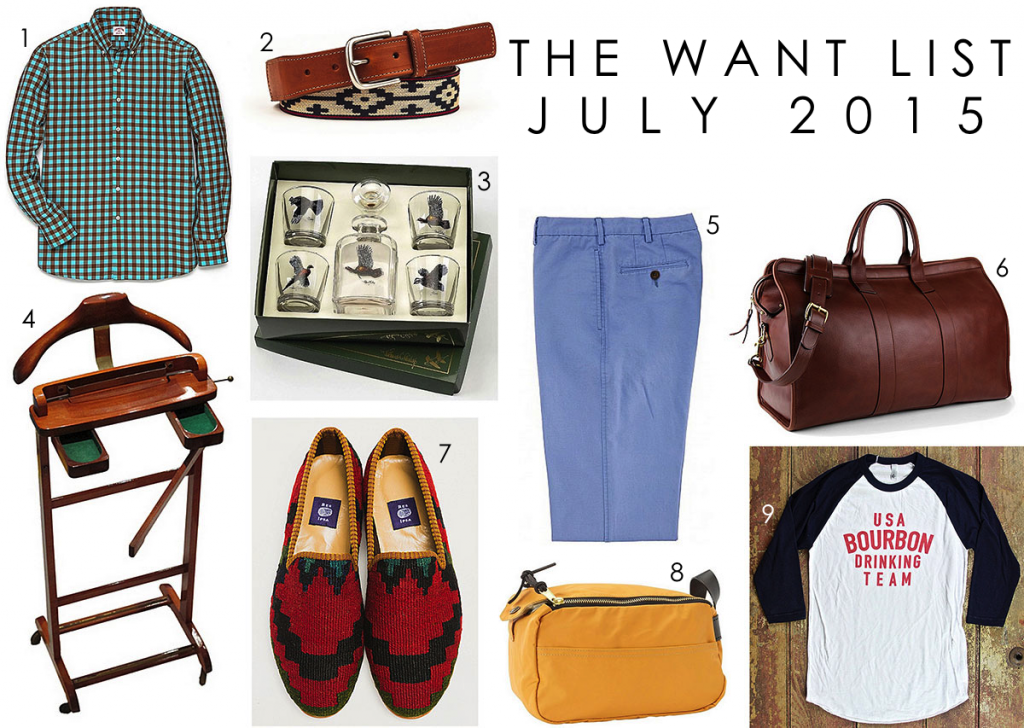 From Top Left:
1. Hamilton Two-Tone Gingham Shirt:  I saw this shirt at Miller Brothers last time I was in, and can't stop thinking about it.  The chocolate and aqua really work well together.
2. La Matera Cordillera Belt:  The uniqueness of this design shouldn't go unnoticed.  It's a perfect for summer.  It looks light but mature.  Try this with a good fitting pair of khakis and a lightweight sport shirt.  Home run…
3. Richard Bishop Upland Decanter Set:  This might be one of the coolest sets out there.  Onward Reserve is doing a great job of curating a great selection of gifts…this may be one of the best groom gift ideas.  Think about this for those upcoming bachelor parties.
4. A Vintage Valet:  I don't think this is the type of thing you shop for, rather something you find.  I want to find one, and pull the trigger.
5. Sid Mashburn Pigment Dyed Sport Trousers:  These pants are incredible.  They are a light-weight canvas material, and wear almost like jeans.  I pulled the trigger on these bottle green ones…I can't wait to get them back from getting tuned up.
6. Frank Klegg Compass Duffle:  Here's the thing with duffles…they are great for one person, but most of my traveling happens with my better half, who ends up claiming a bit of real estate in my bag(s).  This Compass bag from Frank Klegg adds the perfect amount of additional space to what is already the perfect bag.  Tip 'o the hat, Mr. Klegg.
7. Res Ipsa Wool Loafers:  It's like they are smiling at you…
8. Filson 2-Zip Travel Kit:  I've talked about this before, but just found it in 'Russet Orange'.   And it's on sale…
9. USA Bourbon Drinking Team Baseball T:  If you need me to give you a reason to buy this, then we need to have a serious talk.
What's on your list?