For all you RCS Instagram followers, you know that I was lucky enough to marry this angel.  We went down to Harbour Island in the Bahamas with about 20 of our family and closest friends, and had the time of our lives.  We wanted the wedding to be a reflection of us…in terms of location, atmosphere, and style.  The new Mrs. gave me a lot of leash to figure out what I was going to wear, and I gave it a lot of thought.
I really wanted to be comfortable, but still have my outfit reflect my personal style.  It was 90 degrees with a slight breeze, so cotton was a must.  I really like what I wore; I really believe it was a reflection of my style.  Here are the details: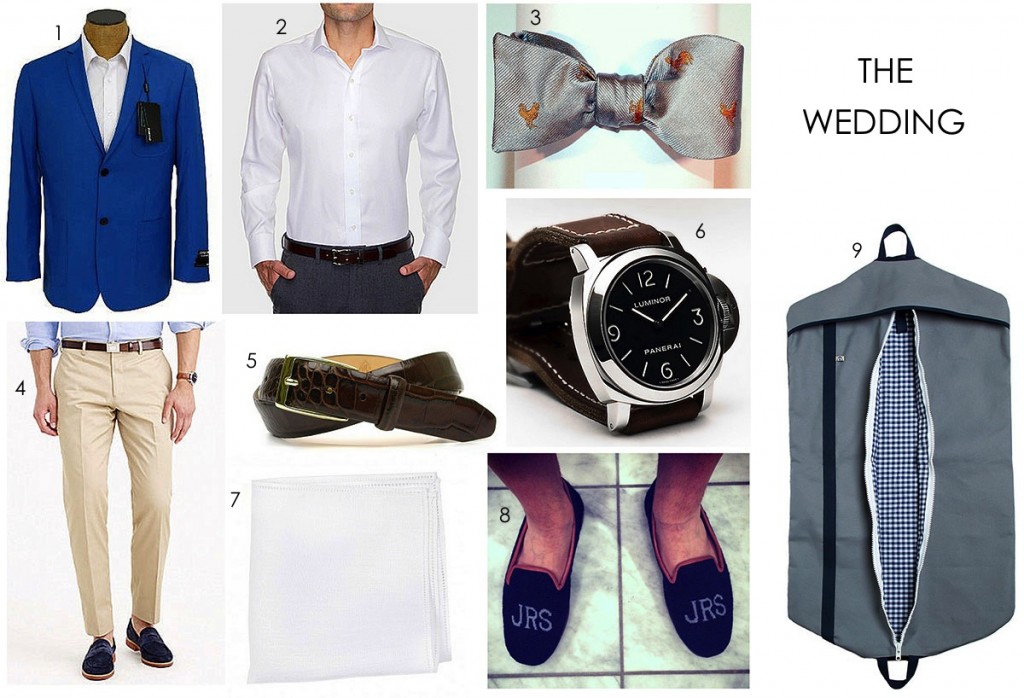 From top left:
1. Brooks Brothers Fitzgerald Royal Blue Sport Coat: I got this coat last winter when it was on MAJOR sale, and it isn't offered anymore.  The picture is really close.  Here's something similar.
2. Ledbury Royal Twill Dress Shirt in White:  I always opt for the slim fit versions of the Ledbury shirts, as the fit is spot on.  The royal twill version is such a luxurious fabric…it fit right in.
3. Social Primer Traditional Bow Tie:  We had the hardest time finding a bow tie that would work.  I wanted something to dress up the outfit, and when Cooper posted a picture of this upcoming design, I showed it to the future Mrs and got the OK.  I called Cooper and ordered five immediately.  Note: there are roosters all over Harbour Island; they are the unofficial mascot.  These worked out very well.
4. J. Crew Ludlow Slim Fit Pants in Italian Chino:  I love this fabric.  I wore the pants, and had the two dads and the two brothers wear the matching tan Ludlow jackets.  Sharp as a tack.
5. Martin Dingman Anthony Belt:  I wanted to get my guys something really nice, so I got each of them this Anthony belt with an engraved buckle as a gift for being an attendant.  They worked out really well.
6. Panerai PAM112:  Hey, why not.
7. Sid Mashburn Hem Stitched Pocket Square:  A clean white pocket square for a special day.  Well worth it.
8. Custom JRS Needlepoint Loafers from By Paige:  I went a little rogue here, and added some flare with these needlepoint slippers.  They were navy blue with light blue letters, finished in tan leather.  I absolutely love them…not just for the wedding.
9. Hudson Sutler Lowell Garment Bag:  I had to have something to carry all this down, and I wanted to make sure it was protected.  After three flights (ATL-MIA, MIA-NAS, NAS-ELH) and a boat ride to Harbour Island, all of my gear was A-OK.
Socks?  Hell no.