I come across some great stuff on Instagram during some scroll sessions.  I saw this image on M. S. Mclellan's Instagram feed, and immediately emailed Bob for the details on the pheasant scarf:
Bob, being as gracious as ever, emailed me back with all the information (and more).  The scarf is produced by a company called Trumbull Rhodes.
Trumbull Rhodes is a three year old New England company founded by neckwear industry veteran Richard Bragdon.  They produce multiple lines of neckwear (neckties, bowties, and scarves) as well as pocket squares and belts, all in the same printed theme.  Their English made scarves are 70% wool and 30% silk, giving them a more delicate feel than your typical wool scarf, but more heft than your printed silk Roger Sterling-esque scarf.
What stands out for me are the designs.  While most men's scarves are a dark plaid or solid, these feature designs in a masculine theme: upland birds, abstract paisley, equestrian, fly fishing, and geometrics.  Each design comes in a variety of colors – all of which would look great paired with a waxed coat or tweed blazer.  Here are some of my favorites: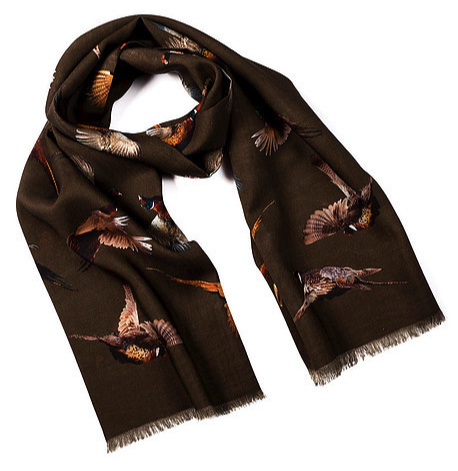 You can see the whole collection on the Trumbull Rhodes website.  If you are in Knoxville, stop by M. S. McClellan and see them in the store.