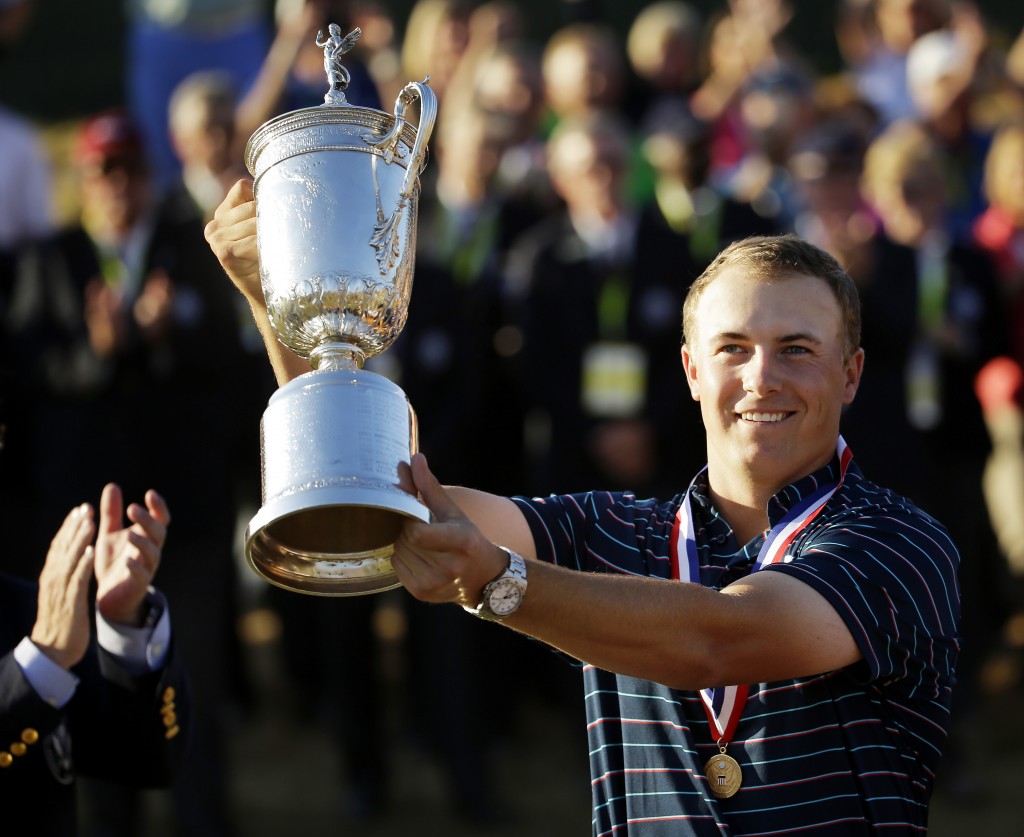 "He three putted from 12 feet?  You're sh!%ing me…"
"I'm in shock," said Jordan Spieth in a post-round interview with Fox's Holly Saunders, dressed like she works in the golf department of Edwin Watts. Dustin Johnson, who had just hit a five iron 247 yards to 12 feet on the par-5 18th hole, then three putted, giving the tournament to Spieth.
The ending was indicative to the entire 2015 US Open: a complete let down. As a serious golf fan and spectator, the experience was hollow, and it didn't feel like anything like a major golf tournament.
Yes, those are train tracks and Star Wars props on the course.
Chambers Bay was built with a ton of fanfare, opening in 2007, and was immediately awarded the 2015 US Open. Who knows why…a new regional demographic? Nike? Were they looking for a different feel, conflicting with that a recipe that has worked for 100 years? Who cares. The course looked like an un-watered North Florida muni. The setup was strange, and it was hard to watch. There wasn't a crowd of any significance. The cherry on top: there was a giant dumpster fire nearby on Saturday. The irony should not be lost.
The greens were awful. Billy Horschel, Gary Player, and Ian Poulter have been the most vocal about the conditions of the greens, and they won't be the last. It was so sad to watch all the USGA representatives, as well as the Fox crew, try to make excuse after excuse for the course's condition, and how 'it's part of the game' or 'suck it up'.
"Watch me hammer this putter into the green.  It's going to be sweet."
All of this attention ensures that the greens' conditions and the USGA's obvious whiff will continue to be a major story. In the post-round interview with baseball announcer Joe Buck, Spieth was asked what he thought of the course conditions, since he survived it, and won on it. His response (sic): "I know why the Cowboys hate playing up there, Seattle fans are awesome". Check mate.
Fox Sports' crew was like a bunch of deer in headlights. Joe Buck had no idea what he was talking about, and it was entertaining listening to him correct and overcorrect. Faxon and Weiskopf were fish out of water. Greg Norman, who is known for speaking his mind, was obviously following restraint instructions from the Fox brass. All in all, The Shark did a good job, but what they needed was a Johnny Miller-esque pontificator. Swing and a miss.
"Yawn"
From a formula perspective, the US Open has been one of the most anticipated events of the year. This year, the USGA tried something new, and it failed. It failed badly. It's the US Open, not the British Open. They play that event next month, where we'll get to enjoy a treeless course and the huge greens. US golf is different. On this side of the pond we think of lush, long, tree-lined fairways, white sand bunkers, high rough and postage-stamp greens. That's US golf. That formula isn't broken, so don't try and fix it.
Fox has the US Open for 11 more years, and next year's Open is at Oakmont. Let's all assume that Fox Sports will learn from this year's disaster.
Images: Google Image search.