No doubt about it, my recent pheasant hunt trip to South Dakota was a life-changing event.  Not only did we limit out every day, but I saw a part of the country that is rarely seen outside of the Internets.  Traveling through South Dakota was a reaffirmation of how small and insignificant we are in the grand scheme, and the sheer beauty of this place is breathtaking.  The area is vast, it's intimidating, and it's striking.  This was the first of what is to be an annual trip, and I'm already looking forward to heading back.
I did a post a couple weeks ago on what I'm packing for the trip.  This list was based on advice from friends and research on the Internet.  After experiencing the trip, there are a few lessons that I learned – mostly around packing.  Here is a rundown of what I liked, what I learned, and what I'll do differently next year.
1. A Rolling Duffle Bag.  I packed the majority of my gear in a Filson Medium Duffle bag, which is 3120 cu/inches.  When this bag is stuffed, weighs right at 35 lbs.  This fine for checking, but trying to lug this around the airport while wheeling a Pelican 1750 and my Filson Excursion bag is a very heavy endeavor.  To fix this, I'm going to upgrade to a rolling duffle.  The top of my list would be the size large Filson rolling Duffle: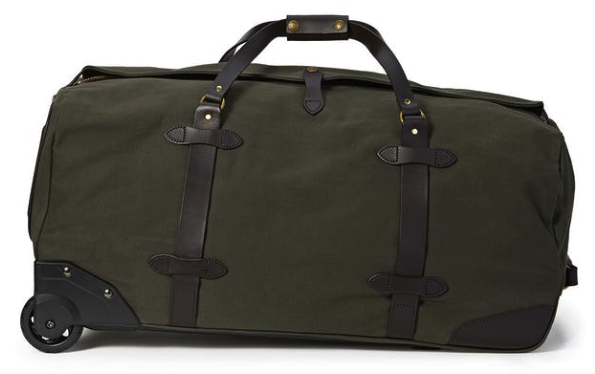 This guy is 4830 cu/inches, which is a TON of space.  I don't think it would be an issue keeping it under the 50 pound check limit.  And the convenience of rolling this to/through/from the airport makes the additional cost worth it.  NOTE: the retired brown version is on sale at Nordstrom Rack for under $300 (57% off retail!).
2. BraeVal Shirts.  I brought three different shirts for our three hunts.  I ended up hunting in my BraeVal shirt for two hunts (first and third), dinner on the last night, and wore it home.  These shirts are incredible.  The wool/cotton blend is great at FSD or MSP, but breaths in ATL.
I've covered BraeVal at length here on the blog, and one of the many reasons I like them so much is that the sleeves are a little longer.  By no means do I have abnormally long arms, but a lot of the other hunting/outdoor shirts are 'traditional' fit, meaning that a shirt that fits my body usually has sleeves that are too short.  I like wrist coverage when the wind is blowing, and BraeVal hits it just right.
3. Quarter Zip Base Layers.  I was pretty conscious about getting good base layers, as it's a layer game up there.  Not to get too deep here, but I really like the quarter-zip option rather than a crew neck.
I brought this one from REI, and wore it every day (yes, I rinsed it each night).  It was nice to zip up when the wind was blowing, and to unzip when it got warm, or after the hunt while enjoying a Miller Lite.  The wool was a nice touch as well.  I'm leaning more towards wool as a base layer rather than poly…
4. Mountain Khakis Field Pants.  I've worn Mountain Khakis for some time, and pulled the trigger on their field pants in the last off season.  Simply outstanding.  Not so thick that they make it tough to move, but sturdy enough to protect against the elements.  Just right.
5. The Boot Situation.  It turns out out that my narrow feet are tough to fit in hunting boots.  Thick socks make my feet longer, but not wide enough for a typical lace-up boot.  I couldn't get them tight enough across the top of my feet.  It was OK, and I didn't get any major blisters, but it was something I had to think about while going ~5-6 miles a day.
Bison Zephyrs
Covey Rise Upland Boot
I made it through the hunt, but in the future, I'm going to have to go with pull-on boots with a strap, or go the custom route through Russell Moccasin.  This won't be a bad investment, since they will probably last me the rest of my hunting days…
6. Power Pack.  With all the beautiful scenery, it's hard not to take a bunch of pictures and videos.  This eats up iPhone batteries, and my power pack kept me from running dry.
Anker makes an excellent power pack that saved the day.  It'll hold a few full charges, but you have to remember to charge it at night, and to bring a cord.  It's small, compact, and useful.  Worth the real estate in your field bag.
7. GPS Watch.  I don't have one yet, but after walking around chasing pheasants, I can see the appeal of tracking.

My wife has a FitBit, and I'm personally not a big fan of the look.  I do really like the Suuntos, but the prices were always a bit prohibitive.  However, they did just release the Spartan Trainer, which is about half the price of their top-end watches, and does everything I would ever need.  I may have to chat with Santa about this.
8. Bring a Thermos.  A warm cup of coffee on my first break would have been mighty nice.  The average temperature when we started the hunt was in the mid-20s, and it rarely got above 35.  I'm all for anything that will ease that chill.
My buddy had this 16 oz. Stanley that was the perfect size in his hunting jacket.  It has a spot for a water bottle in his field coat, and he used this every morning.  Add this to my Christmas list.
9. Drink More Water.  Walking an average of six miles a day takes a toll.  Just because you aren't sweating doesn't mean you can skip hydration.  And cramps suck.
Any other tricks I missed?