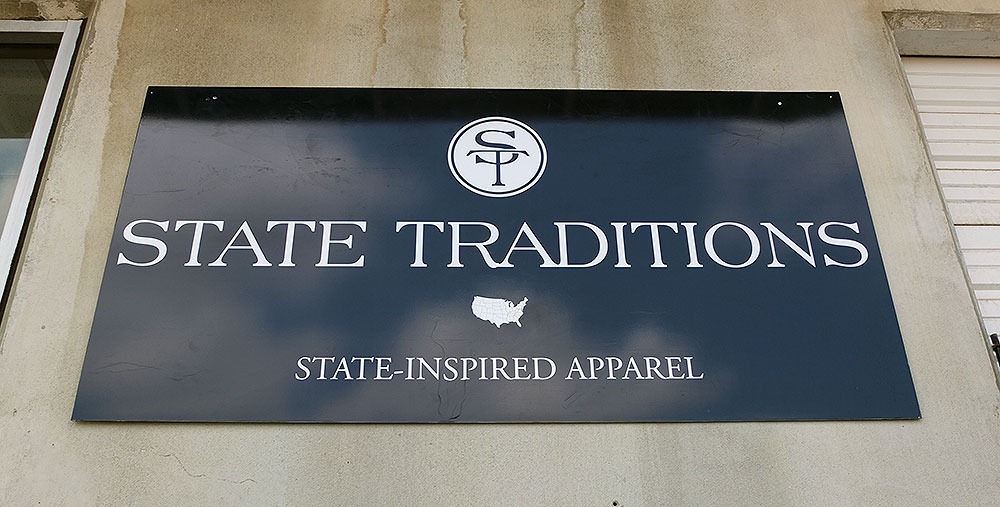 Not only does State Traditions make some of the best state-inspired merchandise out there, but they are a good crew.  Their hats, shirts, belts, and other goods don't rely on flashy NASCAR-like style, instead relying on appropriate color pallets and quality.
What State Traditions has done very well is managing their growth.  Just a few years ago, they were using Keith's extra bedroom as storage for their entire company.  Then they moved to Pepper Place in Birmingham, where they took over every nook and cranny the landlord would let them use.  After busting through those seams, and have moved into their own warehouse.  While this isn't a permanent location, it will get them through the next year or so.  Always looking for a reason to head over to Birmingham, Keith and Maury were happy to show off their new digs:
VP of Sales Maury:
The artwork around their place looks good, too.
I spy the Old Try:
Painting by Lindsey Evans
This is State Tradition's first opportunity to have all of their merchandise in one large room, which helps with inventory, shipping, and receiving.  When I showed up on Saturday morning, they had four of their guys busting their butts getting orders filled and inventory re-stocked.  With college football season here, orders have been flying off the shelves.  While all this is nothing but good news, President and CFO Keith mentioned "we'll outgrow this warehouse in a year or two".  From a spare bedroom to this…
The scale is simply amazing.  Covering 50 states with a variety of merchandise in multiple color options is no small feat.  Still though, they aren't done.  There is more goods on the way, including more higher-end options as well as new collaborations.
And you know what they say about real estate: location, location, location.  How about this view?  Right across the street from Regions Field…there might not be a better reason for happy hours.  Just ask the Avondale guys…
Until next time, guys…