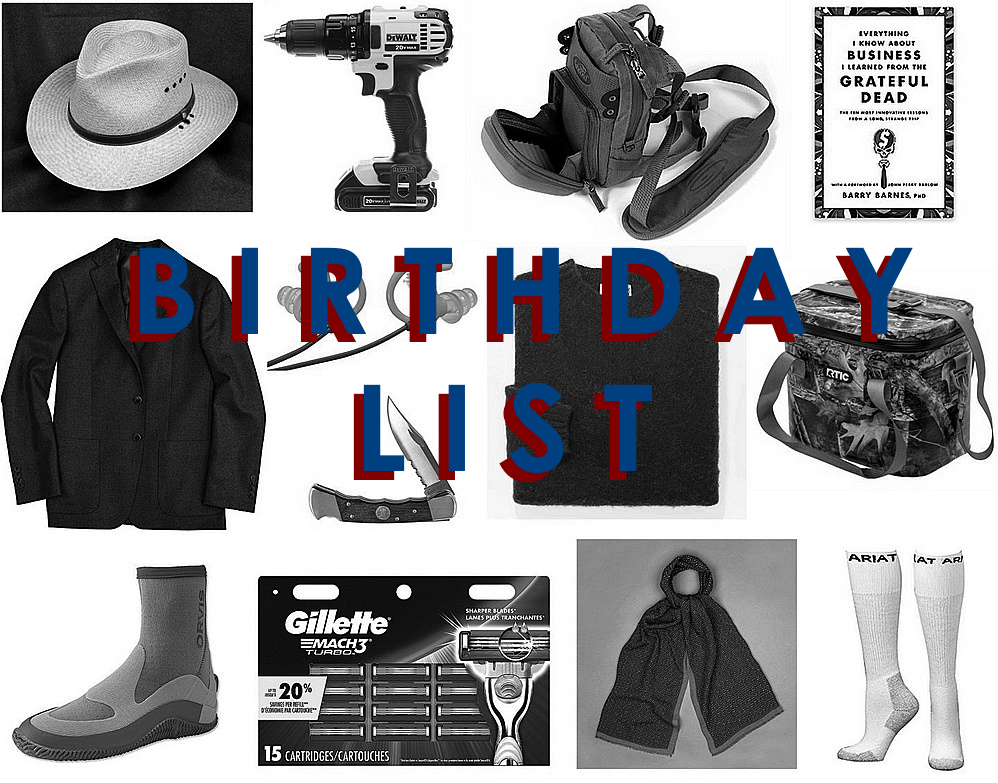 My mom called me the other day, and besides reminding me that my birthday is coming up (which I'm quick to forget), she asked me if I wanted anything.  This is an interesting question for anyone over thirty.  At some point birthday gifts become cash in a card, then eventually go away – especially from family members.  This does not include Mrs. RCS – she gives awesome, extremely thoughtful birthday gifts.  I'm not buttering her up, I'm being serious.  She knocks it out of the park.
Back to Mom's question.  At some point we just buy what we want, right?  Obviously within reason, but the idea that you are going to wait to 'get' something goes out the window.  We are a consumers.  We consume.  My mom, not being satisfied, demanded that I give her a couple options.  I did, and some of them are included down below, but it made me think…what's on my birthday list right now?  How about the extended version?
Well, here's what's on my list:
From Top Left:
1. Colonel Littleton No. 2 Lynnville Panama Hat:  I've had my eye on this for quite some time.  The more I fish – especially in the summer – the more I want a straw Panama hat.  This will only get better with age, use, sweat, and tears.
2. DeWalt Power Drill:  I've been tinkering around with a pretty weak power drill for the past few years, and I'm ready to upgrade to something serious.  I have a few DeWalt tools that all share the same battery packs (brilliant), so I'll go that route on the power drill as well.
3. Fishpond Medicine Bow Chest Pack:  After spending some time in a few streams, I've zero'ed in on this chest pack as a great, minimalistic bag to carry while wading around flats and streams.  I love the fold-down workspace; it makes a lot of sense.
4. "Everything I Know About Business I Learned From The Grateful Dead":  How do I not own this?
5. Onward Reserve Loro Piana Hunter Sport Coat:  A green wool sport coat for Fall and Winter?  Yes please.  It's nice to see Onward start to offer some well-priced options like this.  And the Loro Piana fabric is top shelf.
6. Surefire EP4 Earplugs:  I got a pair of these last year and love them.  You cannot beat the price as well.  They are ripe to get lost, so I'd like to add a second (and maybe third) pair.  For the price, why not?
7. J. Press Emerald Green Shaggy Dog Sweater:  I'd really love to add one of these green beauties to my arsenal.  I had a knock off brand for years, but it had to be retired after last season, leaving an open spot on the roster.
8. RTIC 8 Soft Pack Cooler:  I pulled the trigger on the 30, and am so impressed that I want to get the 8 as well.  It's the perfect size for when I go fishing one morning, or for a personal cooler on a hunt.  You cannot beat the price.  Of course I'd get the camo option.
9. Ball and Buck X Buck Folding Hunter Knife:  I can't believe I haven't bought this one yet.
10. Orvis Christmas Island Booties:  We're heading back to the Bahamas next Spring, where I'll be doing plenty of stalking bonefish.  I didn't have boots last time, and it's a miracle that I didn't tear up my feet.  These will be with me on the trip next year.
11. Gillette Mach3 Turbo Razors:  A really wise man once told me to always ask for razors and golf balls, since everyone hates buying either.  Well, here you go.  I'll ask for golf balls for Christmas.
12. Drake's Medallion Print Wool Scarf:  A buddy of mine wears a scarf like this with his waxed jackets, and I love the look.  It really dresses up a pretty rugged piece of outerwear.  Drake's does it right with the masculine medallion prints, and the wool material will serve the purpose.
13. Ariat Over The Calf Boot Socks:  I've searched high and low, and these are the best over-the-calf boot socks for the money.  And…is there any birthday list that doesn't include socks after the age of 18?
What say you?  What's on your list?