On a lucky trip to a local second-hand store, I came across a pair of Magnanni crocodile loafers.  These, in fact.  I've always liked the idea of crocodile loafers – well, alligator/crocodile anything – but could never justify the cost.  These were beat up, but not too bad (I told myself).  At $6, I said what the heck.  Pulled the trigger.
Now – keep in mind, I don't mind 'beater' shoes.  The kind that I can wear with frayed khakis, sans-socks.  Maybe it's a Southern thing, maybe not – but I have zero issue wearing these to a rooftop bar and stumbling out to a cab – like we all used to do in college.  I'm framing this discussion because some of the advice I received about these shoes was to trash them – 'crocodile loafers should look spit-shined new; like they just came out of the box'.  While that would be nice, I'm perfectly happy with the way these turned out: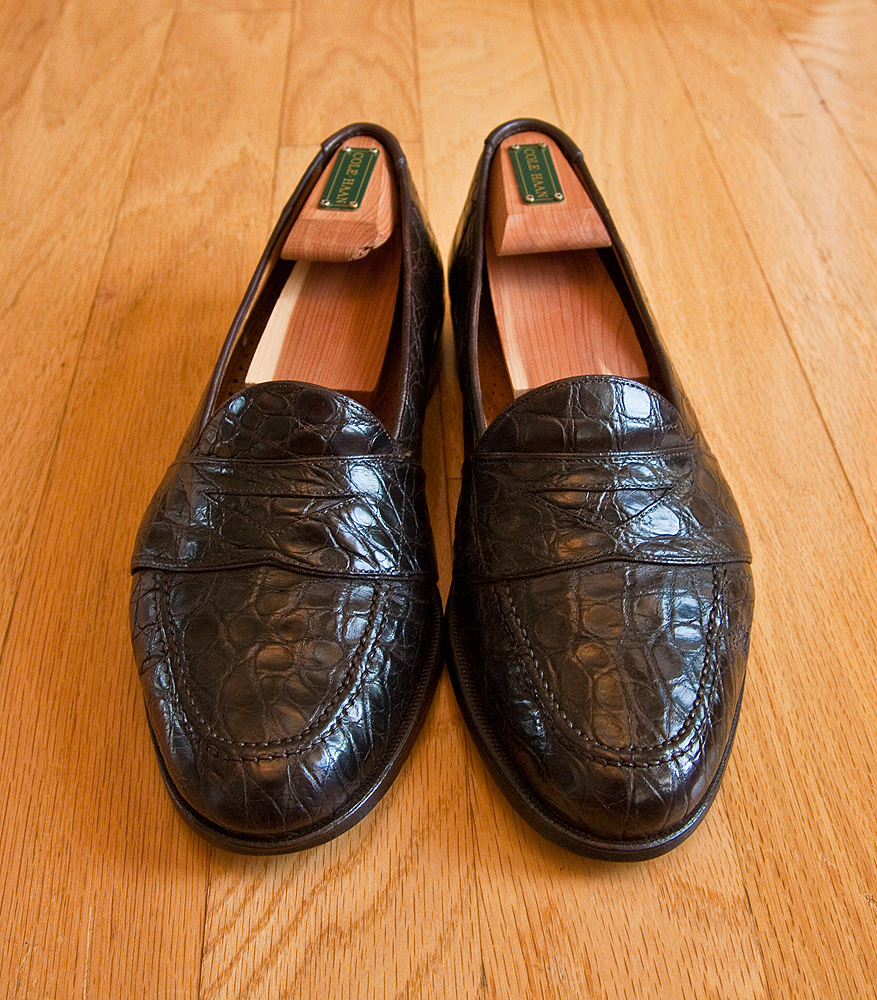 I dropped them off at a reputable cobbler North of the city, and let him know I wanted to get these back on track, and that I didn't need him to perform any miracles.  His thought was that it was do-able, and that I should get years of use out of them – maybe not as formal as a pair fresh out of the box, but plenty for my needs.  I went back to pick them up a week later.  My first impression was good – I was really happy at how applying numerous coats of Melatonin cream helped the crocodile leather.  Very fresh.  I bought a jar to bring home with me.
The previous owner was obviously not a fan of shoehorns (or shoe trees).  The leather on the back of the shoes had started to wear away, so an easy remedy was to add a small piece of leather.  Works for me.  There was also a few stress spots inside the shoes that needed some glue reinforcement.
The biggest issue was a 3/4 inch split on the outside of the left shoe.  The cobbler explored every option, but concluded that the best approach was to stitch it.  I didn't like the idea at first, but I had to remind myself of the opportunity.  I'm pleased that it came out the way it did – the stitch isn't noticeable unless you stare, which isn't polite.  $38 for all this work from the cobbler, plus the $6 price tag – I'm into these for $44.  Not too shabby.
This is what they looked like the day I brought them home:
I'm looking forward to taking these bad boys for a ride…