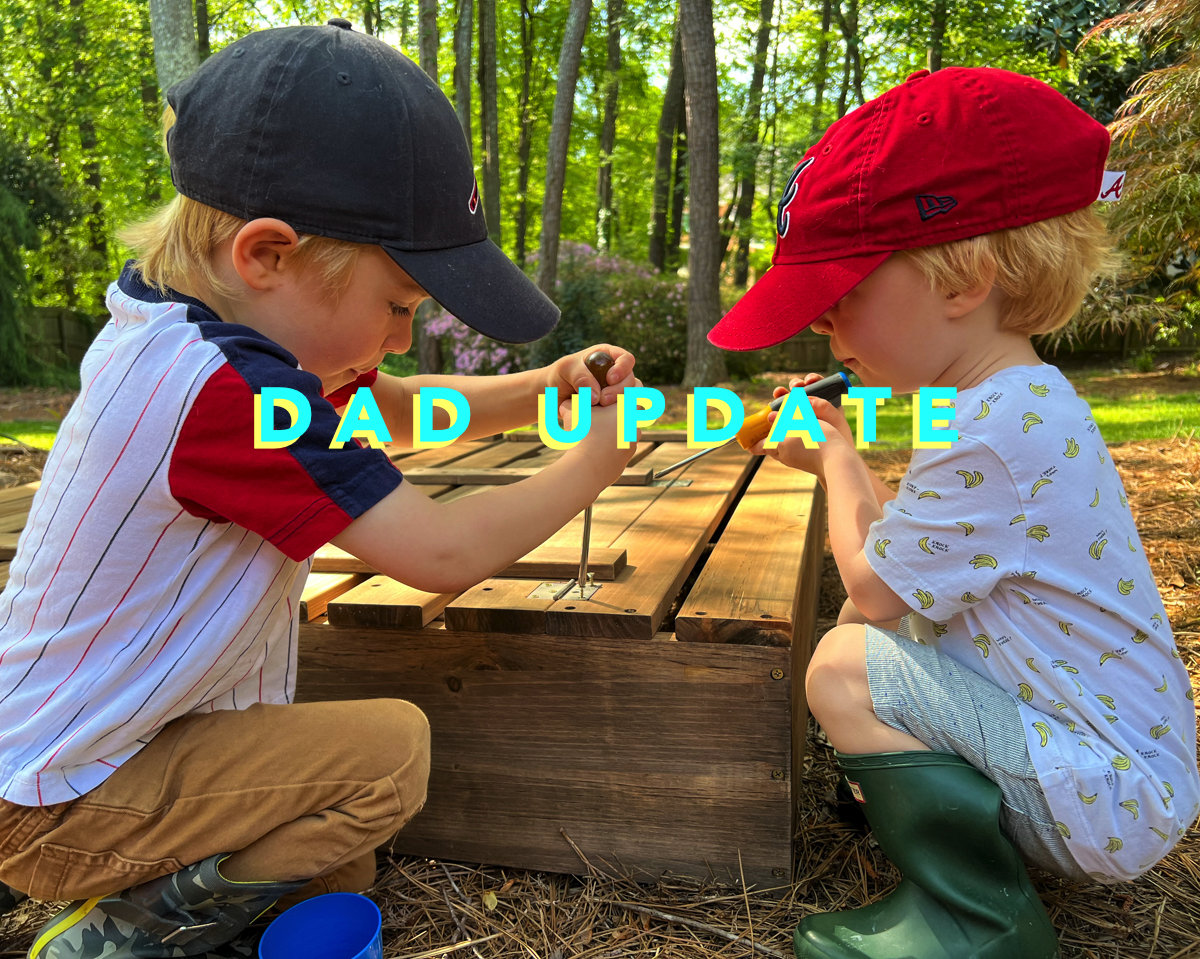 In terms of a Dad update, it's been a while!  I really appreciate all the positive feedback on my prior dad posts, and all the dad-related questions in my Ask Me Anythings.  Keep 'em coming! By no means am I an expert, but I'm happy to share my experiences and opinions.  To refresh: we use the Moms on Call system.  We started the day they were born and still implement their system.  It's a lot of focus on schedules and consistency, which match well with Mrs. RCS' and my personalities.
Our current status is a good one.  Our boys will be 3 (Jack) and 5 (Henry) over the next few months and are VERY active.  They are both in daycare/school full time and are thriving.  H is in the early pre-K program and doing really well.  Mrs. RCS and I are both working in a hybrid environment, where we are both in the office a few days a week, and home a few days a week.  All in all, the machine is humming along.  We're in a good groove.
Our boys are extremely active.  They fit the description to a T.  They are best friends, worst enemies, and learning to push boundaries.  They are both developing their own personalities, which is so fun to watch.  H is your typical firstborn: smart, intuitive, curious, possessive, and generally speaking the leader of the pack.  J is our second born, and basically a Navy SEAL.  Fiercely loyal to Mrs. RCS, his big brother, and me, aggressive but sweet, a loverboy, and he's literally not scared of anything.  They are so much fun to be around.
Coming into Spring is seriously good for our house.  It's a disaster keeping our boys cooped up all day in the cold, wet weather.  We did the aquarium quite a bit, went and saw friends, lots of neighborhood rides in Bertha, and took advantage of mild days on the playground/cul-de-sac.  However, we wore out the playroom.  Our house is NOT a 'Pinterest' house in that our kids are always clean, smiling, and in a state of wanderlust.  Quite the opposite.  Most of the time they look like hobos that just got out of a catfight.  Quite frankly, I wouldn't have it any other way.  They know the rules and the consequences.  Go forth and conquer.
This Spring and Summer, we're planning a few vacations (with and without kids), we've got H signed up for a day camp, and we'll be pool rats.  We're heading to the beach later this week for a few days with some dear friends and their kids, which I expect to be a blast (post on this tomorrow).  Since our boys aren't in school yet, we aren't bound by the school calendar…we're taking full advantage.  H has a crew of boys and girls at our club that he loves, so we signed them up for a day camp.  It's basically golf-tennis-crafts-lunch-playtime-pool for five days.  He's going to have a BLAST.  It's nice because we can head up to the pool after he's done and play out the clock as a family.
On sports, we tried H in soccer last Fall, and it was a mitigated disaster.  He didn't want to wear the uniform, didn't want to play, and would nuke the whole morning when it was time to go.  Ultimately we pulled him.  I talked to my dad about it, who coached my brother and me in all sorts of little league sports, and his advice is where we are:
"Don't force any kid to play any sports.  Expose them to it (take them to a practice or a game and let them see it), and let them tell you when they want to play.  If you force it, he'll fight it.  Sports should be fun."
So that's what we are doing.  He hasn't expressed much interest in anything but golf  (smiley face emoji), but we'll go see some friends' games this summer and see what he thinks.
On schooling, H has a late-July birthday, so we've decided to redshirt on starting kindergarten.  We're going to let him do pre-K for one more year (our school has a 5-year-old option).  He's smart enough to go, but I worry about him being the youngest and the smallest in his class.  My folks did that with me, and they both agree it was the right thing to do.  It also gives us one more year of vacation freedom…which is fine with me.
The big issues that we are dealing with are pretty minimal.  Any advice is welcomed:
Our kids LOVE to get up "too early" in the morning…we use the Hatch light, and they know they can't come out of their room (they share) until the light turns green at 6:30.  However, they are usually up playing WWF at ~6AM.  We put them down around 7:45-8PM, and they go right to sleep…I wish we could stretch the wake-up to about 7…
Babysitters.  We just lost two of ours, and we need to re-stock the roster.
How's everyone else doing?  Let's hear it…leave a comment below.