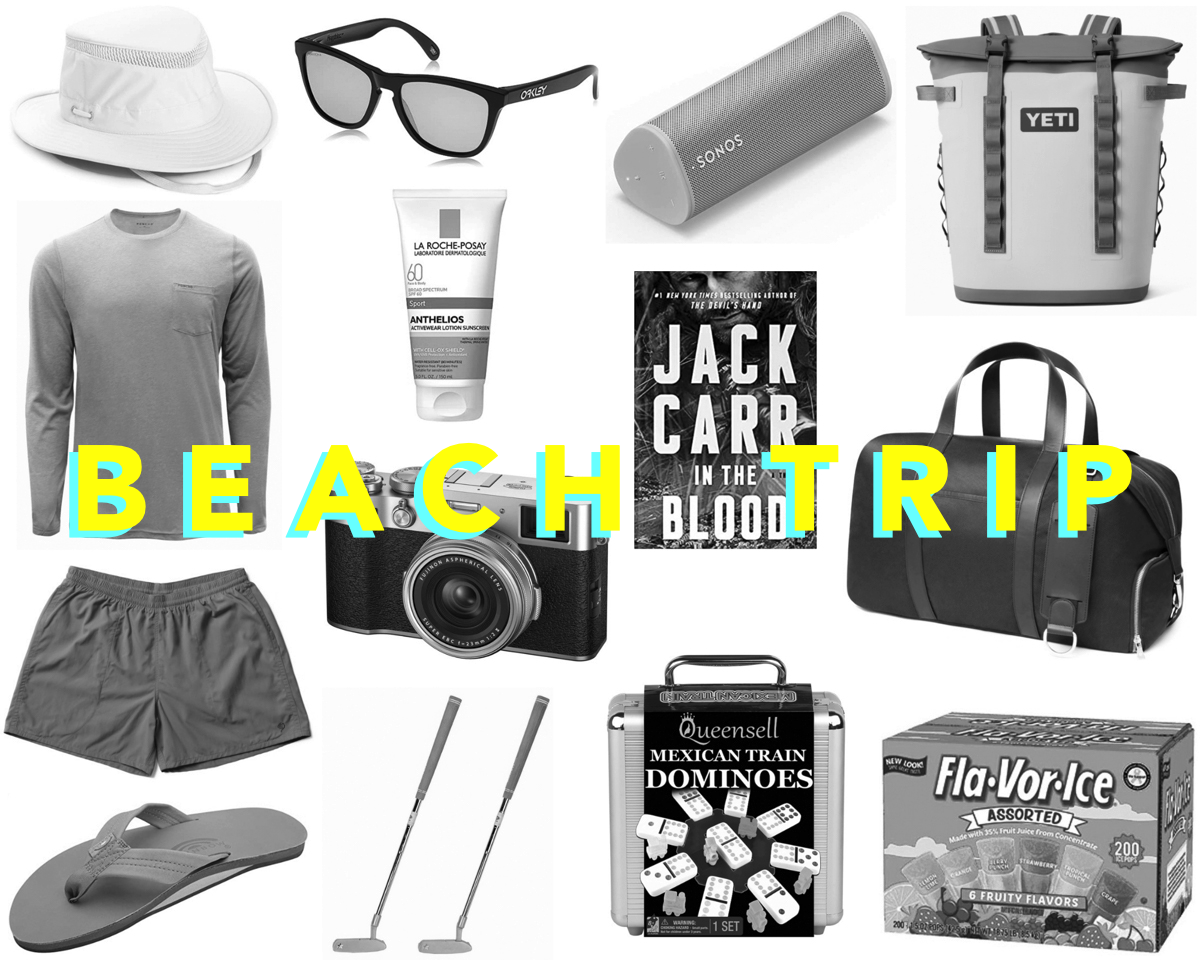 Our first beach trip of the year is upon us.  We leave on Saturday for a five-nighter with another couple who are our dearest friends.  Between the two couples, we have four kids under five.  All boys.  They are all close, and SUPER pumped to get down there.
We've rented a house down in Watersound, and plan on being homebodies this trip.  We're going to go old school: hardcore beach and pool, cookout every night, lotta Miller Lite, and play dominos on the back porch once the kiddos go down.  We don't have plans to go out to dinner at all.  We'll probably head down and get donuts in Seagrove one morning, but that's about it.  Needless to say, we are all extremely excited.
Packing for this trip is actually going to be pretty utilitarian.  Since we have narrowed the scope, we don't need a lot.  It's all going to be about making the most of the time we have down there.  Think about it like this:  It's an SPF, PB&J, grilled fish, and canned beer type of trip.  It's going to be fantastic.
Here's a little bit of what I'm packing: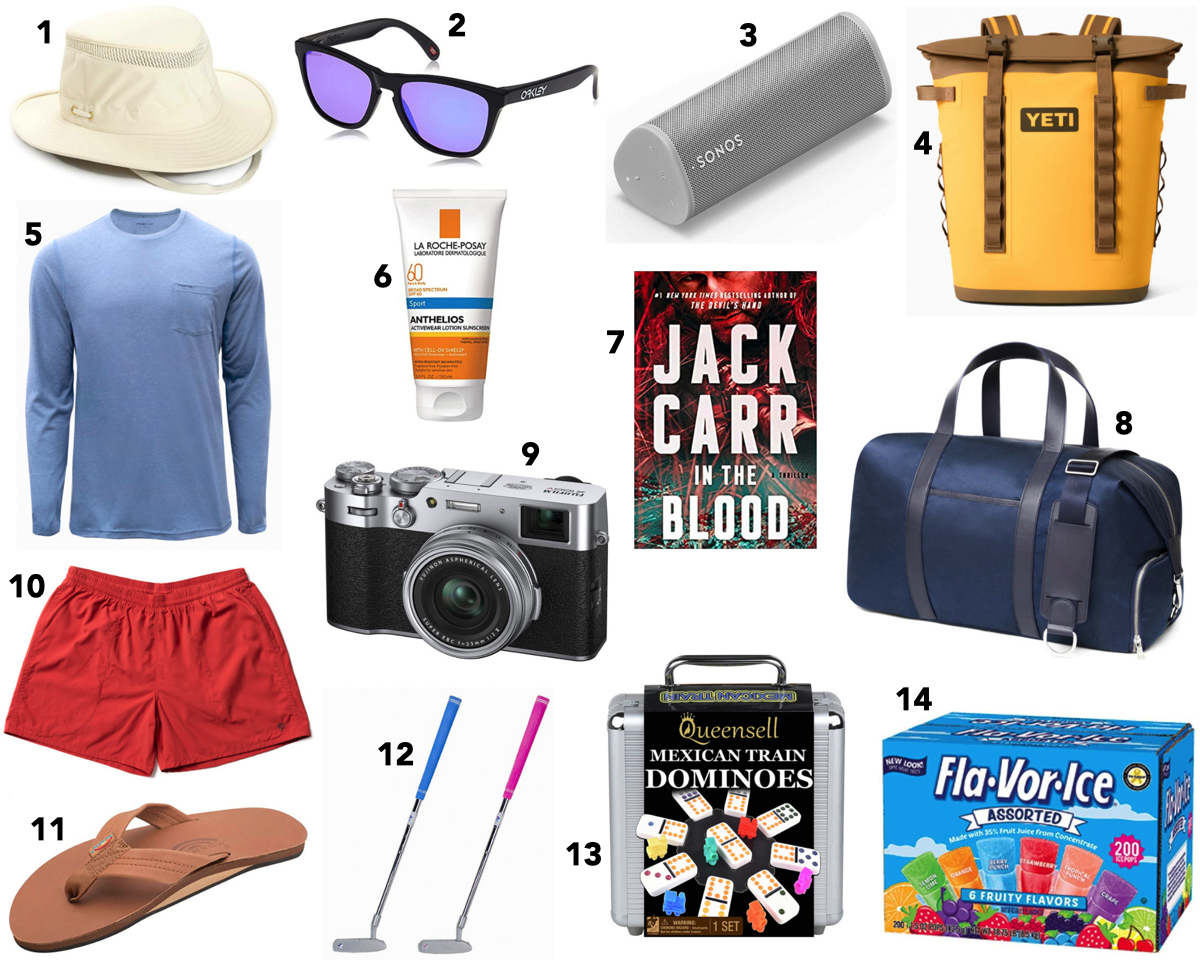 From top left:
1. Tilley Airflo Hat:  You'll see a lot of this from me…sun protection!
2. Oakley Frogskin Sunglasses:  I have plenty of Persols and the like, but these Oakleys are GREAT for a beach trip like this one.  Beat 'em up and they look better.  The purple lenses are a nice nod to the days of my youth.
3. Sonos Roam Speaker:  The Sonos products are hard to beat, and we'll need something that can handle the beach, the pool, the golf cart, kitchen dance parties, and the back porch.
4. Yeti Backpack Cooler:  I've got last year's model and love it.  They made it super fancy this year, and I love the new color options.  It's just the right size for a half-day on the beach.  Plenty of room for beers and waters, snacks for the boys, etc, and the Yeti ice packs do their job well.  Just keep a backup ready in the freezer.
5. Poncho Sun Shirt:  More to come on these, but they are changing the game.  They are a technical shirt that feels like a bamboo shirt.  Absolutely killer.
6. La Roche-Posay Sunscreen:  I've tried them all, and this is the best sunscreen that doesn't feel like sunscreen.  It leaves no residue and lasts all day long.  It costs a little more but is worth it.
7. Beach Read:  Outside of cartoons for the boys, we typically don't turn on the TV unless it's golf and/or Braves, and I like to have some good reads available.  These Jack Carr novels are absolutely outstanding.
8. Holderness & Bourne Byers Duffel Bag:  Going to be easy to pack for this trip…so I don't need a huge bag.  This duffel from H&B is the perfect size.
9. Fujifilm X100v Camera:  I'll keep my version of this (X100t) close to capture some moments.  Sure, the iPhone is fun, but the fixed lens on this bad boy is better.  It's extremely sharp and makes you think about the shots.
10. Duck Camp Scout Shorts:  I'm a big baggies guy, but these Scout shorts from Duck Camp have become my go-to.  The 5″ inseam is absolutely perfect.
11. Rainbow Sandals:  I'm literally packing these and some running shoes.  They are all I need.
12. Kiddo Putters:  Anyone who has been to Watersound knows about Putters Park.  It's absolutely fantastic and should provide hours of fun for us and the boys.  Given their affinity for golf, I have a feeling we'll be spending quite a bit of time over there.
13. Mexican Train Dominos:  100% the reason that we'll be up past midnight and wake up a little groggy.
14. Fla-Vor-Ice Popsicles: Our boys are 100% into bribes.  It's amazing what they'll do for one of these.
What did I miss?