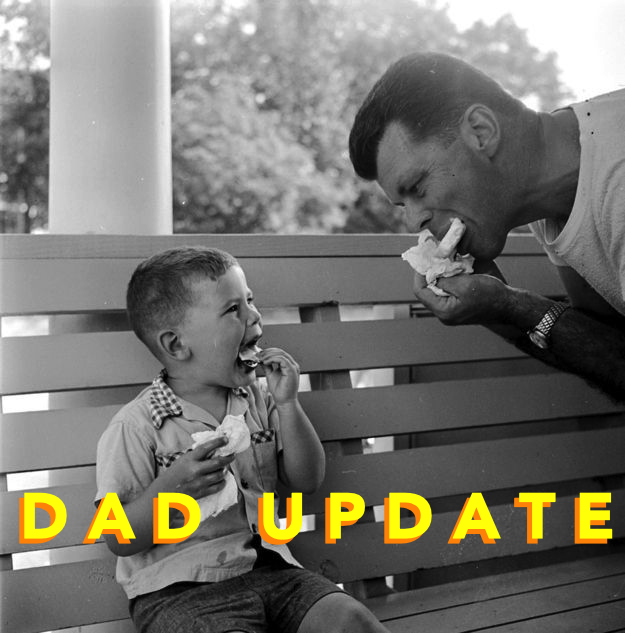 It's been a while since I touched on being a dad.  Our boys are now 4 (H) and 2 (J), and as we've heard from a lot of parents (specifically the parents of older children), we're 'in the thick of it.'  I see what they mean.  Our 4-year old's independence is growing daily.  He doesn't need mom and dad within arm's reach every waking minute.  He enjoys playing by himself, even if it's for only 30-minute increments.  Our 2-year old is thriving.  He is a sponge – he wants to do everything that his big brother is doing, and is learning so much.  He's also becoming really vocal.  It's a lot of fun.  He gets a little frustrated when he can't communicate effectively, but what's cool is that he and his brother totally understand each other…like C3PO and R2D2.
Our weeks are largely the same.  Monday through Friday our boys are at school from 7-5.  H is in the pre-K program, where he is really enjoying learning.  J is still in the traditional daycare program.  Mrs. RCS and I are both still working from the house and are taking advantage of our time together.  We both do our best to shut down around 5-5:30, then it's kid time.
During the week, our evenings are either at home (play > dinner > playtime > stories > review our house rules > prayers > bed). We try to go to the pool at the club as much as possible before they shut it down.  We'll pick them up from school and head straight over, swim for an hour, order dinner, and play until they melt down.  No sense in not taking advantage of the daylight.
We moved J into H's room a couple of months ago, so the boys are officially sharing a room.  The transition has taken a while, but we're getting there. The boys have FOMO in the morning…sometime EARLY morning…but I have faith that it'll even out.  I'm a morning person, so I don't mind.  We use the Hatch light and have trained them that they need to sleep until their light turns green (programmed at 6:30 AM).  That training is going slow (wink face emoji).  If anyone has any advice on getting children to sleep a little later, I'm all ears.
Our weekends are actually a lot of fun.  H just started soccer at the church, so that'll consume a lot of Saturday mornings through Haloween. The pool should be open through September, then we'll get busy on the Zoo > Aquarium > Fernbank season. Some friends who have pools will keep them open for a while, so those will be fun afternoon playdates.  Other than that, we'll frequent playgrounds, golf – either the golf course (putting green) or a mat in the driveway. We're still doing naps – the boys operate much better with a couple of hours of downtime in the middle of the day.  Those naps are a Godsend.  Honestly, by Sunday night Mrs. RCS and I are both pretty fried.
>>>>>
Mrs. RCS and I work hard to keep a balance. We love our kids – they are the most important people in our lives. However, we both have interests outside of being parents.  Obviously, our children are our priorities, but we have other interests outside of raising children.  We both allow and encourage each other to enjoy those interests. We've learned that this makes us better parents.  For our children, they know that we love them unconditionally, and we'll always be there for them, but Mrs. RCS and I don't judge our parenting ability by the amount of time we spend with them, or how 'friendly' we are with our kids.  Of course, not everyone is built the same, but we've found what works for us.
We both love date nights and traveling together.  We try to have a night out at least 2-3 times a month and try to take a couple of vacations a year sans kids.  We also have a great relationship with both of our families.  Her folks keep our kids ~one weekend a month, which is HUGE for us.  It's a nice mental break, and we miss them like crazy come Sunday.
We also support each other's hobbies. If I'm going golfing or hunting one day, she is more than happy to wrangle the kids.  Same with me: if she needs a night out with her friends or just some alone time, I'm more than happy to hang with the kids and give her that.
Here is some stuff we've found that really works – I'm going to say "we" because L and I are 99% on the same page.  Again, this is our plan.  Everyone is built differently.
1. We constantly remind our boys of the Golden Rule: 'Treat others how you expect to be treated' (paraphrased from Matthew 7:12).  This will serve them well for the rest of their lives.
2. We don't treat our boys like babies. We do our best to let them figure stuff out. Want to climb on a chair? Cool! I love climbing on chairs. However, I've fallen off my fair share, and know the consequences. Me telling my kids one thousand times: "don't climb on chairs because you could fall off and get hurt" isn't nearly as effective as a solid fall and fifteen minutes of recovery. Metaphorically, there are times when we let nature take its course. And then we don't have issues with them climbing on chairs. Ever again.
3. Mealtime is the time to eat. We've tried to get away from grazing all day.  Our youngest eats like a horse, but our oldest is pretty picky.  It's been a bit of a challenge, so we've found that putting some structure around it helps.
4. Kid toy purges. Stuff accumulates. Stuff breaks. Stuff collects dust. We've got to purge. It doesn't matter what we spent on it. If the toy is still in good shape but the boys are done with it, then we donate it. Otherwise, we trash all the broken/random pieces.
5. Kid clothes. Holy lord. Thank God our kids wear uniforms to school – makes it so much easier.  We try to keep their closets free of stuff that they won't wear for whatever reason, which helps.
6. In addition to "I'm proud of you", we also remind them "you should be proud of yourself".  Self-worth.
7. We have a healthy budget for babysitters.
So that's where we are these days.  Being a parent is extremely rewarding, and pretty trying.  Both can, and should exist.  The best advice we've received is 'the days are long but the months are short.'  That couldn't be more true.
How are things on your end?