It was really weird to see the highs dip into the mid-80's here in late September.  It does remind me of a couple things: 1. we don't live on the surface of the sun, and 2. Fall is actually coming.  It might be short this year, but it's coming.  That means sleeves.  That means pants…and boots.  There is all sorts of great stuff hitting the sites, so let's run it down.  Here's what I like for the early* Fall: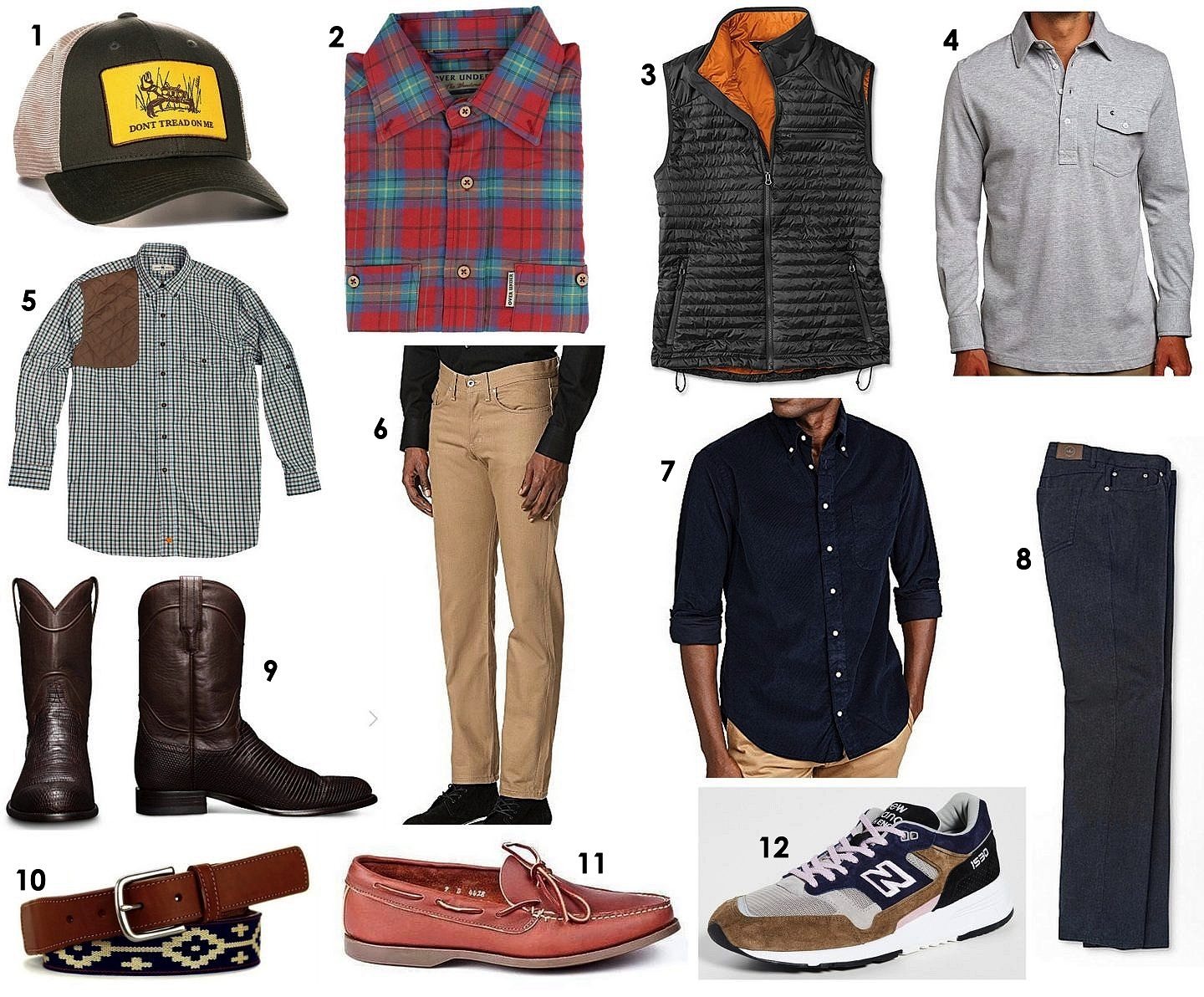 From top left:
1. Flood Tide 'Don't Tread On Me' Trucker Hat:  How disgusting is that hat you've been wearing all summer?  Rather than look like an oblivious college sophomore, upgrade to something a little darker for the Fall.  Cleanliness is Godliness.
2. Over Under Woodsman Flannel Shirt:  I saw this one pop up from Over/Under, and it immediately brought be back to my childhood…my dad had a flannel shirt that was almost this EXACT pattern, and it's stuck with me.  Well done, O/U and crew.
3. Orvis Pack-and-Go Drift Vest:  Don't sleep on Orvis vests.  They are as high quality as any others out there, and the price is right.  Not to mention the styling and color combos are super cool, and super tough.  These work in the stream, as well as the food court in the mall.
4. Criquet Long Sleeve Player's Shirt:  I love sleeves.  And I love Criquet.  This is pique job is the perfect pullover over shirt for the Fall.  Put it over anything, or by itself, and you'll stay warm, and look cooler than a cucumber in a bowl of hot sauce.
5. Onward Reserve Plaid Performance Shooting Shirt:  Onward Reserve came out with shooting shirts a couple years ago, and were great, but they've upped their game.  This year they released three color options in their performance fabric AND a tailored fit.  No more too-short sleeves for this guy…and the plaids are a mature look.  Well done.
6. Naked & Famous Weird Guy Beige Selvedge Chinos:  Selvedge chinos.  Get on board.
7. Gitman Vintage Corduroy Button Down Shirt:  There's something about a well-cut corduroy shirt that looks really slick.  Not the old Abercrombie curtain-esque corduroy, but the think wale…with white buttons.  It's like a dress shirt, but it's not.  A bit of a conundrum.
8. Peter Millar Mountainside Flannel 5-Pocket Pants:  And 5-pockets that look like flannel?  How cool are these with come great boots or suede loafers?  Still the comfort of 5-pockets, but the look of dress pants.  I'm in.
9. Tecovas Nash Boots:  Bring out the exotics.  Wear them well, but treat them well.  There's nothing worse than dirty, super nice boots.
10. La Matera Paloma Belt:  Add a subtle flare to your waist this fall.  You'll be glad you did.
11. Russell Moccasin Camp Mocs:  The perfect slip on shoes for wet, cool fall days.  These literally go with anything, and only get more comfortable as the break in.  Worth every penny.  Get a back up pair.
12. New Balance 1530 Sneakers:  Running shoes in home colors.  I like it.
What are you digging heading into Fall?