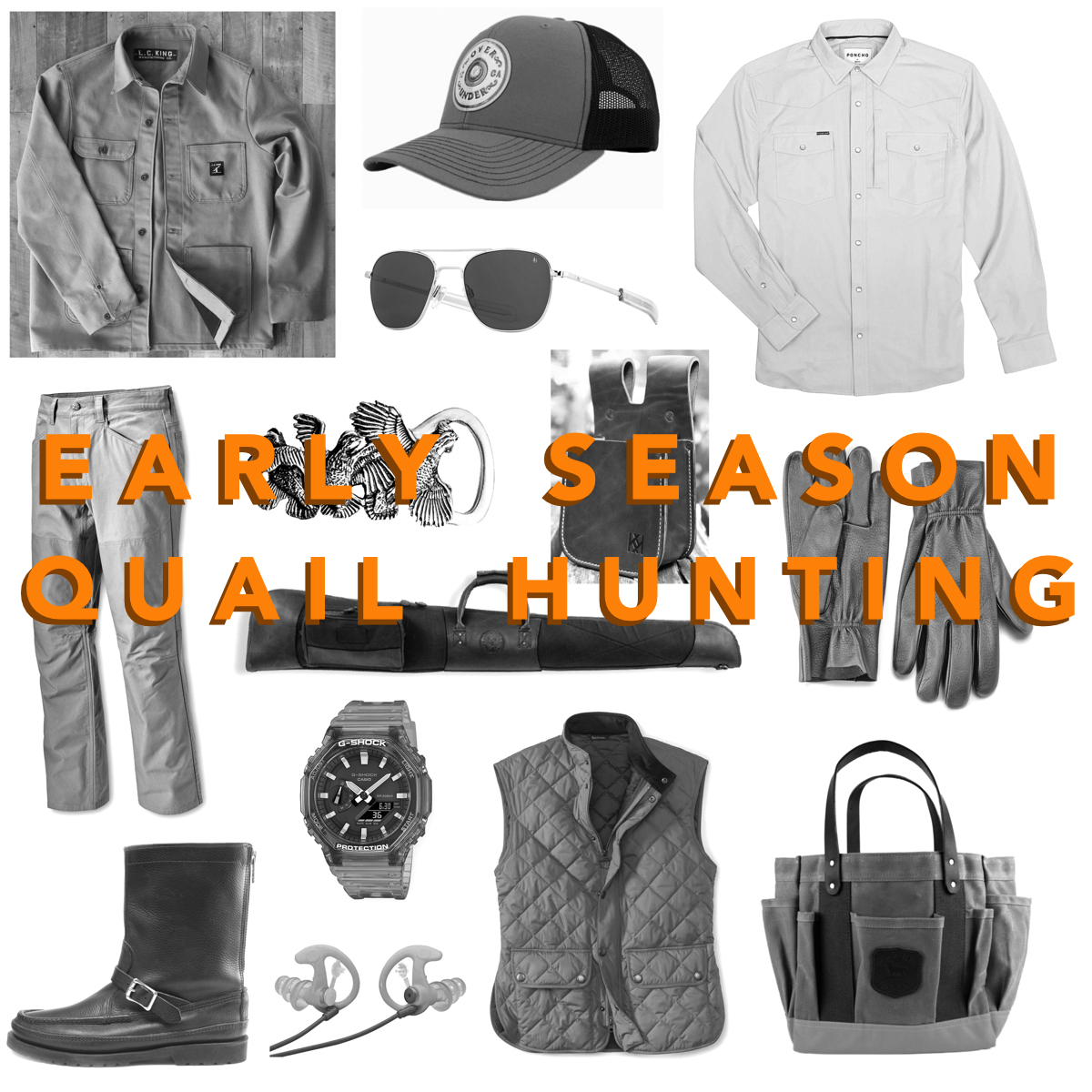 I love talking about quail season.  In Georgia, the preserves start taking reservations for next month, and it can't come soon enough.  I love hunting quail – everything about it.  The people, the dogs, the guns…and let's not forget the immediate action.  As soon as your feet touch the ground, it's on.
Now, early (and late) season quail hunting can be a bit warm.  It isn't time to break out the Beckbe jackets yet, so thinking about what to sport during the warmer temps…it's all about layers, and staying comfortable as the mercury rises towards mid-day and on until evening.
Here's how I like to do it: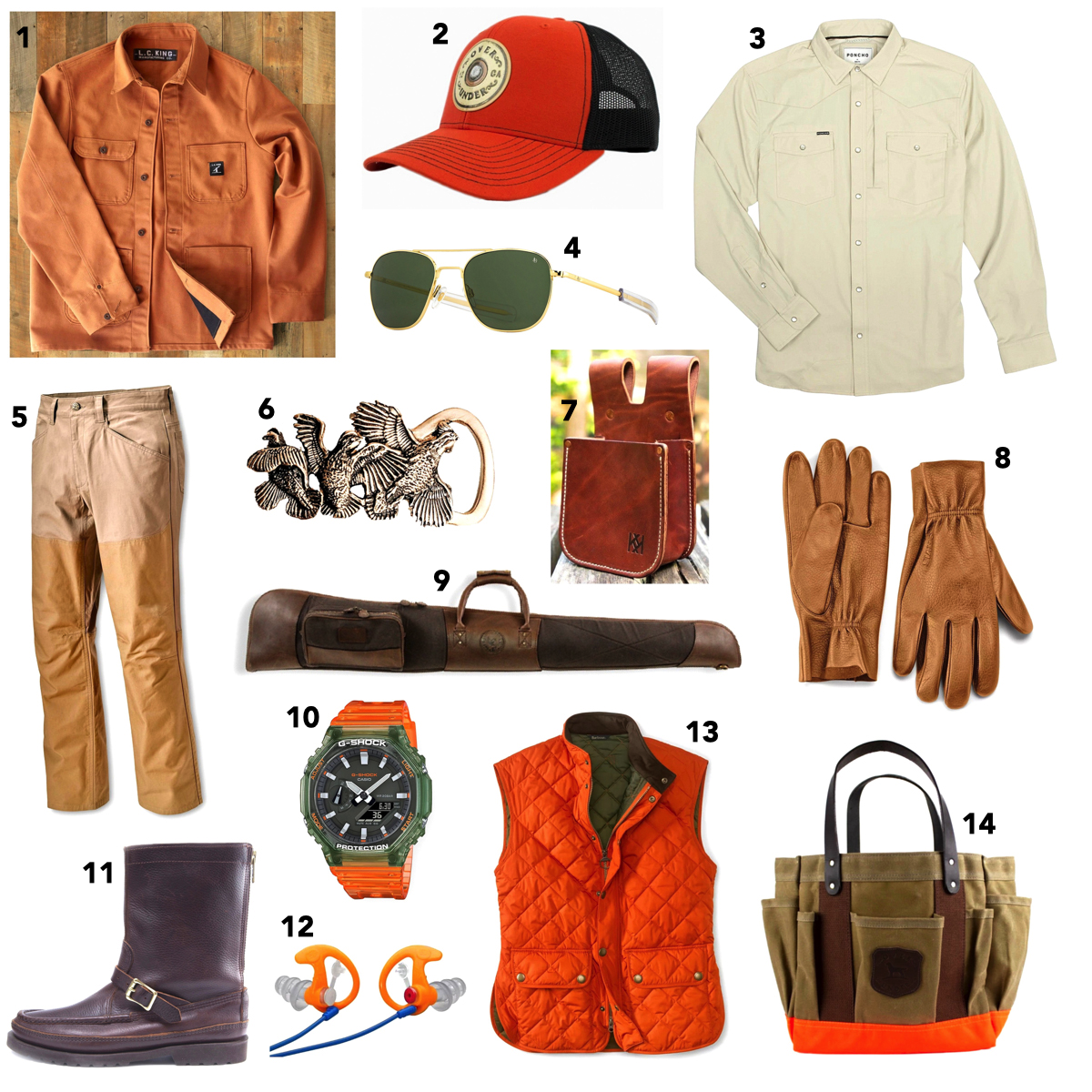 From Top Left:
1. L.C. King Duck Canvas Chore Coat:  Chore coats are a cooler version of a jeans jacket.  They are cut better, a ton more functional, and look outstanding when the patina shows up.  These duck canvas coats from L.C. King are perfect for early mornings waiting on the Bird Buggy.  Feeling sporty?  Look for an older camo version from Camoretro.
2. Over Under Clothing Orange Hat:  You've got to have some blaze, and I like to wear mine on my head.  When it's hot out, I prefer a mesh trucker like this one from Over Under, or I'll wear my Col. Littleton Panama hat with an orange band.
3. Poncho Big Bend Western Shirt:  These western shirts from Poncho are incredible.  I love wearing these in the early season.  The pearl snaps put it over the top.
4. American Optical Original Pilot Sunglasses:  Hunting season is a great reason to upgrade your shades.  Try these original pilots from American Optical.  A great, classic look that works well in the field as well as daily drivers.
5. Orvis Missouri Breaks Field Pants:  The best lightweight pants on the market.  Orvis really knocked it out of the park with these.  They aren't baggy at all and have functional 5-pocket styling.
6. Hook 'n Hide Quail Buckle:  Hook 'n Hide has released a few new buckles just in time for quail season, and this covey rise option is absolutely outstanding.
7. Kingfisher Leatherworks Cartridge Bag:  Best on the market.  By far.
8. Orvis Shooting Gloves:  I always keep a pair of gloves in my bag when hunting.  I prefer the unlined leather gloves that don't provide any sort of warmth but are good when walking through briars.  You never know.
9. Wren & Ivy Fowling Piece Gun Case:  A great gun case.  It has all the bells and whistles and coordinates well with all the other good canvas gear.  A worthy investment.
10. Casio G-Shock Watch:  I don't like to hunt in my good watches.  Instead, I like to wear a G-Shock or a Luminox.  I like this colorway – very appropriate as we head into gun season.
11. Russell Moccasin Double Moccasin Zephyr Boots:  Best boots on the market.  You'll find these double moccasin Zephyrs in a few locations around the South (London Trading Company, Kevin's) ready to go.  Now is the time to buy!
12. SureFire EP4 Ear Plugs:  The best ear protection I've found, especially given the low price point.  I've been very happy with mine, and recommend these all the time.
13. Barbour Lowerdale Gilet:  As the morning temps rise, You may want to swap out that coat for a vest.  The Lowerdale from Barbour is a good option – it fits close to the body and has a good selection of colorways.
14. Over Under Waxed Rigger's Tote:  Got to have a good bag for the buggy.  Over Under has a great selection of Rigger totes – I have two, and they are built like tanks.  They hold everything and have plenty of small exterior pockets for easy access.
What are your go-to's for early quail season?