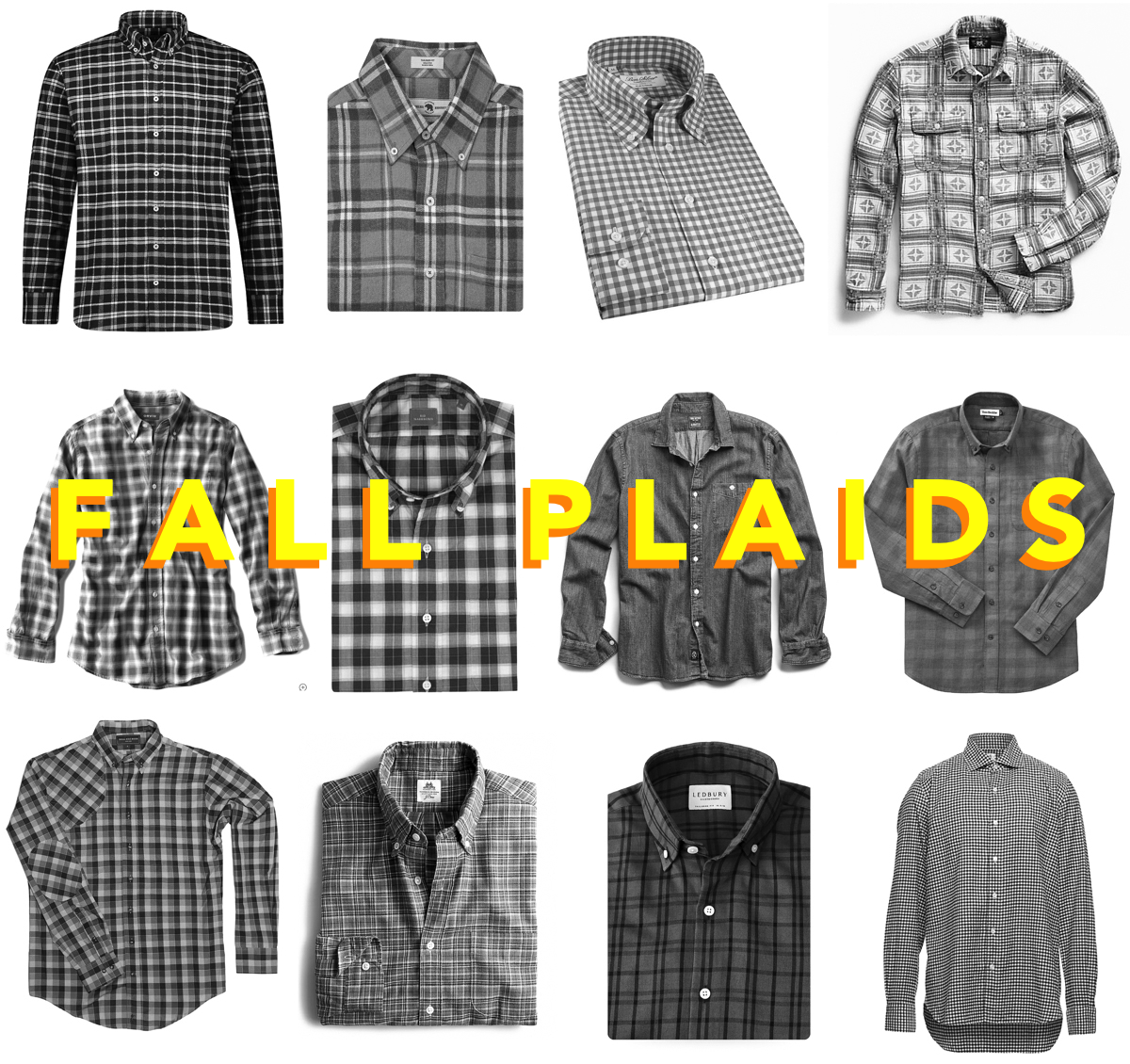 You know, I talk a lot about oxfords, dress shirts, and solids.  While they are what I would consider my 'go t0', I don't want to ghost my plaid shirt friends.  I actually love plaids shirts – they are a more casual option vs. dress shirts, but will still look really smart when done right.  On the more relaxed end of the spectrum, a good plaid shirt will dress up an otherwise casual look.
As with everything in your wardrobe, the fit is KEY.  Know your measurements…and know that not everything is going to fit like a glove.  In a recent AMA, someone asked how much of my stuff I get tailored – the answer is probably 20-30% of shirts (and probably 60-70% of pants).  In most of the brands below, I'm mostly a medium (or a 16 x 34/35 slim), but for some reason, a lot of the mediums have 33-34″ sleeves, which are too short for me.  However, going to a Large (35″ sleeves) isn't an option because the chest is too wide.  Depending on the construction of the shirt, this would be a candidate for a visit to the tailor.
As for the plaids that are out there, here's what I'm eyeing this Fall: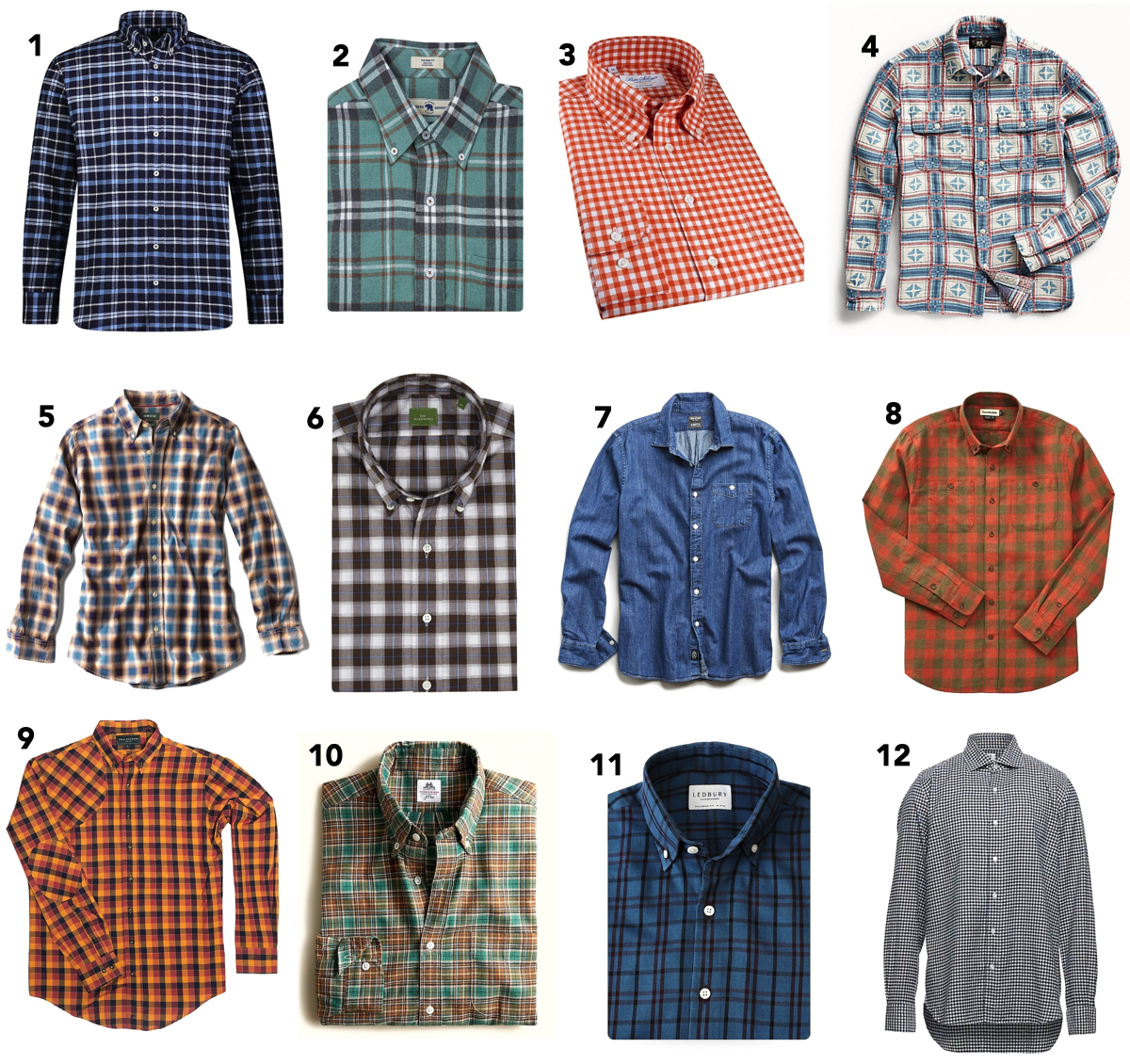 From top left:
1. Flannel from The Sporting Gent:  TSG does a good job with their stuff.  Their plaids are great – they remind me of the old LL Bean / Eddie Bauer catalog.  Good fabric, good fit, and good price.
2. Onward Reserve Trulock Flannel Shirt:  Onward's flannels have become so much fun.  I love the wider plaid designs; like your granddad's favorite old shirt.
3. Ben Silver Gingham Shirt:  Gingham is a year-round design, but the darker, warmer colors are fantastic in the Fall.  Add an orange gingham to your lineup and watch how much it'll get worn.
4. RRL Southwestern Brushed Jacquard Workshirt:  A bit of a departure from the rest of the rundown, but I like the idea of having something available far out.  Very #lodgewear, this one acts as an overshirt with a pair of jeans, boots, vintage sunglasses, and a heavy bourbon pour.
5. Orvis Lightweight Duck Cloth Plaid Shirt:  Orvis' menswear department has been SUPERCHARGED over the past 6-12 months.  Get their men's catalog – I'm serious, it's awesome.  This lightweight duck cloth shirt is killer.  Great fabric and the design is perfect for business casual days in the office, or under waders chasing fall trout.
6. Sid Mashburn Poplin Plaid Shirt:  I'm always excited to see Sid's plaids – he does such a good job.  I try to add one or two a year, and they tend to stick around…
7. Todd Snyder Indigo Button-Down Shirt:  A well-cut chambray/denim shirt is a must for the Fall.  While it isn't plaid, it is an extremely versatile piece that will be hung in that section of the closet.
8. Tom Beckbe Wrights Twill Shirt:  And the Beckbe empire keeps on growing…he hasn't missed yet.
9. Ball and Buck Henson Shirt:  There aren't any shirts on the market like Ball and Buck's.  Their plaids are absolutely fantastic, and they are built to handle the field or the boardroom.  The Henson is no exception.
10. J. Crew/Thomas Mason Melange Flannel Shirt:  The luxury version of a flannel shirt, it's cut like a dress shirt, and should be cared for like one.  Pair this one with chinos and Chelsea boots and you are ready to go.
11. Ledbury Winthrow Organic Cotton Shirt:  Ledbury is mostly known for their dress shirts and poplins, it's a natural evolution to add flannel to their arsenal.  The best thing about Ledbury – their sizing is extremely accurate across their spectrum.
12. Finamore Blue Gingham Shirt:  Luxury.  Navy gingham…something you'll wear all year.  I highly recommend buying the best you can in these designs.
What plaids are you eyeing?