For us clothes people, Fall is the best time of year.  Layers, darker colors, and deeper textures are what it's all about…like a well conceived Ralph Lauren ad.  I look forward to Fall almost as much as I look forward to the Spring (The Masters gives the nod to April).
But Fall not all about the clothes.  There are 'accessories' that get used, err – taken advantage of – in the Fall.  Whether it's at a tailgate, in the field, on the road, or around a fire, there are specific colder weather accouterment that gets the nod.  Here are few that have my attention: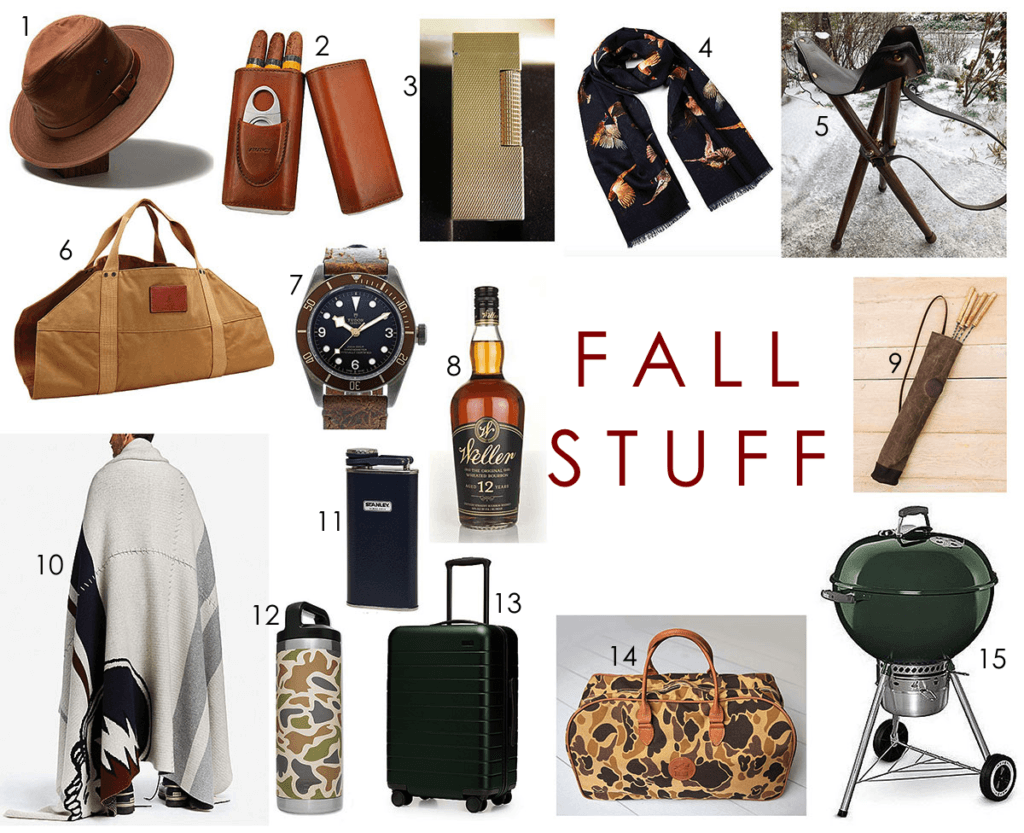 From top left:
1. Tom Beckbe Field Hat:  It takes a certain type of man to wear a field hat.  And that man is someone who doesn't want to get wet, or a sunburn.  Think of this as the Tilley for cold weather.
2. Leather Cigar Case:  My dad is a BIG cigar guy, but refuses to carry an expensive case.  He calls this one 'perfect'.
3. Vintage Dunhill Lighter:  Look, I get that this thing cost a pretty penny, but it's as classic as it gets.  An heirloom.  Perfect for lighting a cigar.  Very William Brown style.
4. Trumbull & Rhodes Navy Pheasant Scarf:  Give your old plaid wool scarf a serious upgrade.  Try this under a Barbour or Belstaff Roadmaster.  A little English, but a lot 'cool'.
5. Folding Leather Camp Stool:  Whether for dove hunting or a seat at a tailgate, this little stool will come in handy.
6. Ball and Buck Firewood Carrier:  Be 3% smarter than what you are operating.  Have you ever tried to carry more than three logs with nothing but your arms?  Yeah, it's tough.  Get help.
7. Tudor Heritage Black Bay Watch:  This is included for two reasons: first, Tudors are awesome.  Second, the bronze bezel is super cool, and seasonally appropriate.
8. Weller 12-year Bourbon:  Add a great bottle of bourbon to your shelf.  With all the college football games, there's plenty to celebrate, especially in SEC country.
9. Sea Island Forge Roasting Forks:  Do you have kids?  These are a must around any fire…just add graham crackers, marshmallows, and chocolate bars.
10. James Perse Grateful Dead Blanket:  Wrap up.  In cashmere.  And Dead.  Should be a great night.
11. Stanley Classic Flask:  A little something to hide in your boots for those night games.
12. Yeti 18 oz Rambler Bottle:  The old-school camo should be enough to sell this, but the usability of a chug cap make it perfect for Fall.  Fill it up with coffee in the morning, water during the afternoon, or a cocktail at the tailgate.
13. Away Luggage Carry On:  Lots of travel in the Fall, and a cool carry-on suitcase is a must.  Wheels always win over a duffle.  Away is an excellent choice, with it's thoughtful design and built in charging port.  The green option is just right.
14. Two Dove Vintage Camo Duffle Bag:  And how about a duffle that will stand out?  This handsome devil from Two Dove is about as cool as it gets, and just the right size for any weekend adventure.
15. Weber Premium Charcoal Grill:  I'm all about the smoker, but sometimes all you need is a bag of Kingsford.  Don't think too hard on this one, folks.  Keep it simple.
~~~~~