Father's Day is right around the corner, and while it receives roughly the same amount of fanfare as Columbus Day or Arbor Day, it's top of mind now that I'm a dad.  Let's get emotional for a second: being a dad is the best job in the world.  My two boys mean so much to me, and have become the suns in my solar system.  I feel extremely proud when they figure something out, clean their plate, or pee in the grass…there's nothing like it.  I cherish every day.
However, being a dad is hard work.  Apologies to all the moms out there: I am not discounting how hard (and rewarding) it is to be a mom.  Not only do you take care of the kids, but you also take care of us.  We aren't worthy.  But let's take a day for the dads.  A day off from the honey-do list.  A few beers during the Braves game.  Dad's choice for dinner…you get it.
And while gifts are necessarily required, it is a love language.  Here are a few things that I know any dad would appreciate: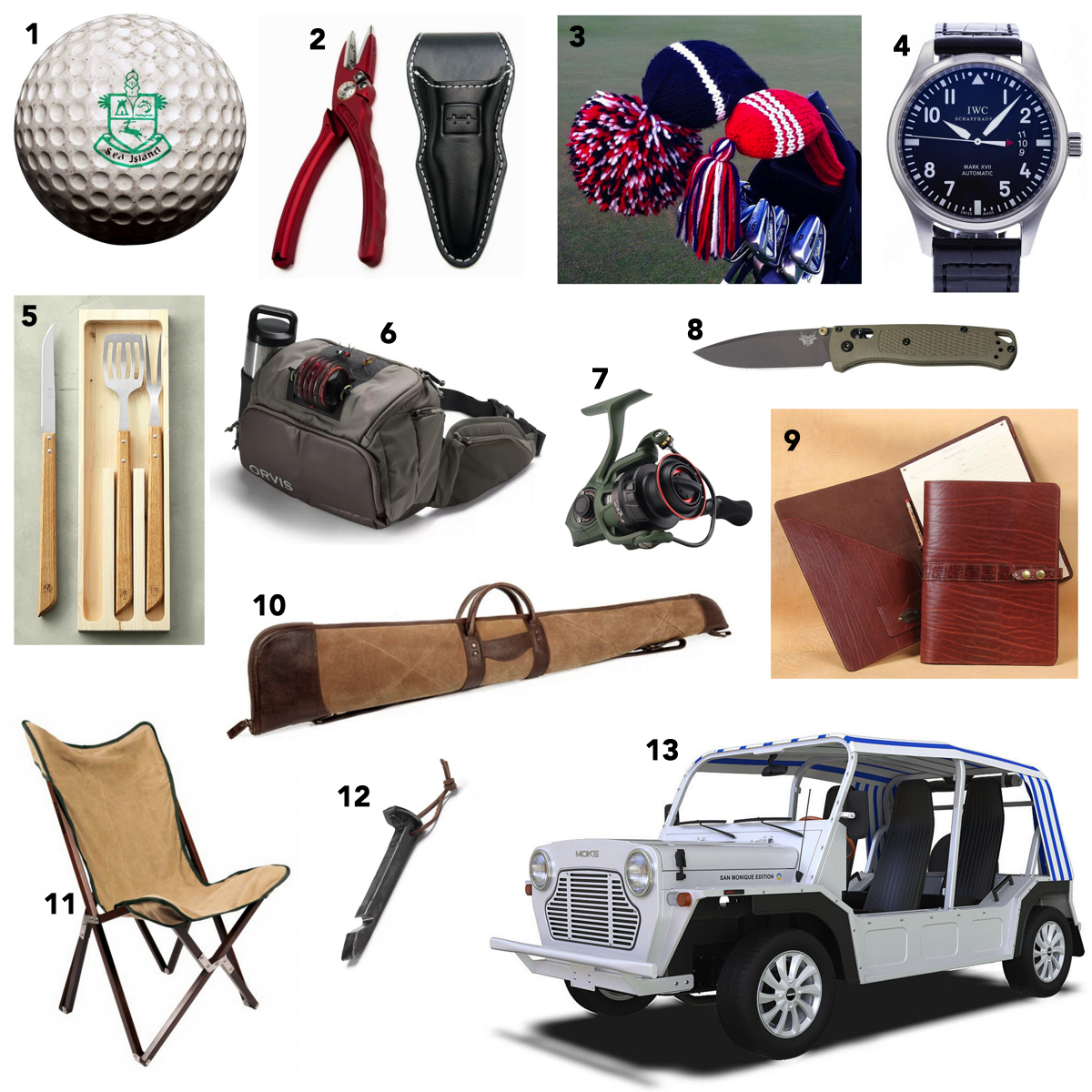 From Top Left:
1. Golf Ball Gallery Print:  A great option for any dad's office.  They offer a TON of options – old courses, sports teams, events, and vintage balls.  A very cool conversation starter.
2. Hatch Nomad 2 Pliers:  I've been on the hunt for new fishing pliers, and these have made the cut.
3. Jan Craig Knit Golf Headcovers:  Update his golf bag with a set of USA-made hand-knitted headcovers.  Pick from a ton of different designs and color options.  Sure to take a few strokes off his game.
4. IWC Mark XVII Watch: Dads still like to check their watch vs. their phone.  Look down at something significant.
5. Languiole Grill Tools:  Not all grill tools are created equal.  I like the wooden handles as they don't get too hot, yet patina nicely.
6. Orvis Guide Hip Pack:  I've been a cross-body guy for a while, but love the look and feel of this hip pack.  It's a little bigger but fitted as not to interfere with any casting.
7. Abu Garcia Zata Spinning Reel:  There's always room for another fishing reel.  Abu Garcia's Zata line is out of this world, and the matte green is a nice departure from the normal.
8. Benchmade Bugout 535 Knife:  In addition to a top-shelf field knife, this Benchmade could double as a letter opener, an Amazon box opener, and a do-it-all tool.
9. Colonel Littleton No. 18 Portfolio w/ Alligator Strap:  As a constant note-taker and to-do list maker, it's important for me to have paper readily available.  And there isn't a nicer way to carry it all around than in a Col. Littleton portfolio.  The Alligator strap is such a nice touch…flex a little.
10. Mission Mercantile Shotgun Case:  Get the old man ready for hunting season with a ship-shape shotgun case.  Your gun will thank you.
11. Chama Chair Vaquero Chair:  The perfect chair to sit back and have a cold one.
12. Orvis Railroad Spike Bottle Opener:  The perfect opener to crack that cold one.
13. Moke 007 Special Edition:  Sure, golf carts are cool, but they don't touch Mokes.  Trust me.
Dads – what do you have on your list?